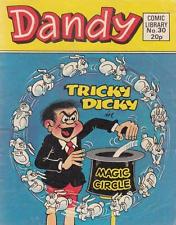 comical…
"Tell Me When My Light Turns Green":  This speech is my recital, I think it's very vital, To rock (A rhyme), that's right (On time), It's Tricky is the title, here we go….
Fourteen people managed to get over the 30 point mark in a difficult week this week, but that included Mr 2-0 and his lazy disciples (yep, all seven of them – shame on you…although it paid off this week innit!).
So, getting 35 points looked like you were quids in then – that's where Paul V & Andy S were at.
But, what they didn't bargain for were the late late goals for Aberdeen & Fleetwood giving Richard Hirst 37 (6) a two point push over the line to claim the £20 weekly prize!
The "syndicate" win again then in an amazing season for them – we must stop them people, they're nicking our money!
"There, There My Dear": Getting 10 points or less in a bad week is still pretty shocking! Frankie F has gone all "Spursy" of late after threatening the best "Fernandez" finish for a decade (spare a thought for her though – that "backspin" for a grateful Thibaut Courtois in the last minute of the semi final? Frankie had 4-3 for that…) but a least she hit double figures!
Stephen P & Lee F only managed nine points.
Worse though was Mark J Brown 8 (0) – that Dubai heat getting to you son?!
Correct Score of the Week:
…most popular score was Sheff Wed's 2-1 win over Derby – 32 of youse got that!
12 got the thrilling Brentford 3 QPR 1
Five got Blackpool 3 Cheltenham 0
5 got the bore draw between Wigan & Cardiff
Four somehow guessed Liverpool 1 Palace 2  (how?????)
4 got Bradford's 3-0 demolition of the Wombles
Four made us all green by happening upon Bristol City 3-2 Barnsley
Richard H, James C & Danny N got Wolves 0 Blackburn 0. Then sobbed a little bit as he thought of those poor souls who were actually there.
David G & Tony D got Toon's thrashing of PNE
Matt W & Ricki M nailed Hibs 2 Aberdeen 3
Norman L believed in Burton. A 2-1 kinda belief…
However, this week's best correct score goes to Paul Vinson for his love-a-last-minute-winner-me inspired, Gillingham 2 Fleetwood 3!
Bet of the Week:
So, the "system" spat out 3 draws that were the most popular among the 90 of you who entered predictions and guess what?!
We crashed! And burned! Spectacularly! Again!
44% Swansea vs Stoke – Stoke to go down?
44% Huddersfield vs Fulham – Fulham to go up?
38% Bristol City vs Barnsley – ermmmmmm…
So, £0 goes on "Bet of the Week" avoid-at-all-costs slot 65th…
Table News:
"Jackie Wilson Said (I'm In Heaven When You Smile)": Jason Morris stays top and now goes a whopping 36 points ahead of Richard H who in turn is one points ahead of Charlie H in third…
The money & trophy are in the post Jason….
Pete B & Andy S crashed the Top Ten.
"Burn It Down": Neil Critchlow stays rooted to the bottom and now eight points behind Patricia F who in turn is now 20 points off James C…
The wooden spoon is in the post Neil…
"I'm Just Looking": Highest climber this week, up a whopping 15 places is Matt Worsfold – honourable mentions go to Paul V (+13), Ross B (+11), Mr 2-0 (+11), Anders H (+11) and Chris B (+11)
"I Couldn't Help If Tried": Falling furthest this week, down a whopping 20 places is Mark J Brown – dishonourable mentions go to Debbie L (-10), Jon T (-11), Steve M (-12), Stephen P (-17) and Francesca F (-10)
Click here for further details…
PAS Champions League 2017/18 Group Stages::
In order to be invited to enter the PAS Champions League 2017/18 you will have to finish in the Top 32 after 13 weeks of play. Currently sneaking the last spot is…one of our own, Dave Nicklin!
PAS Cup 2017:
The PAS Cup Semi Final results can be found here
Actually, they're here….
Dramarama!
PAS Cup Semi Finals results 
Charlie Harris 15 (1) v 16 (1) Jack Buxton
Jason Morris 28 (3) vs 31 (4) Tony Davenport
We had –
Charlie getting bumped by a Brighton joker & Jack going through thanks to the Toon
speaking of which…
Jason had 3-1 on his Newcastle joker, saw Tony miss out on City…but then watched in horror as Mr D nailed a 4-1 correct score in the last game of the week to go through!
Congrats to our finalists and commiserations to the losing semi finalists…
Dates for your diaries – PAS Cup Weeks
Final – the merry month of May ('17)
PAS Champions League 2017 Knockout Stages:
Semi Final 2nd leg games next week…
Full draw & results can be found here
PAS CL Semi Finals 1st leg results 
Jazz Sian 24 (2) v 15 (0) Jon Tofeili
James Lee 21 (1) vs 23 (3) Kate Slee
Jon T has it all to do in the 2nd leg then and will James L rue Ross County's surprise draw with his joker choice Celtic?!
Dates for your diaries – PAS CL Weeks
Semi Finals 2nd leg – Week 13
Final – the merry month of May ('17)
And Another Thing: I really hope he stays…..hahaha!
Twitter is back from the dead (check it out by following on @pabspace), but still long live Instagram!
Take some interesting pics & remember to add #pabpas so you we can see your pic on the site!
Some away game pics would be good this season. Or some pics of away fans. Or home fans. Or just the match. Or players you've met. Anything actually. Food? Beers? Lovely vistas??!
Cheers,
Pab
---