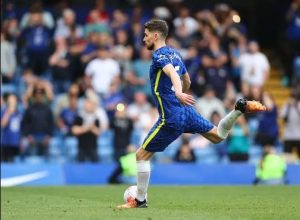 "Mate…"
Well, that was a weekend, eh?
My mate Granit slamming in a worldy to put Man Yoo to bed?! As Thom Yorke would say, "for a minute there, I lost myself.."
Meanwhile, after falling back down from Cloud 9, the predictions game, for most of us, still proved harder than scoring from 12 yards.
Only 11 punters scored 30 points or more and from that melee, our weekly £20 prize winner emerged with perhaps the lowest winning score ever (Dan! Dave! Run the SQLs!)
Tom Wooldridge-Stevens 35 (5) edged home virtue of a point given to him by the correctly predicted WBA shut out or the Millwall 98th minute eqaulising penalty or Chelsea's 90th minute face saving winner.
Which one Tom?
And well done on your second-in-a-season taste of prize money!
So, it was grim at the top, so what about the bottom?
You could argue it wasn't all bad as only FOUR players scored 15 points or less.
Five managed zero correct scores.
But this meant Justin Corliss 13 (0) brought up the rear with probably the highest worst weekly score ever. (Dan! Dave…)
Unlucky J!
Correct Score of the Week:
Weirdly, it was all quite good…most popular score was Swansea's 1-1 draw with Middlesbro – 19 of us got that!
Seventeen just knew Motherwell would score against Rangers for a 1-3
11 revelled in the Xhaka schadenfreude of Arsenal's also-ran Cup Final victory over Utd
Seven got Brighton's "Desmond" with JWP
Joanne McK & TomW-S got the dull-all at The Hawthorns
Matt W & Sam A thrilled at the thrilling Dundee Utd 2 Hearts 3
Neil O banked the five points on offer for the 2-2 betwixt Birmingham & Millwall
However, this week's best correct score, and new Best Correct Score of the Season, goes to Mike Krasnowski for his children's-laughter-not-screams-is-the-energy inspired, Man City 5 Watford 1!
Bet of the Week:
Martin Stafford was on "Bet of the Week" position 60th in Week 10 so we asked him to provide a treble selection for the £3 "trixie" bet.
And guess what?!
He went way left field with a darts selection, which is great, but the matches aren't til Thursday!
So we'll have a double update next week…
Danny Ashworth is at 45th this week….
Danielsan, I need your 3 team selection by Friday evening, please!
You get another go to make amends….
Table News:
"Taste It":
Ben Hogwood stays top of the shop, now 7 points ahead of Simon Lindq, who in turn is three points clear of Anders H…
Three crashed the Top Ten.
"Disappear":
Patricia Fernandez is still bottom, but now only one point behind Tim P, who in turn is 1 point off Greg F…
Highest climber this week, up a whopping(?!) 14 places are David Goggin & Neil Osborne – honourable mentions go to Tom W-S (+10), Rich L (+10), Matthew M (+11) and Dan W (+10)
"Mystify":
Falling furthest this week, down a whopping 13 places is Justin Corliss – dishonourable mentions go to Ben McK (-8), Chris D (-8), and Bijay L (-8)
Click here for further details…
PAS Champions League Knockout Stages 2021/22:
Semi Final 2nd leg games kick off in Week 12!
Here's how it is so far…
Ben McKeown  28 (3) – 42 (7)  Richard Hirst 
Andy Chesworth  18 (2) – 24 (4)  Lee Ford
Full fixtures, results & aggregate scores can be found here
Dates for your diaries – PAS CL Weeks
Semi Finals 2nd leg – Week 12
Final – the merry month of May ('22)
PAS Cup 2022:
Aaahhhh the magic of the Cup! Semi Final ties in Week 13!
Here's the draw…
Chris Dixon v Mark Seels
Mike Krasnowski v Matthew Murphy
Full fixtures & results can be found here
Dates for your diaries – PAS Cup Weeks
Semi Finals – Week 13
Final – the merry month of May ('22)
PAS Champions League 2022-23:
In order to be invited to enter the PAS Champions League 2022-23 you will have to finish in the Top 32 after 13 weeks of play. Currently sneaking the last spot is, the already sorted… Dave Crisp!
And Another Thing:
Lovin' that plant power in Gloucestershire!
Twitter is dead & so is Instagram – but we've got a What's App group!
Wanna join?
Why?
Well, I send round reminders that you don't have to check your email for.
Erm…some people are quite funny (some are annoying) & hopefully, we'll get some good pics of away fans at games.
We will crush any "hilarious GIFs" though…
Plus, you can gloat when you land that 9 pointer in the 91st minute!
Email me over your number and i'll add ya ([email protected])
Cheers,
Pab
---