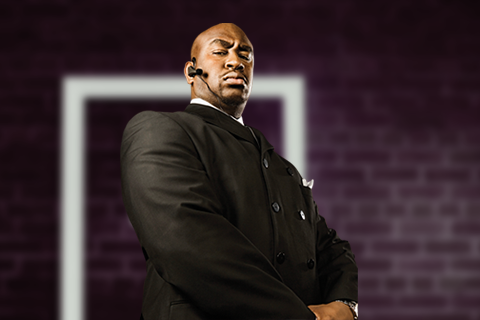 "Champagne to the dancefloor!"
"You're The Sweetest One":  Ahhhhhhhhh the 80's…you went to football and if you came back unscathed it was result in itself. Great times.
Then when you went to "relax" with a few pints at the local nightclub later and dodging tables, chairs & half pint glasses was a breeze in comparison – or maybe that was just south London…
A few people revelled in those violent times and some even made money out of it – usually big f*ckers to be fair.
And all they did was stop you gaining entry cos you were in a group, had trainers on or looked about 12. Easy money eh?!
Oh, and they were usually draped in the "Poison" soaked ladies too – or maybe that was just south London…
Easy money this week then for my old mucker Howard Thomas 45 (7) who brushed aside his nearest threat by virtue of 10 while points. The other two who dared manage to get close on over 30 points were metaphorically dispatched head first through the double doors (mate). Job done.
Congrats Howie, £20 is winging it's way over to you right now – promise!
But mess with me and i'll be back with a shooter….
"I Really Didn't Mean It": Lent is probably to blame for leaving players withered and weak through lack of chocolate as 35 of you couldn't even break the 20 point barrier!
Four didn't even get to fifteen points!
Rob C didn't even get a correct score!
Neil Critchlow 13 (1) is no doubt face first in Tony Montana pile of Cadbury's in a vain attempt to avoid humiliation next week….and if he isn't, he should.
Correct Score of the Week:
Easter is rubbish innit…most popular score was Aberdeen's 1-2 win at St Johnstone– 34 of youse got that!
Eight got the 3-1 Toffee win over Burnley
6 got Leicester's "Desmond" with Palace
Howard T/Matt W/Andy F got the thrilling Huddersfield 3 PNE 2
Mark J B & Dan P were all over the south coast 0-3 to the Citizens
Paul V & James C somehow guessed Wigan 3 Barnsley 2
Neil T got the bore draw between Kilmarnock & Hearts
Will O made us all green by happening upon Stoke 3-1 Hull City
Martin S saw his typo come good on the game at White Hart Lane
However, this week's best correct score, and new correct score of the season, goes to Dave Crisp for his we-are-mods-we-are-mods-we-are-we-are-we-are-mods inspired, Motherwell 4 Inverness C T 2!
Bet of the Week:
So, the "system" spat out 3 draws that were the most popular among the 90 of you who entered predictions and guess what?!
We crashed! And burned! Spectacularly!
44% Dundee vs Hamilton – I don't understand the Scottish Prem…
40% Man Utd vs Chelsea – I don't understand the Prem…
39% Watford vs Swansea – I don't understand Watford…
So, £0 goes on "Bet of the Week" slot 45th – shame.
Table News:
"Never Too Much": Jason Morris stays top and now goes a whopping 25 points ahead of Charlie H who in turn is eleven points ahead of Jack B in third…
It's as sure as Arsene is gonna stay…
Andy C crashed the Top Ten.
"I Wanted Your Love": Neil Critchlow stays rooted to the bottom and now seven points behind Patricia F who in turn is now 9 points off James C…
"See Me": Highest climber this week, up a whopping 19 places is Paul Vinson – honourable mentions go to Dan P (+10), Danny N (+9), Pab (+8) and Howard T (+11)
"I'll Let You Slide": Falling furthest this week, down a whopping (? – is this some kind of record??) 9 places are Paul Carter/Chris Dixon/Jon Tofeili – dishonourable mentions go to Bry D (-5), Gary B (-5), Sam A (-8), Jamie S (-6), George T (-6), Simon B (-5) and Rowan M (-5)
Click here for further details…
PAS Champions League 2017/18 Group Stages::
In order to be invited to enter the PAS Champions League 2017/18 you will have to finish in the Top 32 after 13 weeks of play. Currently sneaking the last spot is…the Brighton Hoop, Jamie Sellers!
PAS Cup 2017:
PAS Cup continues in Week 12…
PAS Cup Semi Finals draw 
Jason Morris v Tony Davenport
Charlie Harris vs Jack Buxton
Can Tony D scupper Jason M's march to a League & Cup double?!
All fixtures & results can be found here
Dates for your diaries – PAS Cup Weeks
Semi Finals – Week 12
Final – the merry month of May ('17)
PAS Champions League 2017 Knockout Stages:
Semi Finals 1st leg games this week…
Full results can be found here – actually, it's here…
PAS CL Semi Finals 1st leg results 
Jazz Sian 24 (2) v 15 (0) Jon Tofeili
James Lee 21 (1) vs 23 (3) Kate Slee
Jon T has it all to do in the 2nd leg then and will James L rue Ross County's surprise draw with his joker choice Celtic?!
Dates for your diaries – PAS CL Weeks
Semi Finals 2nd leg – Week 13
Final – the merry month of May ('17)
And Another Thing: We beat Boro…Arsene is a tactical genius!
Twitter is back from the dead (check it out by following on @pabspace), but still long live Instagram!
Take some interesting pics & remember to add #pabpas so you we can see your pic on the site!
Some away game pics would be good this season. Or some pics of away fans. Or home fans. Or just the match. Or players you've met. Anything actually. Food? Beers? Lovely vistas??!
Cheers,
Pab