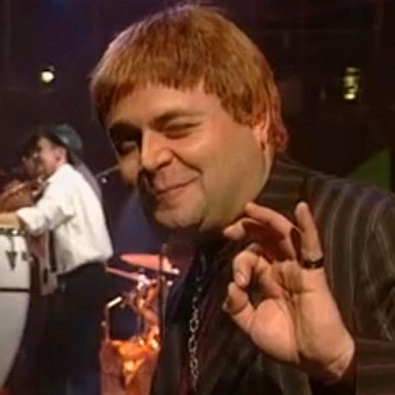 "this cream don't curdle…"
"Money Love":  A bit like blue crystal meth, you may drift in & out of fashion but you'll always be what others are benchmarked against (yep, i'm watching Breaking Bad again…).
Well, the King has returned.
Seventeen people smashed in 30 points or more this week – 3 topped 40 or more.
Our £20 weekly winner may claim the St Johnstone in-fighting that contributed to Hamilton's 89th winner or Barnsley's Angus MacDonald equaliser in the 93rd minute were to thank for the prize.
Personally, my money is on the fact that he put ironic faith in Arsenal holding out at home to City for a "creditable" 2-2 draw…
Be upstanding.
All hail Jazz Sian 46 (8) as he syncs nicely with Sp*rs to hit form at the right time – grrrrrrrrrrrrrrrrr!
"Manchild":  …and speaking of Sp*rs fans, Richard Hu dressed up in full Everton regalia to watch the Merseyside derby with his Scouse chums on Saturday lunchtime.
Y'know, top bantz n all that?
Well, it didn't have the desired affect on the result, but it was obviously enough to off put & derail Koppite Alex Rossi 9 (0) as he crashed & burned like a David Moyes interview this week.
Y'know, top bantz n all that…
Correct Score of the Week:
Needles in haystacks this week…most popular score was Ipswich's 1-1 draw with Birmingham (the gift that keeps giving gives again) – 31 of us got that!
Fourteen got the five point 2-2 at the Emir-, I mean, Ashburton Grove
4 got the bore draw between Swansea & Middlesbrough
Four more got the thrilling Liverpool 3 Everton 1
Predictz obviously guessed Burton would beat Huddersfield 0-1
Debbie L got the one-one in Glasgow. The wrong side of Glasgow…
However, this week's best correct score goes to Sam Arora for his it-was-always-gonna-be-an-even-game inspired, Man Utd 0 WBA 0!
Bet of the Week:
So, the "system" spat out 3 draws that were the most popular among the 90 of you who entered predictions and guess what?!
We won! Again!
54% Wolves vs Cardiff – eh? where did that come from??!
54% Inverness vs Kilmarnock – the only disappointing thing it wasn't 0-0…..
51% Ipswich vs Birmingham – absolute nailed on cert!
So, £8.29 goes on "Bet of the Week" slot 11th – good-o!
Table News:
"Buffalo Stance": Jason Morris stays top and now goes 16 points ahead of Charlie H who in turn is eleven points ahead of Jack B in third…
Still looking like a done deal to me.
Jazz S & Francesca F crashed the Top Ten.
"7 Seconds": Neil Critchlow stays rooted to the bottom but now only ten points behind Patricia F who in turn is 9 points off James C…
"Out Of The Black": Highest climber this week, up a whopping 32 places is Tony Davenport – honourable mentions go to Jazz S (+20), Simon Lindq (+15), Arthur H (+14), Steve M (+18), Predictz (+14) and Anders H (+15)
"Across The Water": Falling furthest this week, down a whopping 20 places is Will Oppong – dishonourable mentions go to Clare T (-16), Me (-16), Stuart F (-14), Ross B (-13), Chris D (-13), Richard Hu (-17), Julian F (-13) and Andy F (-13)
Click here for further details…
PAS Champions League 2017/18 Group Stages::
In order to be invited to enter the PAS Champions League 2017/18 you will have to finish in the Top 32 after 13 weeks of play. Currently sneaking the last spot is…erm, umm, anyone know anything about him?, Brett Ainger!
PAS Cup 2017:
PAS Cup continues in Week 12…
PAS Cup Semi Finals draw 
Jason Morris v Tony Davenport
Charlie Harris vs Jack Buxton
Can Tony D scupper Jason M's march to a League & Cup double?!
All fixtures & results can be found here
Dates for your diaries – PAS Cup Weeks
Semi Finals – Week 12
Final – the merry month of May ('17)
PAS Champions League 2017 Knockout Stages:
It was Quarter Finals 2nd leg time this week – proper Cup ties is all i'm sayin'!
We had 1 away win!
2 heartbreakers!
1 hammering!
4 successful jokers!
But how did it affect the aggregate scores???! I wager a few tears will be shed in the North West…
Full results can be found here
Semi Finals draw to follow…
Dates for your diaries – PAS CL Weeks
Semi Finals 1st leg – Week 11
Semi Finals 2nd leg – Week 13
Final – the merry month of May ('17)
And Another Thing: So he's not retiring then…
Twitter is back from the dead (check it out by following on @pabspace), but still long live Instagram!
Take some interesting pics & remember to add #pabpas so you we can see your pic on the site!
Some away game pics would be good this season. Or some pics of away fans. Or home fans. Or just the match. Or players you've met. Anything actually. Food? Beers? Lovely vistas??!
Cheers,
Pab