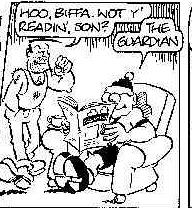 Really?
"What's The Frequency Kenneth?": Oooooh the heady heights of thirty plus points had me wondering like The Ox & Handsome on bench this week.
Will it be me?! Will I get the chance to shine, banish my self doubt and silence the haters, the cynics, the critics?
Nah.
Like them it was a mere cameo when what was required was something spectacular, like a Larry B codpiece (see what I did there?)
Two x Sp*rs fans put me in my place cocking a snook (being unbeaten is sooooo 2000 n late…please make the lose God!) whilst cementing my 'arris firmly down quite a lot like a Joel or a Yaya (nooooo, not that one!) with their 38 & 39 points respectively…
But one person clocked up forty plus points this week!
Ha! Ever told you of my love of the Toon?!
Ben McKeown 41 (6) swooped in like Championship dwelling phoenix that sits proudly on a fat Spaniard's leathered forearm (hmmmm may have my birds mixed up there but you get the gist,,,) to snatch up this week's £20 prize like a piece of jamon on a string.
Purveyors of real ale in the Tees Valley are readied and Mrs Gregg fired up the oven, smashed her pease pudding and chased down a few pigs as a night on the tiles is no doubt planned for displaced Geordies with smoggy accents any time soon…
Howay! Fog! The Tube! The Strawberry! Spender! The Hoppings! Wor Jackie! Coal! Mackem scum etc etc…
"Losing My Religion": Loads of 20 points or less scores this week – ten even managed to get fifteen points or less. Imagine!
It was looking like my mum & Ric P hand in hand in the corridor of uncertainty on the long walk of weekly shame ( 7 days it takes apparently).
But their collective blushes have been spared as Debbie Lee 13 (0) waltzed in with a return to yester year form to plough that furrow on her ownsome. Bless.
Correct Score of the Week:
Well done if you got any of these, cos I did… – most popular score was Arsenal's 2005 Cup Final harking 1-1 victory over Man Yoo – 26 of youse got that!
Twenty four got Derby 3 Rotherham 0
11 got the 1-3 Granite City win over Inverness C T
6 got Jiip Jaap's 5 point demolition of Burton Albion
Four got the dull-all at Deepdale
…and 4 more got the bore draw between Barnsley & Wigan
Simon Linds & Mark S got the thrilling Spurs 3 West Ham 2
Dave C & Ben McK guessed Blackburn would beat Brentford 3-2
James C made us all green by happening upon Middlesbro 0-1 Chelsea
Dan H tinkered with the PAS timelapse cog in the back end and nabbed WBA 4 Burnley 0 (when do I get my go boys??!)
However, this week's best correct score goes to Steve Meaton for his I-know-my-Championship-onions inspired, Cardiff 3 Huddersfield 2!
Bet of the Week:
So, the "system" spat out 3 draws that were the most popular among the 93 of you who entered predictions and guess what?!
We lost! Again….
51.95% Man Utd v Arsenal – Girooooooooud. Well happy with that piece of daylight robbery!
49.35% Watford v Leicester – think i've finally worked out what the Foxes are up to this season…
41.56% Blackburn v Brentford – only an own goal scuppered us!
So, £0 goes on "Bet of the Week" slot 45th leaving the total at, erm,  £0…
Table News:
"Man On The Moon": Tony Morris usurps his brother at the helm one point ahead of said sibling who in turn is three points ahead of Jamie S in third…
Jazz S & Ryan G crash the Top Ten in a way only accountants can…
"Orange Crush": Paul Vinson remains in the basement slot but now only 5 points behind Gary B who in turn is 6 points off Martin S…
"Stand": Highest climber this week, up a whopping 29 places is Ben McKeown – honourable mentions go to Nick H (+10), Alex T (+10), Neil C (+11), Simon Linds (+22), Gareth M (+12), Pab (+12), Chris D (+11), Bry D (+12), Neil O (+12) and Olly O (+10).
"Crush With Eyeliner": Falling furthest this week, down a whopping 17 places is Debbie Lee    – dishonourable mentions go to James L (-12), Bill P (-10), Gino DeA (-10), Patricia F (-11), Ric P (-10), Rich L (-13), Arthur H (-10) and Simon Lindq (-16)
Click here for further details…
PAS Cup 2016:
In order to be invited to enter the PAS Cup 2017 you will have to finish in the Top 32 after 13 weeks of play. Currently sneaking the last spot is…"he bangs!", Ricki Mackin!
PAS Champions League 2016/17 Group Stages: Matchday 4 next week…
Matchday 4 fixtures & all previous results can be found here
Full fixture list can be found here
Dates for your diaries – PAS CL Weeks
Matchday 4 – Week 9
Matchday 5 – Week 11
Matchday 6 – Week 13
And Another Thing:  Talk me through the wonder of Ozil again?
Twitter is dead, long live Instagram!
Take some interesting pics & remember to add #pabpas so you we can see your pic on the site!
Some away game pics would be good this season. Or some pics of away fans. Or home fans. Or just the match. Or players you've met. Anything actually. Food? Beers? Lovely vistas??!
Cheers,
Pab
---