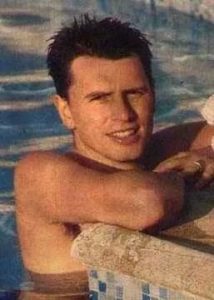 The 'Pool Is Where It's At….
"Biggy": Millennials, here's something I know you don't know (cos you only know stuff that's, like, now? And on your phone?)
Back in the 80's, everyone supported Liverpool. EVERYONE!
Imagine a Man Yoo (but actually really good, less risible and in tighter shorts), or even Man City now, and you're halfway there to see how many glory hunters were knocking around back in the day (and, yes, old fellas, it was Leeds in the 70s…I know, I know!).
Well, they went quiet didn't they, for aaaaaaages. They won the odd European Cup without being actual champions of England but when that elusive perch was in grasping distance – up slipped Stevie G…
Now they're back!
And how! Bods who haven't watched MOTD for 30 years let alone stepped foot on the Kop are now resplendent in replica tops & "oldskool" bar scarfs, crowing! Even Wirral Wools are getting involved FFS!
Even, half-scousers from South London.
Ryan Graves 37 (7) is hoping his weekly win is an indicator that his beloved Mighty Reds will go on and do the business just like him – whether 4 one all draws and a Wimbledon fightback will take them over the line just like Ryan is highly debatable though. Actually we won't mention Wimbledon will we….(millennials, ask Siri)
"Whiteout": When you've written highly insightful, well observed and frankly highly entertaining novels about West London 80s football firms and music scene tribes, then getting under 10 points in a PAS week is probably neither here nor there.
John King 7 (0) really needs to hurry up and get that new book about Adolf Hitler out – it's been too long mate!
Correct Score of the Week:
Bumper week this week – most popular score was Forest's 1-1 draw with QPR – 26 of us got that!
25 got Celtic's 3-0 deconstruction of Super Cally
Eight had the bore draw that was Kilmarnock v Hamilton.
7 obviously guessed Bury 2 Wimbledon 2.
Six nailed the 1-3 at the New York stadium
5 got the two-two in Edinburgh. The wrong side of Edinburgh…
Simon Lindq, Jerry S (welcome!) & Neil H got the 1-3 thriller between Swansea & Man Yoo.
Ian H, Andy C & Eddie O just knew it would be Wigan 0-3 Reading.
Dan H made us all green by happening upon Leicester 1 WBA 2.
Tony D believed in Hull. A 2-1 kinda belief…
Paul C saw his typo come good on the game at Bournemouth
Sam A got Burton 0 Barnsley 0. Then sobbed a little bit as he thought of those poor souls who were actually there.
However, this week's best correct score goes to Rowan Marriott for his Jan Tomaszewski inspired, Wolves 2 Derby 3!
Bet of the Week:
So, the "system" spat out 3 draws that were the most popular among the 93 of you who entered predictions and guess what?!
We won! Again! This is good people!!
49.41% West Ham v Stoke – even I got that…
37.65% Kilmarnock v Hamilton – even I got that!!
45.88% Burnley v Palace – even I got tha- whaaat??! That Brighton sl*g scored in the 95th minute??! And then a post was rattled by Andros T a minute later??! Would you Adam & believe it?!!!
So, £8.91 goes on "Bet of the Week" slot 11th. So so close to a full house….
Table News:
"So Good": Tony Morris remains top dog, now 3 points ahead of Jamie S who in turn is two points ahead of debutante Jerry S in third…
Paul H, Ryan G & Charlie H & Mark S all crashed the Top Ten.
"Love Is To Die": Paul Vinson slides 1 place to the basement 4 points behind Gary B who in turn is 1 point off John K…
"Feeling Alright": Highest climber this week, up a whopping 26 places is Sam Arora – honourable mentions go to Paul C (+22), Gareth M (+20), Ben H (+15), Ric P (+18), Danny A (+18), Tony D (+13) and Ryan G (+21).
"Undertow": Falling furthest this week, down a whopping 18 places is Will Oppong – dishonourable mentions go to Neil M (-10), Savan A (-10), Sam C (-10), Stuart F (-13), Howard T (-15), Richard H (-12), Mark J B (-11) and Ricki M (-10).
Click here for further details…
PAS Cup 2016:
In order to be invited to enter the PAS Cup 2017 you will have to finish in the Top 32 after 13 weeks of play. Currently sneaking the last spot is…another Kloppite showing off, Rich Lee!
PAS Champions League 2016/17 Group Stages: Matchday 3 next week…
Matchday 3 fixtures & all previous results can be found here
Full fixture list can be found here
Dates for your diaries – PAS CL Weeks
Matchday 3 – Week 7
Matchday 4 – Week 9
Matchday 5 – Week 11
Matchday 6 – Week 13
And Another Thing:
A cautionary tale from the Nottm Forest of PAS…
"….total nightmare on Pas. This is what it must feel like to be Mourinho. Won a lot in the past and feared by all. No one wanted to draw him in the Champions League or cups. Now his aura is fading. No matter what he does, he can't find the right formula. There's a new breed of manager in town, bringing new ideas to the table and wiping the floor with him week after week. All he can do is cry in his sleep. Is the season over already? 
 – Gareth M
Twitter is dead, long live Instagram!
Take some interesting pics & remember to add #pabpas so you we can see your pic on the site!
Some away game pics would be good this season. Or some pics of away fans. Or home fans. Or just the match. Or players you've met. Anything actually. Food? Beers? Lovely vistas??!
Cheers,
Pab