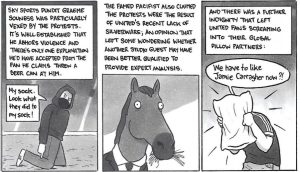 Genius…
"Desire":
It's been a tough season, right? Let's hope the pending returning crowds bring some semblance of order back to predicting scores…next season!
Only nine people managed 30 points or more this week, so, bravo youse!
Stephen P made extremely good (bizarre?) use of the resurgent Mr 2-0 by only actually predicting for 6 matches himself – one of which included Spurs 4-0 win over Sheff Utd!
Unfortunately, it wasn't quite enough as a whole host of wasted open goal opportunities at Palace meant that Jason Morris 37 (6) secured those vital 4 points to take the £20 prize.
Surprised?
Why?
It's May – of course there's a Morris dance…
"Don't Beat The Girl Out Of My Boy":
Meanwhile, back in the world I usually inhabit, nearly half the field scored no more than twenty points.
Nine ended up without a correct score to their name – eek!
2 couldn't get out of single figures – eek(er)!
Worst of the worst this week was James Challinor 7 (0)
Thanks for saving my mum's blushes J!
Correct Score of the Week:
McBlimey…most popular score was West 'Am's 1-2 win at with Burnley– 25 of youse got that!
Twelve quite rightly predicted Tottenham's 4-0 thrashing of Sheff U
4 got the dull-all at Hillsborough
Paul V & Angelo H thrilled at the thrilling Norwich 4 Reading 1
Debbie L nabbed the form book upsetting St Mirren 1 Hamilton Academicals 2
Danny A made us all green by happening upon Hibs 0-1 St Johnstone
Simon Linds got in on the Scottish Prem action with Dundee Utd 0 Ross County 2
Lee F just knew Southampton would score against Leicester for a 1-1
However, this week's best correct score, and new Correct Score of the Season, goes to Sam Arora for his 10-what-in-a-row? inspired, Rangers 4 Celtic 1!
Bet of the Week:
Jazz Sian was on "Bet of the Week" position 45th in Week 11 so we asked him to provide a treble selection for the £3 "trixie" bet.
And guess what?!
Nah mate…
BTTS
Brentford v Watford = no!
Luton v Middlesbrough – yessss!
Stoke v QPR – no!
So, £0 goes on "Bet of the Week" slot 45th taking & leaving it on, ahem, £0 – another one to avoid people!
Simon Lindquist is at 65th this week…
Mr L, I need your 3 team treble by Friday, please! Can we go out with a bang?
Table News:
"Alpha":
Charlie Harris reclaims top spot with a week to go, a big 10 points ahead of Pete C in second, who in turn is three points ahead of Danny A…
One crashed the Top Ten.
"Blackout":
Patricia Fernandez slips 4 places to the bottom, nine points behind Gary B, who in turn is 2 points off Dan H…
"Hunter":
Highest climber this week, up a whopping 21 places is Stephen Peaston – honourable mentions go to Jason M (+19), Nick H (+19), Jerry S (+12), Olly O (+11), and Nick W (+11)
"Chain":
Falling furthest this week, down a whopping 15 places are James Challinor & Ben Hogwood – dishonourable mentions go to Pete H (-12), Darren McC (-12), Frankie F (-12), Dan W (-12), and John K (-11)
Click here for further details…
PAS Champions League Knockout Stages 2020/21:
Semi Final 2nd leg games went ahead this week…
It. Was. Really. Exciting!
One Man Yoo v Liverpool match up that did go ahead went with home advantage…and then some!
Tony Morris 27 (4) v 14 (1) Mark Seels
And the Hammers continue to prevail…
Paul Carter  22 (3) v 19 (2) Arthur Harrison  
Aggregate scores –
Mark Seels 29 (1) v 42 (4) Tony Morris
Arthur Harrison 37 (3) v Paul Carter 48 (5)
Congrats to our finalists and commiserations to the beaten semi-finalists…
Full results & fixtures can be found here
Dates for your (next year) diaries – PAS CL Weeks
Final – the merry month of May ('21)
PAS Cup 2021:
Congrats to our finalists…
Jason Morris v Neil Templeton
Cup Final scoresheets will be with you soon!
Full results can be found here
Dates for your (next year) diaries – PAS Cup Weeks
Final – the merry month of May ('21)
PAS Euro 2021:
In order to be invited to enter the PAS Euro 2021 (with benefits! Read the rules…), you will have to finish in the Top 32 after 13 weeks of play. Currently sneaking the last spot is, not that JJ, but…John Jennings!
And Another Thing:
That last minute penalty at Peterborough…really??!
Twitter is dead & so is Instagram – but we've got a What's App group!
Wanna join?
Why?
Well, I send round reminders that you don't have to check your email for.
Erm…some people are quite funny (some are annoying) & hopefully, we'll get some good pics of away fans at games.
We will crush any "hilarious GIFs" though…
Plus, you can gloat when you land that 9 pointer in the 91st minute!
Email me over your number and i'll add ya ([email protected])
Cheers,
Pab