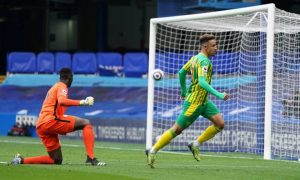 CR7 strikes again…
After the points-fest on International Week last week, it went from the subl ridiculous to the ridiculous!
It was all very much Week 1 actually…
A third of the league could have won it in a week that saw only nine players get 25 points or more.
John J put up a spirited scrap for the weekly honour but was ultimately brushed aside by the majestic Barnsley correct score double that secured Darrel Shannan 28 (5) the £20 prize!
Well done D, despite the lowly total, that is an impressive victory!
"Slow Motion":
So at the other end of proceedings, sixteen people couldn't manage to get to 15 points and 8 of them didn't record a correct score.
Two were unable to struggle up to double-digit points but new dad Alex Taylor 8 (0) no doubt has a bonafide excuse!
Correct Score of the Week:
Painful at best…most popular score was Luton's 1-2 defeat to Barnsley– 25 of us got that!
Ten had Bournemouth's 3-1 win over Stoke
Stephen P & Martin S celebrated the bore draw between Orient & Walsall
Bry D & Reagon K got the 3 goal demolition of Coventry by QPR
Simon Linds & Rowan M saw their typo come good on the 2-3 game at Wolves
Neil T believed in Palace. A 1-1 kinda belief…
Neil M nabbed the form book upsetting Birmingham 1 Swansea 0
Hira Y was grateful for the 3-1 Villians win over The Cottagers
However, this week's best correct score goes to John Jennings for his I-know-a-comeback-when-I-see-one inspired, Southampton 3 Burnley 2!
Bet of the Week:
Chris Dixon was on "Bet of the Week" position 45th in Week 7 so we asked him to provide a treble selection for the £3 "trixie" bet.
And guess what?!
Bombed…
"Three team treble selection from me, Pab:"
– Swansea City to beat Birmingham City – pfffttt!
– Sunderland to beat Peterborough United – pfffttt!
– Leeds United to beat Sheffield United – boom!!
So, £0 goes on "Bet of the Week" slot 45th leaving it on £0 – erm…
The King is at 65th this week…
Jazz, I need your 3 team treble by Friday, please! Let's get it going…
Table News:
Pete Clarke stays top of the shop, 10 points ahead of Charlie H in second, who in turn is three points ahead of Jack B…
One crashed the Top Ten.
Dan Hogwood is still bottom, three points behind Mr 2-0, who in turn is 3 points off Gary B… I can see a pattern forming.
"Arrows":
Highest climber this week, up a whopping(?) 18 places is John Jennings – honourable mentions go to Lee F (+16), Mark J B (+15), Karina H (+12) and Li'l Lily T (+12)
"Loops In The Secret Society":
Falling furthest this week, down a whopping(?) 18 places is Simon Lindquist – dishonourable mentions go to Paul C (-15), Dave C (-14), George T (-14), and Neil O (-14)
Click here for further details…
PAS Champions League Knockout Stages 2020/21:
Semi Finals 1st leg games next week…
Who will make the Final?
Arthur Harrison plays Paul Carter
Mark Seels takes on Tony Morris
Full results & fixtures can be found here
Dates for your (next year) diaries – PAS CL Weeks
Semi Finals 1st leg –  Week 9
Semi Finals 2nd leg – Week 12
Final – the merry month of May ('21)
PAS Cup 2021:
The semi final draw
Jason Morris v Rob Currin
Neil Templeton v El Presidente
Full results & fixtures can be found here
Dates for your (next year) diaries – PAS Cup Weeks
Semi Finals – Week 10
Final – the merry month of May ('21)
PAS Euro 2021:
In order to be invited to enter the PAS Euro 2021 (with benefits! Read the rules…), you will have to finish in the Top 32 after 13 weeks of play. Currently sneaking the last spot is, surprisingly…Tony Morris!
And Another Thing:
Mikel, we are NOT Man City…
Twitter is dead & so is Instagram – but we've got a What's App group!
Wanna join?
Why?
Well, I send round reminders that you don't have to check your email for.
Erm…some people are quite funny (some are annoying) & hopefully, we'll get some good pics of away fans at games.
We will crush any "hilarious GIFs" though…
Plus, you can gloat when you land that 9 pointer in the 91st minute!
Email me over your number and i'll add ya ([email protected])
Cheers,
Pab