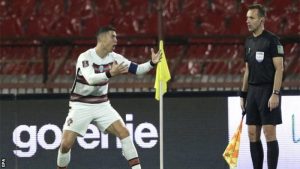 Yes, I know Ronnie, I effing know…
"Mad World":
What. Can. I. Say…?
Scored 30 points this week? I'm afraid you're a failure given the rich pickings available to pick up in yet another divisive, exciting, unbelievable International Week!
Thirty players scored 40 (FORTY) points or more this week, 9 got 50 (FIFTY!) or more, and an elite foursome notched up a mighty impressive 60 (SIXTY!!!) points plus!
Take a boo son(s).
It was a scrap right to the finish as the PAS record of 67 points was under serious threat from all sides. Dave C & Pete B were thwarted at sixty points, newbie Pete C must be wondering what all the fuss is about as he just fell short of a weekly win on 61 points.
Pete C went toe-to-toe with Martin Stafford 62 (9) from the 11 pointer that was Holland in Gibraltar, right through to Spain v Kosovo – pegging back Martin's Wales correct score with an Italian one, only to see a Scotland 8 pointer put him to the sword, and gifting the £20 Wigan way…
Well done M, still anti-International week?!
6 (SIX!!) punters scored 20 points or less.
But they all got a correct score.
Only Ric P didn't, and he finished on 23 points. Weird, non?
Patricia F would've been bottom of the pile but Dan H, Gary B and Andy S all foolishly followed Mr 2-0 15 (1) into International oblivion…
Sacre bleu!
Correct Score of the Week:
Bumper to bumper…most popular score was Scotland's 1-1 draw in Israel– 38 of youse got that!
Thirty (30!) got Germany 3 Iceland 0
16 doffed a cap to Poland's 3-0 deconstruction of Andorra
Another sixteen quite rightly predicted England's 5-0 thrashing of San Marino (thanks to Billy The Fish in nets)
13 said "Look at me! Yes! Me!" for their Gibraltar 0 Holland 7 (whilst not noticing the other 12…)
Twelve were all over the 0-3 Kosovo v Sweden
10 made us all green by happening upon Scotland 4-0 Faroe Islands
Eight were grateful for the 3-1 Spanish win over Kosovo
5 just knew Luxembourg would score against La Selecao for a 1-3
Four got the dull-all at Windsor Park
Four more got the very annoying, outrageous last minute spoiling Serbia 2 Portugal 2
Neil M, Karina H & Samantha P got Scotland's "Desmond" with Austria
Howard T, Chris D & Dan W got the very annoying last minute spoiling Blackpool 2 Plymouth 2
However, this week's best correct score goes to…no one, as it-can-only-be-a-unique-scoreline!
Bet of the Week:
John Jennings was on "Bet of the Week" position 33rd in Week 6 so we asked him to provide a treble selection for the £3 "trixie" bet.
And guess what?!
He won!
Belgium v Czech Rep – thumbs down
Netherlands v Latvia – thumbs up!
Croatia v Cyprus – thumbs up!
So, £0.87 goes on "Bet of the Week" slot 33rd taking it to £5.19 – it's a slow burn…
Chris Dixon is at 45th this week…
Ant/Dec, I need your 3 team treble by Friday, please! Let's keep the momentum going…
Table News:
Pete Clarke climbs seven places to go top in his first season, 13 points ahead of Charlie H in second, who in turn is one point ahead of Ben H…
Three crashed the Top Ten.
"Johnny Panic & The Bible Of Dreams":
Dan Hogwood is taking one for the PAS PR team, slipping one to the bottom slot, three points behind Mr 2-0, who in turn is 3 points off Gary B…
"Pale Shelter":
Highest climber this week, up a whopping 53 places is Martin Stafford – honourable mentions go to Pete B (+46), Dave C (+42), David G (+38) and Darrel S (+30)
"Change":
Falling furthest this week, down a whopping 31 places is Andy Smith – dishonourable mentions go to Jerry S (-29), Paul S (-27), Eddie O (-25), and Matthew M (-23)
Click here for further details…
PAS Champions League Knockout Stages 2020/21:
The semi final draw was "live & exclusive" on the What's App group (you really should get involved if you're not already…)
Arthur Harrison will play Paul Carter
Mark Seels takes on Tony Morris
So, we were denied the chance of an all "Syndicate" final..wonder if they would've fixed that?!
Full results & fixtures can be found here
Dates for your (next year) diaries – PAS CL Weeks
Semi Finals 1st leg –  Week 9
Semi Finals 2nd leg – Week 12
Final – the merry month of May ('21)
PAS Cup 2021:
The semi final draw
Jason Morris v Rob Currin
Neil Templeton v El Presidente
Full results & fixtures can be found here
Dates for your (next year) diaries – PAS Cup Weeks
Semi Finals – Week 10
Final – the merry month of May ('21)
PAS Euro 2021:
In order to be invited to enter the PAS Euro 2021 (with benefits! Read the rules…), you will have to finish in the Top 32 after 13 weeks of play. Currently sneaking the last spot is still the (firm gripping) handy…!
And Another Thing:
How can you not have goal-line technology for an international game? Huh??!!
I'll stop now…
Twitter is dead & so is Instagram – but we've got a What's App group!
Wanna join?
Why?
Well, I send round reminders that you don't have to check your email for.
Erm…some people are quite funny (some are annoying) & hopefully, we'll get some good pics of away fans at games.
We will crush any "hilarious GIFs" though…
Plus, you can gloat when you land that 9 pointer in the 91st minute!
Email me over your number and i'll add ya ([email protected])
Cheers,
Pab