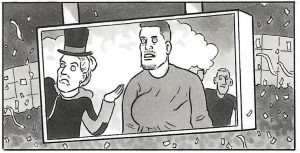 "Oooh, that scouse wit…"
"Bombtrack":
Jeepers!
Week 12 proved to be one of the best (ever?) PAS weeks in a long long time. It was success across the board and the £20 weekly prize has never felt so well earned!
Twenty five of you scored a sound 30 points or more but the scrap at the top of the pile was mired in injury time joy & pain – a-Maze-ing!
Simon B chipped into the challenge with last minute correct scores thanks to Coventry and Wilf at Southampton, only to find he was undone by Sheff U the night before.
John N saw Palace, Villa and Leicester gift him 13 points at 90+ minutes. Alas, Sheff U and Coventry did for him…
Howard T probably rushed out to put his numbers on as Sheff U (94'), Palace (91'), Villa (93') and Stoke (94') netted a hefty 18 last minute points haul. Alas, Coventry's 91st minute consolation ended that witchcraft…
Martin S crept up on the blind side benefiting from Coventry's goal but ultimately rueing Sheffield Utd's 94th minute, totally unnecessary, cherry on the cake third on Friday night.
So, that left our winner ironically cursing Zaha's 91st minute winner AND that Coventry goal but revelling in an ex-City striker landing a super Sunday 5 points at Spurs in the 91st minute!
Pete Britton 39 (6) you've Kelechi Iheanacho to thank for putting you that vital point clear – you know his middle name is Promise, right?!
Back in the real world where last minute goals ALWAYS go against you (yes, I know I got the Spurs one this week but, really, you should see the list of last minute crimes against good honest correct scores I've got written down in RED PEN AND UNDERLINED!) it was a chore as usual.
Five PASers couldn't get more than 15 points and four people didn't record a single correct score (imagine!)
On a bum note, bringing up the rear this week is the guitar strumming Rowan Marriott 13 (0).
Roland! You need to get out of your shed, fella!
Correct Score of the Week:
My word…most popular score was Tottenham's 3-1 win over Leicester – 22 of us got that!
Twenty got Millwall 3 Peterborough 0
7 lapped up the injury time joy of Middlesbro 3 Stoke 1
Five(!) doffed a cap to City's 0-4 deconstruction of Dirty Leeds
4 nabbed the form book upsetting Man Utd 3 Brentford 0
Four more got the 1-3 PNE win over Barnsley
Ben McK & Howard T were well away with the 1-3 away win for Sheff U
Nick H & Mike K somehow stumbled on Sheff Wed 4 Portsmouth 1 (how????)
Kate S made us all green by happening upon Newcastle 0-1 Liverpool
However, this week's best correct score, and new Best Correct Score of the Season, goes to Greg Fleming for his if-I-continue-to-commit-to-mad-scores-then-mad-scores-will happen inspired, Nottingham Forest 5 Swansea City 1!
Bet of the Week:
Martin Stafford was on "Bet of the Week" position 60th in Week 10 so we asked him to provide a treble selection for the £3 "trixie" bet.
Danny Ashworth was on "Bet of the Week" position 45th in Week 11 so we asked him to provide a treble selection for the £3 "trixie" bet.
And guess what?!
Martin's left field darts selection went West…
Michael van Gerwen to beat James Wade – missed the board
Joe Cullen to beat Gerwyn Price – hit the wire and bounced out
Jonny Clayton to beat Peter wright – bullseye
So, £0 goes on "Bet of the Week" slot 60th leaving it on £3 – meh.
Danny, on the other hand, smashed in a full house!
"Let's banish the curse of the early kick off…"
Liverpool to win at Newcastle – tick
Preston to win at Barnsley – tick
Sheff Wed to dispatch Pompey – boom!
So, £10.85 goes on "Bet of the Week" slot 45th leaving it on £21.42 – finally, the dream for the BotW slot is realised!!
Lee Taylor is at 33rd this week….
Mr T, I need your 3 team selection by Friday evening, please!
Let's go out as we meant to go on!
Table News:
"Freedom":
Ben Hogwood still has top spot, but now only a retrievable (?) 5 points ahead of debutant John N, who in turn is three points clear of Pete B in third…
One crashed the Top Ten.
Tim Payne slides one place to the bottom, six points behind Joanne McK, who in turn is 2 correct scores off Patricia F…
Go on Mum! Show 'em that Katie Taylor isn't the only girl from Bray who can scrap!
Ahem.
PAS will be, and always has been, impartial during season time…
Highest climber this week, up a whopping 21 places is Lily Templeton – honourable mentions go to Martin S (+20), Damian H (+17), Howard T (+14) and Justin C (+15)
"Wake Up":
Falling furthest this week, down a whopping 15 places is Chris Dixon – dishonourable mentions go to Dan H (-13), Rob C (-12), Danny A (-10), George T (-10) and Dave C (-10)
Click here for further details…
PAS Champions League Knockout Stages 2021/22:
Semi Final 2nd leg ties went ahead this week…
It. Was. Dramatic!
We had 2 successful jokers! 1 hammering! And, 2 away wins!
Two won their games with 32 points & one lost their game with 25 points!
Here are the 1st leg scores…but who went through to the Big Cup Final??!
Ben McKeown  28 (3) – 42 (7)  Richard Hirst 
Andy Chesworth  18 (2) – 24 (4)  Lee Ford
Commiserations to the losers – your prize money will be with shortly – look out for that Monzo prompt!
Full fixtures, results & aggregate scores can be found here
Dates for your diaries – PAS CL Weeks
Final – the merry month of May ('22)
PAS Cup 2022:
Aaahhhh the magic of the Cup! Quarter Final ties in Week 13!
Here's the draw…
Chris Dixon v Mark Seels
Mike Krasnowski v Matthew Murphy
Neutral grounds in the PAS Cup (we went Old Trafford and, erm, Subaru Park) so it's a "joker" fest for all!
Full fixtures & results can be found here
Dates for your diaries – PAS Cup Weeks
Semi Finals – Week 13
Final – the merry month of May ('22)
PAS Champions League 2022-23:
In order to be invited to enter the PAS Champions League 2022-23 you will have to finish in the Top 32 after 13 weeks of play. Currently sneaking the last spot is, "It's howay not haway"…Pete Hawdon!
And Another Thing:
I've written all the World Cup games in my diary* already – it's a veritable waking hours feast!
Twitter is dead & so is Instagram – but we've got a What's App group!
Wanna join?
Why?
Well, I send round reminders that you don't have to check your email for.
Erm…some people are quite funny (some are annoying) & hopefully, we'll get some good pics of away fans at games.
We will crush any "hilarious GIFs" though…
Plus, you can gloat when you land that 9 pointer in the 91st minute!
Email me over your number and i'll add ya ([email protected])
Cheers,
Pab
* yes, a diary.With real writing done with a pen in it – it sits next to my "teams I hate for scoring injury time goals" logbook…