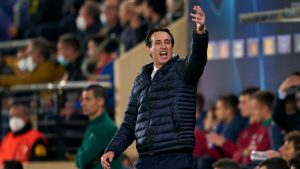 "Congrats Unai, you've passed your audition…what? Oh."
"Wet Dream":
Sorry, yes, I know, i'm very late AGAIN this week,  so i'll cut to the chase…
Only five punters scored 30 points or more perfectly illustrating what a rubbish week it was.
One Swede (not a turnip!) took full advantage as the rest of us had a "fika moment" though, courtesy of the 93rd minute penalty for QPR at PNE. Those four points and made all the difference!
Simon Lindquist 39 (6), spending your second of the season £20 weekly prize on delights from the smorgasbord?!
"Oh No":
Meanwhile, it was as equally abject at the other end of the table.
Twenty one players couldn't break the 15 point marker and nine couldn't muster a correct score.
It was a twin effort of maximum failure though this week, with Simon (not that one, this one) Lindsay and Greg Fleming 8 (0) begging for more at the soup kitchen of points…
Correct Score of the Week:
Ugh…most popular score was Swansea's 2-1 win over Derby– 26 of youse got that!
Seventeen banked the five points on offer for the 2-2 betwixt City & Liverpool
Nine landed on  the two-two in Dundee. The right side of Dundee…
6 were grateful for the 3-1 Jambo win over Hibs
Six more made us all green by happening upon St Mirren 0-4 Rangers
Bijay L believed in Hull. A 0-1 kinda belief…
Luke S nabbed the form book upsetting Everton 1 Man Utd 0
Anders H nailed Livingston 2 Motherwell 2
However, this week's best correct score goes to Matt Worsfold for his you-look-neat-talk-about-a-treat inspired, Port Vale 3 Oldham 2!
Bet of the Week:
Mark Seels was on "Bet of the Week" position 33rd in Week 8 so we asked him to provide a treble selection for the £3 "trixie" bet.
And guess what?!
I think he got confused.
"Arsenal, Leeds & Burnley to finish in the Top 3 of the Grand National! Or, all to win…"
Arsenal – we've gone all Spursy
Leeds – they've gone all Barcy
Burnley – they've gone down..hopefully
So, £0 goes on "Bet of the Week" slot 33rd leaving it on £10.33 – shame.
Francesca Fernandez is at 83rd this week….
Frankie, I need your 3 team selection tomorrow, please!
If you don't win i'm taking your phone off you for 78 days…
Table News:
Simon Lindquist springs 9 places to the top, 1 point ahead of John N, who in turn is four points clear of Neil M…
One (!) crashed the Top Ten!
"Ur Mum":
Patricia Fernandez stays rooted to the bottom, now ten points behind Tim P, who in turn is 3 points off Greg F…and Croydon wails.
"Loving You":
Highest climber this week, up a whopping 23 places is Ben McKeown – honourable mentions go to Ric P (+21), and Dan W (+10)
Falling furthest this week, down a whopping 20 places are Simon (not that one, this one) Lindsay & Chris Webber – dishonourable mentions go to David G (-13), Paul V (-11), Jack B (-10), and Simon B (-11)
Click here for further details…
PAS Champions League Knockout Stages 2021/22:
Semi Final 1st leg games kick off in Week 10!
So, here's the Semi Finals draw (no Frankie livestream again  – she's STILL in bed…)
Ben McKeown v Richard Hirst
Andy Chesworth v Lee Ford
Full fixtures, results & aggregate scores can be found here
Dates for your diaries – PAS CL Weeks
Semi Finals 1st leg –  Week 10
Semi Finals 2nd leg – Week 12
Final – the merry month of May ('22)
PAS Cup 2022:
Quarter Finals ties went ahead this week…
It. Was. Dramatic!
We had 2 successful jokers! 1 really successful joker! 1 close games! 3 hammerings! And, 2 away wins!
One won their game with 22 points & one lost their game with 22 points!
Commiserations to the losers (the £20 should see you right though eh?!), but who went through to the semi-finals?!
Full fixtures & results can be found here
Semi Finals draw coming soon!
Dates for your diaries – PAS Cup Weeks
Semi Finals – Week 13
Final – the merry month of May ('22)
PAS Champions League 2022-23:
In order to be invited to enter the PAS Champions League 2022-23 you will have to finish in the Top 32 after 13 weeks of play. Currently sneaking the last spot is, "to rock a rhyme that's right on time, it's…" Richard Hirst!
And Another Thing:
I'm illin' like Bob Dylan – not nice is it?
Twitter is dead & so is Instagram – but we've got a What's App group!
Wanna join?
Why?
Well, I send round reminders that you don't have to check your email for.
Erm…some people are quite funny (some are annoying) & hopefully, we'll get some good pics of away fans at games.
We will crush any "hilarious GIFs" though…
Plus, you can gloat when you land that 9 pointer in the 91st minute!
Email me over your number and i'll add ya ([email protected])
Cheers,
Pab