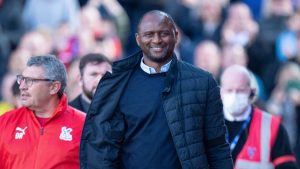 "Congrats Paddy, you've passed your final audition…"
"Oh Yeah":
Sorry, yes, I know, i'm very late this week so i'll cut to the chase…
Only eight punters scored 30 points or more this week so it was tight at the top.
One canary (in a goalmine!) flew highest though via the 99th & 90th minute goals at Coventry & Peterborough respectively. They combined to give him a whopping 13 points and made all the difference!
Ben Hogwood 38 (5) spending your £20 weekly prize on a delight from Delia?!
Meanwhile, it was equally as tight at the other end of the table.
Sixteen players could break the 15 point marker and seven couldn't muster a correct score.
It was a triptych of abject failure though this week, with Jason (or is it Tony?) Morris, Rich Lee and my mum 11 (0) choking and gasping for air…
Correct Score of the Week:
Scant…most popular score was Derby's 1-0 win over PNE – 19 of us got that!
Six turned up Brighton 0 Norwich 0. Then sobbed a little bit as he thought of those poor souls who were actually there.
5 nailed Coventry 2 Blackburn 2
Ben H & Reagon K somehow stumbled on Peterborough 0 Middlesbro 4 (how????)
Richard H & David G said "Look at me! Yes! Me!" for their Bournemouth 3 Bristol City 2
Dom W landed on  the two-two in Dundee. The wrong side of Dundee…
However, this week's best correct score goes to Paul Carter for his I-predict-a-riot inspired, Luton 2 Millwall 2!
Bet of the Week:
Ric Pardoe was on "Bet of the Week" position 45th in Week 7 so we asked him to provide a treble selection for the £3 "trixie" bet.
And guess what?!
We're gonna build a statue of this lad!
Another full house from the Stockport Selector…
"I've backed these three with the remaining 97p in my William Hill (other money draining bookies are available) account…"
Mansfield to beat Northampton – nervy 1-0
Sunderland to beat Gillingham – very nervy 1-0, 95th minute winner!
Halifax to beat Wealdstone – Mr 2-0 was on it"
So, £10.62 goes on "Bet of the Week" slot 45th – whoop whoop!
Mark Seels is at 33rd this week….
Seelsy, I need your 3 team selection by Friday, please!
This is the "The Syndicate's" game – can you be like Ric ?!
Table News:
"Over You":
Pete Britton leaps 4 places to the top, 2 points ahead of Ben H, who in turn is four points clear of Simon B & John N…
Two crashed the Top Ten!
Patricia Fernandez stays bottom, now eight points behind Tim P, who in turn is 6 points off Will O…and Croydon weeps.
"Dance Away":
Highest climber this week, up a whopping(!) 16 places is Chris Webber – honourable mentions go to Jazz S (+13), Chris D (+13), Pete H (+15), and Mark S (+11)
Falling furthest this week, down a whopping 21 places is Rich Lee – dishonourable mentions go to Tony M (-15), Matthew M (-12), and Dan H (-10)
Click here for further details…
PAS Champions League Knockout Stages 2021/22:
Quarter Final 2nd leg ties went ahead this week…
It. Was. Dramatic!
We had 4 successful jokers! 2 close games! And, 1 away win!
One won their game with 19 points & two lost their games with 21 points!
Here are the 1st leg scores…but who went through to the semi-finals?!
Peter Morley 21 (1) – 26 (2) Ben McKeown
Lee Ford 22 (2) – 12 (0) Kate Slee
Richard Hirst 47 (6) – 21 (3) Lily Templeton
Andy Chesworth 27 (3) – 18 (2) George Triantafillou
Full fixtures, results & aggregate scores can be found here
Dates for your diaries – PAS CL Weeks
Semi Finals 1st leg –  Week 10
Semi Finals 2nd leg – Week 12
Final – the merry month of May ('22)
PAS Cup 2022:
Aaahhhh the magic of the Cup! Quarter Final ties in Week 9!
Here's the draw…
Chris Dixon v John Jennings
Hira Yonzan v Mark Seels 
Matthew Murphy v Jack Buxton
Ben Hogwood v Mike Krasnowski  
Full fixtures & results can be found here
Dates for your diaries – PAS Cup Weeks
Quarter Finals – Week 9
Semi Finals – Week 13
Final – the merry month of May ('22)
PAS Champions League 2022-23:
In order to be invited to enter the PAS Champions League 2022-23 you will have to finish in the Top 32 after 13 weeks of play. Currently sneaking the last spot is, the non bat head biting…Neil Osborne!
And Another Thing:
Manchester to Newport to Bristol to Cornwall to Bristol to Manchester to Peterborough to Manchester is a loooooong way….
Twitter is dead & so is Instagram – but we've got a What's App group!
Wanna join?
Why?
Well, I send round reminders that you don't have to check your email for.
Erm…some people are quite funny (some are annoying) & hopefully, we'll get some good pics of away fans at games.
We will crush any "hilarious GIFs" though…
Plus, you can gloat when you land that 9 pointer in the 91st minute!
Email me over your number and i'll add ya ([email protected])
Cheers,
Pab