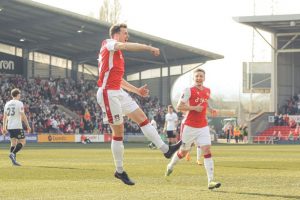 "Avengers end game…"
'Twas a thrilling week so it 'twas (no, I don't know why i'm speaking like that either…) and most thrilled (of the 30 who 30 point plussed) was Neil Meredith 41 (7) who just sneaked past the unlucky Dom W (thanks to that late Portuguese goal on Thursday!) to lay claim to this week's £20. 
Well done la, a fine win in a bizarre but enjoyable International Week!
Runcorn and her triptych of bridges will be so proud …#wool
Meanwhile, at the other end of the table, the quest to bridge the gap was  in vain.
Only 7 didn't notch a correct score though!
However, a sub 15 point score this week is going to hurt you…
Tim Payne 11 (0) must be in stitches…#ouch!
Correct Score of the Week:
And breathe…most popular score was Argentina's 3-0 win over Venezuela– 24 of youse got that!
Fourteen got the very annoying last minute spoiling (but also very pleasing) Portugal 3 Turkey 1
7 got the dull-all for Doha in Accra
Six banked the five points on offer for the 2-2 betwixt Hartlepool & Mansfield
4 got 4 goal demolition of Chile by Brazil
Paul C celebrated the bore draw between Bradford & Newport
Mike K had his secret prayers answered by the "Saints of Nil" for the stalemate in Stockholm
However, this week's best correct score goes to Bijay Lama for his there's-a-moose-loose-about-this-hoose inspired, Canada 4 Jamaica 0!
Bet of the Week:
Dom Webber was on "Bet of the Week" position 60th in Week 6 so we asked him to provide a treble selection for the £3 "trixie" bet.
And guess what?!
He was either off foraging for Spurs v Toon tickets and forgot or was keeping his spot on predictions for himself!
He's a lovely lad — I hope he got his tickets…
So, £3 goes on "Bet of the Week" slot 60th – up and running!
Danny Ashworth & Ric Pardoe are at 45th this week….first out the hat was the "hot on National League", Ric P!
Ricardo, I need your 3 team selection by Friday, please!
More of the same as the other week please mate!
Table News:
"Best Of You":
Jason Morris (or is it Tony?!) stays top, now 5 points ahead of Anders H, who in turn is four points clear of Simon B…
Two crashed the Top Ten!
"Everlong":
Patricia Fernandez stays bottom, four points behind Greg F, who in turn is 3 points off Tim P…
"Learn To Fly":
Highest climber this week, up a whopping(!) 17 places is Dom Webber – honourable mentions go to Chris W (+14), Ben H (+16), Chris D (+15), Matthew M (+14), Mark S (+14) and Debbie L (+14)
Falling furthest this week, down a whopping 23 places is Ben McKeown – dishonourable mentions go to Peter M (-16), Danny A (-17), David G (-18), John K (-15), and Rowan M (-16)
Click here for further details…
PAS Champions League Knockout Stages 2021/22:
Quarter Final 2nd leg games kick off in Week 8!
Here's how it is so far…
Peter Morley 21 (1) – 26 (2) Ben McKeown
Lee Ford 22 (2) – 12 (0) Kate Slee
Richard Hirst 47 (6) – 21 (3) Lily Templeton
Andy Chesworth 27 (3) – 18 (2) George Triantafillou
Full fixtures, results & aggregate scores can be found here
Dates for your diaries – PAS CL Weeks
Quarter Finals 2nd leg –  Week 8
Semi Finals 1st leg –  Week 10
Semi Finals 2nd leg – Week 12
Final – the merry month of May ('22)
PAS Cup 2022:
Last Sixteen ties went ahead this week…
It. Was. Dramatic!
We had 6 successful jokers! 1 really successful joker! 3 hammerings! 1 heartbreaker! And, 6 away wins!
One won their game with 23 points & one lost their game with 34 points!
Congrats to our Quarter Finalists – you've made it through to the money rounds!
Full fixtures & results can be found here
Dates for your diaries – PAS Cup Weeks
Quarter Finals – Week 9
Semi Finals – Week 13
Final – the merry month of May ('22)
PAS Champions League 2022-23:
In order to be invited to enter the PAS Champions League 2022-23 you will have to finish in the Top 32 after 13 weeks of play. Currently sneaking the last spot is, not that one, this one…Simon Lindsay!
And Another Thing:
"Remember, kids, violence is never the answer, especially if it's going to subject everyone to a full week of hot takes, polarised op-eds and memes. Oh Will! How could you! The Fiver is also sad that the incident has instantly become the most famous and notorious on-stage hand-jaw-interface scenario in history, eclipsing that time Jerry Sadowitz took to the stage in Montreal and opened with "I tell you why I hate Canada, half of you speak French, and the other half let them" with predictable consequences…" – The Fiver
Twitter is dead & so is Instagram – but we've got a What's App group!
Wanna join?
Why?
Well, I send round reminders that you don't have to check your email for.
Erm…some people are quite funny (some are annoying) & hopefully, we'll get some good pics of away fans at games.
We will crush any "hilarious GIFs" though…
Plus, you can gloat when you land that 9 pointer in the 91st minute!
Email me over your number and i'll add ya ([email protected])
Cheers,
Pab