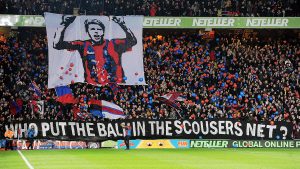 "Wembley Semi Final tifo incoming…."
"Connection":
It was a proper bun fight for the weekly prize going into Sunday with as many as eleven contenders vying for the crown (over 20 players scored 30 points or more, btw) – and, at one point, we were considering our first debutant double weekly winner…Imagine! Jeeez.
Neil O was sitting pretty with his City 9 pointer but failed to capitalise and Richard H & Scott H were both up there but ultimately left angrily pounding the ground with St Johnstone 92nd minute hate.
Why?
Tom Wooldridge 41 (6) popped up happy clapping Son's 88th minute goal that 5 pointed him all the way to the bank. £20 Tom – you've got Spurs to thank!
Personally, I think it was Bukayo's winner at Villa that sealed it for you…
"Blue":
Another medicore clump of a week where only ten PASers scored 15 points or less.
3 of them didn't get a single correct score (birthday boy Rowan M managed 17 unassisted points!)
So who was left wanting?
Beginners luck is one thing, but beginner's catastrophe is very much something else…welcome to PAS Luke Stafford 10(0), you've truly arrived!
Correct Score of the Week:
I feel sick…most popular score was Leicester's 2-1 win over Brentford– 28 of us got that!
Seventeen bribed D&D to tinker with the PAS timelapse cog in the back end and waltzed off with Celtic 4 Ross County 0
10 made us all green by happening upon Spurs 3-1 West Ham
Eight just knew Southampton would score against Citeh for a 1-4
Simon Linds, Paul V & Debbie L got the 3-1 Granite City win over Hibs
Matthew M & Dan M were well away with the 1-3 away win for Luton at Hull
Jack B nabbed the form book upsetting Reading 1 Blackburn 0
Tom W-S got the dull-all at Fratton Park
Andy C celebrated the bore draw between Swansea & Birmingham
Martin S turned up Gillingham 0 Sheffield Wednesday 0. Then sobbed a little bit as he thought of those poor souls who were actually there.
However, this week's best correct score goes to Howard Thomas for his babby's-yed-and-pea-wet inspired, Wigan 4 Morecambe 1!
Bet of the Week:
Joanne McKeown was on "Bet of the Week" position 83rd in Week 5 so we asked her to provide a treble selection for the £3 "trixie" bet.
And guess what?!
A bit like Sunderland…
"sorry I only keep half an eye on this stuff but I do have my 3 suggestions for the weekly bet:
Sunderland, Portsmouth and Bolton to win… I only look at league one these days!"
Draw – draw – win = nowt
Unlucky though Jo!
So, £0 goes on "Bet of the Week" slot 83rd – ooops!
Dom Webber is at 60th this week….
Dommo, I need your Darlo inspired 3 team selection by Friday, please!
You're following a League 1 fail…on International Week – eeek!
Table News:
"2:1":
Jason Morris (or is it Tony?!) stays top, now 3 points ahead of Anders H, who in turn is six points clear of Andy C…
Four crashed the Top Ten!
"Waking Up":
Patricia Fernandez stays bottom, five points behind Greg F, who in turn is 1 point off Sam O…
"Line Up":
Highest climber this week, up a whopping 22 places are Matthew Stafford & Tom Wooldridge-Stevens – honourable mentions go to Neil O (+21), Ric P (+20), Richard H (+19), and Dan C (+16)
"Stutter":
Falling furthest this week, down a whopping 19 places is Kate Slee – dishonourable mentions go to Mark J B (-17), Andy K (-17), Jamie S (-17), Darren McC (-16), and Martin S (-16)
Click here for further details…
PAS Champions League Knockout Stages 2021/22:
Quarter Final 1st leg games went ahead this week…
It. Was. Dramatic!
We had 3 successful jokers! 1 really successful joker! 2 hammerings! And, 1 away win!
One won their game with 22 points & two lost their games with 21 points!
All to play for then…sort've
Full fixtures, results & aggregate scores can be found here
Dates for your diaries – PAS CL Weeks
Quarter Finals 2nd leg –  Week 8
Semi Finals 1st leg –  Week 10
Semi Finals 2nd leg – Week 12
Final – the merry month of May ('22)
PAS Cup 2022:
Aaahhhh the magic of the Cup! Last Sixteen ties next week!
Here's the draw…
Kate Slee v Chris Dixon
Mike Krasnowski v Peter Morley
Olly Osmond v Hira Yonzan
Lee Ford v Matthew Murphy
Rich Lee v Jack Buxton
John Jennings v David Goggin
Jason Morris v Mark Seels (big derby alert!!)
Scott Harrison v Ben Hogwood
Full fixtures & results can be found here
Dates for your diaries – PAS Cup Weeks
Last 16 – Week 7
Quarter Finals – Week 9
Semi Finals – Week 13
Final – the merry month of May ('22)
PAS Champions League 2022-23:
In order to be invited to enter the PAS Champions League 2022-23 you will have to finish in the Top 32 after 13 weeks of play. Currently sneaking the last spot is, the helped from the sidelines(?)…Kate Slee!
And Another Thing:
My word, the state of the Week 7 fixtures…
Twitter is dead & so is Instagram – but we've got a What's App group!
Wanna join?
Why?
Well, I send round reminders that you don't have to check your email for.
Erm…some people are quite funny (some are annoying) & hopefully, we'll get some good pics of away fans at games.
We will crush any "hilarious GIFs" though…
Plus, you can gloat when you land that 9 pointer in the 91st minute!
Email me over your number and i'll add ya ([email protected])
Cheers,
Pab