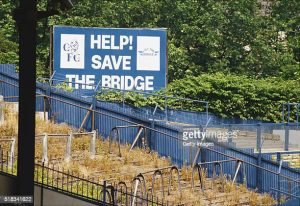 "Stamford Bridge is falling down…"
Imagine if PAS cost £10 a week to play!
If you won the thing you'd be proper rich, even a weekly prize would be a "let's get on the lash" amount!
But I suppose only about 3 people would play, so maybe the prize money wouldn't be eye-watering would it…
Anyway, there were loads of 90th minute goals (and a significant 89th one too) so it made this week even more exciting than it usually is! The standard shot up as well (or did the scores revert to when football was a bit more predictable?!) with 26 players scoring 30 points or more. Some of us got really giddy going into Monday only to have that "one goal out" feeling come 10pm…
Predictz was up there again, Dan H was even up there (see what happens when you actually do your scores Dan?!).
David G & Reagon K laid claims, George T menaced, Neil T rolled back the years and Jamie S threatened to make it proper old skool with his best tally in about a decade!
However, newbie John Nunn 39 (5) used up all that "beginners luck" with 4 x 90th minute goals going his way and he landed a couple of 5 pointers for good measure too.
Well done John, a fine debut season already and the £20 weekly prize is coming your way…i'll keep schtum on reimbursing you £40 for your PAS entry fee(s) though.    : )
Nunn's the word eh?!
You can tell it was a good scoring week by looking at the wrong end of the weekly table.
Only four x no correct scores and nobody with a single figure total!
There always has to be someone propping up the rest though, and Patricia Fernandez 11 (1) takes up a familiar residency as the wild & wacky predictions yet again, fail to deliver…   : (
Mum's the word eh?!
Correct Score of the Week:
Like feeding time at the zoo…most popular score was Rangers' 0-3 Cup win at Dundee – 26 of youse got that!
Nineteen were all over the Scottish Cup 0-3 to the Celtic
6 got the dull-all at St Andrews
Another six(!) thrilled at the thrilling Ronaldo 3 Spurs 2
5 celebrated the bore draw between Cardiff & PNE
Four got WBA's "Desmond" with Huddersfield
Martin S & Kate S secretly had their prayers answered by the "Saints of Nil" for the stalemate at 'Wall
Rob C & Dan H we're so happy for Peterborough 2-2 Stoke, they will actually wear that ballet dress…
Gary B & Julian F will shout out loud about the humbling of Reading by Forest
Bijay L nabbed the form book upsetting Blackburn 0 Bristol City 1
Matt W had the very annoying last minute spoiling Tranmere 3 Mansfield 2
However, this week's best correct score goes to Mike Krasnowski for his put-some-maple-syrup-on-that inspired,
Port Vale 4 Crowley Town 1!
Bet of the Week:
Ric Pardoe was on "Bet of the Week" position 33rd in Week 4 so we asked him to provide a treble selection for the £3 "trixie" bet.
And guess what?!
Whoop whoop! We won!
"I'm going all National League this week, channelling the spirit of Frank Sidebottom seeing as my beloved County are riding high again…
Torquay to win
Halifax to win
Wealdstone to win"
they did, 2-3
they did, 2-1 – despite the hapless Dover taking a shock lead…
they did, 3-2
So, £10.33 goes on "Bet of the Week" slot 33rd – waaaallloppp! Superb stuff Ricardo – big up!
Joanne McKeown is at 83rd this week….
Joanne, man, I need your "Her name is Rio, cos she dances on the sand…" inspired 3 team selection by Friday, please!
You're following a big winner…no pressure pet!
Table News:
"Army Of Me":
Jason Morris (or is it Tony?!) goes up 3 places to the top, 1 point ahead of Jamie S & Andy C…
Five crashed the Top Ten!
"Play Dead":
Patricia Fernandez relieves her grandson of his duties in the basement slot, four points behind the aforementioned Greg F, who in turn is 1 correct score off Sam O…
Highest climber this week, up a whopping 27 places is Neil Templeton – honourable mentions go to George T (+18), Predictz (+15), John N (+25), David G (+18), Jazz S (+17), Julian F (+15), El Presidente (+15), Dan H (+16) and Reagon K (+18)
Falling furthest this week (cruelly), down a whopping 24 places is Ric Pardoe – dishonourable mentions go to Dom W (-17), Ryan G (-22), Ben H(-23), and Ben McK (-20)
Click here for further details…
PAS Champions League Knockout Stages 2021/22:
Quarter Final 1st leg games kick off in Week 6!
So, here's the Quarter Finals draw (no Frankie livestream again  – she'll only get out of bed for semi finals these days…)
Peter Morley v Ben McKeown
Lee Ford v Kate Slee
Richard Hirst v Lily Templeton
Andy Chesworth v George Triantafillou
Full fixtures, results & aggregate scores can be found here
Dates for your diaries – PAS CL Weeks
Quarter Finals 1st leg – Week 6
Quarter Finals 2nd leg –  Week 8
Semi Finals 1st leg –  Week 10
Semi Finals 2nd leg – Week 12
Final – the merry month of May ('22)
PAS Cup 2022:
Here's the Last Sixteen draw (no Frankie livestream again  – she'll only get out of bed for semi finals these days…)
Kate Slee v Chris Dixon
Mike Krasnowski v Peter Morley
Olly Osmond v Hira Yonzan
Lee Ford v Matthew Murphy
Rich Lee v Jack Buxton
John Jennings v David Goggin
Jason Morris v Mark Seels (big derby alert!!)
Scott Harrison v Ben Hogwood
Full fixtures & results can be found here
Dates for your diaries – PAS Cup Weeks
Last 16 – Week 7
Quarter Finals – Week 9
Semi Finals – Week 13
Final – the merry month of May ('22)
PAS Champions League 2022-23:
In order to be invited to enter the PAS Champions League 2022-23 you will have to finish in the Top 32 after 13 weeks of play. Currently sneaking the last spot is Harry Maguire's dad…Nick Hogwood!
And Another Thing:
Got any Cheltenham tips?
Twitter is dead & so is Instagram – but we've got a What's App group!
Wanna join?
Why?
Well, I send round reminders that you don't have to check your email for.
Erm…some people are quite funny (some are annoying) & hopefully, we'll get some good pics of away fans at games.
We will crush any "hilarious GIFs" though…
Plus, you can gloat when you land that 9 pointer in the 91st minute!
Email me over your number and i'll add ya ([email protected])
Cheers,
Pab