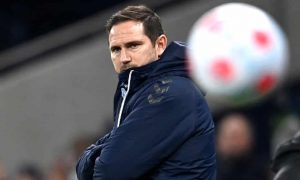 Fat chance…
It's shaping up to be a tight season judging by the first four weeks' scores <puffs cheeks, reassured that being 69th is "ok"> and the "bunching" was a real feature in Week 4…
13 punters scored thirty points or more (even Gary B risked a nosebleed this week!) with seven players laying claims to the £20 weekly prize – a couple had the 4-1 derby 9 pointer and four more had Man City only winning 3-1, which must have really rankled…
Ric P was almost there, but a 96th minute goal for Luton ultimately ended his challenge.
It was left wide open then for Dave Crisp 35 (5) to bag victory – two five pointers courtesy of Huddersfield & Celtic was topped off with 95th minute Forest equaliser securing the vital correct score to see off his rivals.
And if you're feeling miffed about the aforementioned last minute spoiling 4-1, Dave had 3-1 too…
Congrats Crispy – you wouldn't consider changing up for 20 x £1 coins and luzzing them at Granit on Sunday would you?!
Asking for a friend…
It was snuggly in the nether regions too this week!
20 of us failed to make the 20 point mark with only 4 PASers failing to register a correct score.
One didn't get into double figures though.
Bijay Lama 9 (0) i think you're in a for a ribbing on your What's App group mate…
Correct Score of the Week:
Meh…most popular score was Toon's 2-1 win over Brighton– 28 of youse got that!
Twenty-one doffed a cap to Huddersfield's 3-0 deconstruction of Posh
19 were well away with the 1-3 away win for Celtic
Five got Dundee Utd's "Desmond" with Hearts
5(!!) had City's merciless deconstruction of Man Yoo
Sam A, Rowan M & Ric P obviously guessed Swansea would beat Coventry 3-1
Simon Linds & Justin C lapped up the injury time joy of Norwich 1 Brentford 3
Neil C believed in Blackpool. A 0-1 kinda belief…
However, this week's best correct score goes to Howard Thomas for his your-name's-not-down-you're-not-coming-in inspired, Lincoln City 3 Sheffield Wednesday 1!
Bet of the Week:
Chris Dixon was on "Bet of the Week" position 45th in Week 3 so we asked him to provide a treble selection for the £3 "trixie" bet.
And guess what?!
Nope…
"Here's my trixie selection that is absolutely nailed-on, guaranteed, safer than an oligarch's superyacht in a UK port, to bring home the winnings this week:
Newcastle United – W
Wolverhampton Wanderers – W
Sheffield Wednesday – W
I can hear the bookmaker's knees trembling already…"
Yes Toon!
No!
Noooooo!
So, £0 goes on "Bet of the Week" slot 45th – hmmmmppphhh!
Ric Pardoe is at 33rd this week….
Ricardo, I need your National League leading inspired 3 team selection by Friday, please!
We need a winner…no pressure!
Table News:
Andy Chesworth jumps up to the summit, 1 point ahead of Anders H, who in turn is 1 point ahead of Norman L in third…
Five crashed the Top Ten!
Greg Fleming flops down 2 places back to the bottom, one correct score behind Paul H, who in turn is 2 correct scores off Luke S…
Highest climber this week, up a whopping 26 places is Dave Crisp – honourable mentions go to Andy K (+17), Ric P (+20), Justin C (+18), Paul V (+16), Neil M (+17), Sam A (+19) and Howard T (+16)
Falling furthest this week, down a whopping 29 places is John King – dishonourable mentions go to Bijay L (-26), Paul C (-15), Predictz (-16) and Charlie H (-16)
Click here for further details…
PAS Champions League Knockout Stages 2021/22:
Last Sixteen 2nd leg games went ahead this week…
It. Was. Dramatic! (sort've)
We had 8 successful jokers! 1 hammering! 3 away wins! 1 close game! And 1 "heartbreaker"!
One won their game with 21 points & one lost their game with 28 points!
Congrats to those who made through to the money rounds, you're now guaranteed £20!
Full results & aggregate scores can be found here
Quarter Finals draw to follow…soon!
Dates for your diaries – PAS CL Weeks
Quarter Finals 1st leg – Week 6
Quarter Finals 2nd leg –  Week 8
Semi Finals 1st leg –  Week 10
Semi Finals 2nd leg – Week 12
Final – the merry month of May ('22)
PAS Cup 2022:
Last Sixteen draw to follow…soon!
Full results can be found here
Dates for your diaries – PAS Cup Weeks
Last 16 – Week 7
Quarter Finals – Week 9
Semi Finals – Week 13
Final – the merry month of May ('22)
PAS Champions League 2022-23:
In order to be invited to enter the PAS Champions League 2022-23 you will have to finish in the Top 32 after 13 weeks of play. Currently sneaking the last spot is the new boy…Chris Webber!
And Another Thing:
The Predictz weekly £20 prize went off to DEC Ukraine Humanitarian Appeal…
Twitter is dead & so is Instagram – but we've got a What's App group!
Wanna join?
Why?
Well, I send round reminders that you don't have to check your email for.
Erm…some people are quite funny (some are annoying) & hopefully, we'll get some good pics of away fans at games.
We will crush any "hilarious GIFs" though…
Plus, you can gloat when you land that 9 pointer in the 91st minute!
Email me over your number and i'll add ya ([email protected])
Cheers,
Pab