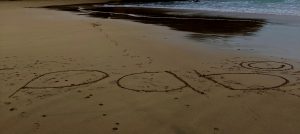 The national outdoor advertising campaign is going well…
"Money":
I'm on my first holiday in all them years so I'm just a little blissed out… here are the numbers!
Three players scored 30 points or more.
One isn't real (well they are, but they're not in PAS terms)
Tony M & Pete H narrowly missed out to Predictz 33 (6) so that means a homeless person will be getting £20 this week (if I can find one in Cornwall!) – isn't PAS just lovely sometimes!
We were meant to leave MCR on Friday, but no. Saturday we waited 2 hours at Piccadilly but all the trains got cancelled. Sunday we got the 10.30 train that terminated in Shrewsbury. We finally got to Newquay, via Newport & Bristol, at 21.30. Then there was no heating or hot water…here's the numbers!
15 players scored fifteen points or less.
Seven didn't get a correct score.
One didn't make double figures…
Sam Arora 9 (0) you are this week's whipping boy!
Correct Score of the Week:
Oh my…most popular score was Blackpool's 1-1 draw at Cardiff City – 26 of youse got that!
Twelve just knew Doncaster would score against Sheff Wed for a 1-3
5 nailed Stoke 2 Birmingham 2
Patricia F, Norman L & Debbie L had Liverpool's 3-1 win over Norwich
Matthew M & Dan C somehow stumbled on Leeds 2 Man Utd 4 (how????)
Luke S saw his typo come good on the game at Dundee Utd
Luke S (again) nabbed the form book upsetting, Fulham 1 Huddersfield 2
However, this week's best correct score, and new Best Correct Score of the Season, goes to Patricia Fernandez for her-I-just-knew-Spurs-would-come-good-for-me-one-day inspired, Man City 2 Spurs 3!
Bet of the Week:
Sam Osmond was on "Bet of the Week" position 83rd in Week 1 so we asked him to provide a treble selection for the £3 "trixie" bet.
And guess what?!
He won…sort've!
"Sam's playing it safe with this week's bet – Liverpool, Man City and Celtic to win…"
yep, nope & yep (just) – when you go safe, you need all three to come in folks!
So, £0.93 goes on "Bet of the Week" slot 83rd – not the best start, but it's a start!
Gareth Morgan & Mike Krasnowski are at 60th this week….Mike was first out the hat though!
Mr K, I need your Canadian flavoured 3 team treble by Friday, please!
Will you go ice hockey?…no pressure!
Table News:
"Disco Yes":
Simon Lindquist stays top, 4 points ahead of Anders H who in turn is six points ahead of Tony M in third…
Six crashed the Top Ten!
Gary Blackburne remains rooted to the bottom, three points behind Alex R, who in turn is 2 points off Paul H…
Highest climber this week, up a whopping 49 places is Predictz – honourable mentions go to Pete H (+29), Rich  L (+25), Kate S (+25), Andy C (+25), Damian H (+22), and Tony M (+20)
Falling furthest this week, down a whopping 33 places are Sam Arora & John Jennings – dishonourable mentions go to Neil O (-31), Pete C (-26), Frankie F (-24), Matthew S (-22), Bijay L (-21), and John K (-20)
Click here for further details…
PAS Champions League Knockout Stages 2021/22:
Round of Sixteen 1st leg games went ahead this week…
It. Was. Interesting!
We had 6 successful jokers! 4 hammerings! 3 away wins! And, 1 draw!
One won their game with 21 points & one lost their game with 20 points!
All to play for in the 2nd legs then…
Full draw, fixtures & results can be found here
Dates for your diaries – PAS CL Weeks
Round of 16 2nd leg – Week 4
Quarter Finals 1st leg – Week 6
Quarter Finals 2nd leg –  Week 8
Semi Finals 1st leg –  Week 10
Semi Finals 2nd leg – Week 12
Final – the merry month of May ('22)
PAS Cup 2022:
Aaahhhh the magic of the Cup! 1st round is next week!
Full draw, fixtures & results can be found here
Dates for your diaries – PAS Cup Weeks
1st Round Proper – Week 3
Last 16 – Week 7
Quarter Finals – Week 9
Semi Finals – Week 13
Final – the merry month of May ('22)
PAS Champions League 2022-23:
In order to be invited to enter the PAS Champions League 2022-23 you will have to finish in the Top 32 after 13 weeks of play. Currently sneaking the last spot are the inseparable…Pete Clarke & Jack Buxton!
And Another Thing:
A lot of the payments have come in – thanks! Anyone who hasn't got round to it, please do as soon as possible – don't make me chase you!
Twitter is dead & so is Instagram – but we've got a What's App group!
Wanna join?
Why?
Well, I send round reminders that you don't have to check your email for.
Erm…some people are quite funny (some are annoying) & hopefully, we'll get some good pics of away fans at games.
We will crush any "hilarious GIFs" though…
Plus, you can gloat when you land that 9 pointer in the 91st minute!
Email me over your number and i'll add ya ([email protected])
Cheers,
Pab