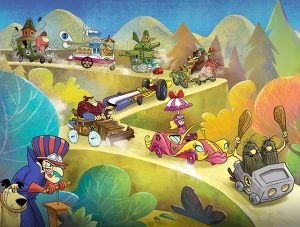 "F1, eh? Bloody hell!"
"Saint":
Blimey! It was a bumper week all round with an epic scrap at the top to boot!
If you scored 30 points or more, you we're one of twenty six – well done youse lot, you've brought PAS back from disrepute!
Plenty were in with a shout for the £20 weekly prize…
Neil M basically nullified himself by missing 5 games.
Martin S, funnily enough, didn't trust a Scouser and went against Villa – and it cost him.
Neil T was right in mix after nailing Covid FC's 3-0 Sunday win but then limped home with only one more point from 4 games.
Dan W split the Templeton/Stafford kids power struggle with a Hearts correct score, but then had nothing else to give.
That left li'l Lily T in the box seat, but she decided to "trust the process" only to see Mikel let us all done again.
So, the (advent) door opened for Luke Stafford 41 (8) to claim a season double by way of 3 correct scores on the bounce from the last 3 games of the week!
Best was left to last though as Demarai Gray's 92nd wonder winner sent to him to the summit by one point…
Bravo Luke – and unlucky Lily.
PAS thinks the kids are alright!
So, not a good week to score less than twenty points, but 19 of you did exactly that.
Everyone managed double figures though!
And only two didn't capture a correct score (unlucky Matt W!)
Worst of the week though was Eddie Osborne 10 (0)…steady!
Correct Score of the Week:
Bet you all thought you had a good week this week…most popular score was Rangers' 3-0 win over Dundee– 31 of youse got that!
Thirty just knew Watford would score against City for a 1-3
27 got Spurs 3 Norwich 0
Seven were all over the 0-3 to the Celtic
7 more got Brentford's "Desmond" at Leeds
Mike K & Dom W had Millwall's 3-1 win over Birmingham
Julian F made us all green by happening upon Man Utd 1-0 Palace
Danny A lapped up the injury time Jota joy of Wolves 0 Liverpool 1
However, this week's best correct score goes to Chris Birch for his c'mon-you-Irons-i'm-lovin'-my-nosebleed inspired, West Ham 3 Chelsea 2!
Bet of the Week:
Daniel Hughes was on "Bet of the Week" position 33rd in Week 10, so we asked him to provide a treble selection for the £3 "trixie" bet.
And guess what?!
He went off-piste, and…
The boy did good!
"Yo yo
So this weeks trixie let's go:
Saturday
2.40 aintree – kimberlite candy (nope, 7th)
Rory Milroy for the hero world challenge (yes, he beat whatshisface?)
Blackburn to beat Preston (yes, that Chilean again!)"
So, £3.05 goes on "Bet of the Week" slot 33rd, leaving it on £3.05  – now now, it's better than nowt!
Norman Lee is at 45th this week….
Norm, I need your 3 choices for a trixie by Friday, please!
Can you go one better?!
Table News:
Matthew Murphy stays top but now only 7 points ahead of Jack B, who in turn is eight points in front of Chris D…is it a two horse race now?
Two crashed the Top Ten.
"I Know":
Eddie Osborne cascades 6 places to the bottom, one point behind Predictz, who in turn is 8 points adrift of El Presidente…the charge starts here people!
"Hope":
Highest climber this week, up a whopping 24 places is Martin Stafford – honourable mentions go to Neil T (+12), John K (+12), George T (+12), Danny A (+16), and Dan W (+14)
"Best To You":
Falling furthest this week, down a whopping 13 places is Neil Critchlow  – dishonourable mentions go to Peter M (-10), Anders H (-10), Alex R (-10), and Sam O (-10)
Click here for further details…
PAS Champions League Knockout Stages 2021/22:
Matchday 6 next week…the final games!
If you're at "home" – don't forget to play your "joker"…it could be crucial
Dates for your diaries – PAS CL Weeks
Matchday 6 – Week 12
Full fixtures & results can be found here
PAS Cup 2022:
In order to be invited to enter the PAS Cup 2022 you will have to finish in the Top 32 after 13 weeks of play. Currently sneaking the last spot is debutant…Dan Clarke!
And Another Thing:
Xhaka's back, so i'm not…
Twitter is dead & so is Instagram – but we've got a What's App group!
Wanna join?
Why?
Well, I send round reminders that you don't have to check your email for.
Erm…some people are quite funny (some are annoying) & hopefully, we'll get some good pics of away fans at games.
We will crush any "hilarious GIFs" though…
Plus, you can gloat when you land that 9 pointer in the 91st minute!
Email me over your number and i'll add ya ([email protected])
Cheers,
Pab