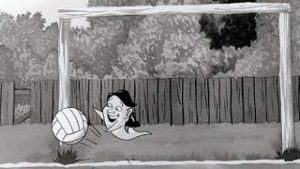 "Take a bow, Aaron…"
"Blessa":
If I told you Mr 2-0 nearly won this week, you'd despair, right?
If I told you 2/3 of the PAS Board nearly won, you'd laugh, right?
If I told you a Swede who forgot to do his scores nearly won, you'd give up, right?
If I told you last week's winner nearly won again, you'd cry "fix!", right?
If I told you a relative newcomer with previous mid-table PAS credentials nearly won, you'd kinda hope it was you, right?
Well, what about if I told you a kid who finished bottom last week turned the ridiculous into the sublime and won? You'd clap, right?
Well Luke Stafford 43 (7) did just that, but you may mute the applause when you hear that of the 21 games he didn't submit a prediction for, he picked up 4 correct scores! And of the eight games he DID predict, he scooped a 3-0 and that 4-0!
Bravo Luka, the £20 is on it's way! You obviously took my advice on doing your homework last week eh??! (I'm taking a 50% consultancy fee…)
"Run Baby Run":
I'm just gonna tell you i'm sick of this game…
But not as sick as the 14 punters who didn't break the 15 point barrier this week.
Or the 3 who didn't register a correct score.
Or, indeed, Rowan Marriott & Dan Wayman 9 (0) who brought up the rear as the only ones not to get to double figures.
Chin up, chaps!
Correct Score of the Week:
Mate…most popular score was 'Wall's 1-1 draw at Boro– 27 of us got that!
Twenty doffed a cap to Citeh's 3-0 deconstruction of Everton
6 somehow stumbled on Fulham 4 Barnsley 1 (how????)
David G, Predictz & Mike K celebrated the bore draw between Sheff U & Cov
Mike K (again!) & Luke S will shout out loud about the humbling of Arsenal by Liverpool
However, this week's best correct score goes to nobody cos-there-wasn't-any-unique-correct-score inspiration…!
Bet of the Week:
Dan Clarke was on "Bet of the Week" position 33rd in Week 8, so we asked him to provide a treble selection for the £3 "trixie" bet.
And guess what?!
He gave us what we want & went leftfield…
"With everything crossed that this is more like week 5 than any other week, I would like you to put our money on –
Green Bay Packers at Minnesota Vikings (nope)
South Africa to beat England (Twickenham,.not some random baseball match or World series cribbage…) (nearly)
AFC Bournemouth to win at Derby County (unbelievable)"
So, £0 goes on "Bet of the Week" slot 33rd, leaving it on £0  – bah.
Richard Hirst  is at 83rd this week….
Tricky, I need your 3 choices for a trixie by Friday, please!
Can you get us a "full house"?! Or half a house at least?
Table News:
Matthew Murphy jumps to the top of the pile, 2 points ahead of Jack B, who in turn is eight points in front of Chris D…
Two crashed the Top Ten.
Simon Turnbull now anchors the league, six points behind Dan W, who in turn is 2 correct scores adrift of, ahem, me…
Highest climber this week, up a whopping 24 places is Mr 2-0 – honourable mentions go to Luke S (+20), Anders H (+19), Rob C (+18), Simon Linds (+16), Dan H (+16), and Dave N (+16)
"Fading":
Falling furthest this week, down a whopping 18 places is Rowan Marriott  – dishonourable mentions go to Julian F (-11), Gary B (-16), George T (-13), Frankie F (-16), and Paul V (-11)
Click here for further details…
PAS Champions League Knockout Stages 2021/22:
Matchday 5 next week…
If you're at "home" – don't forget to play your "joker"!
Dates for your diaries – PAS CL Weeks
Matchday 5 – Week 10
Matchday 6 – Week 12
Full fixtures & results can be found here
PAS Cup 2022:
In order to be invited to enter the PAS Cup 2022 you will have to finish in the Top 32 after 13 weeks of play. Currently sneaking the last spot is the definitely not in Antarctica…Scott Harrison!
And Another Thing:
Twitter is dead & so is Instagram – but we've got a What's App group!
Wanna join?
Why?
Well, I send round reminders that you don't have to check your email for.
Erm…some people are quite funny (some are annoying) & hopefully, we'll get some good pics of away fans at games.
We will crush any "hilarious GIFs" though…
Plus, you can gloat when you land that 9 pointer in the 91st minute!
Email me over your number and i'll add ya ([email protected])
Cheers,
Pab