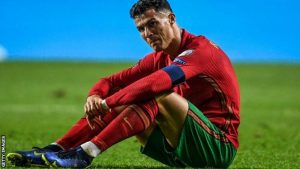 "Don't worry Ronnie, I still love you and this is only like Paris 2016 with that moth (except there's no moth) and look what happened then! Yes, we do it the hard way. We'll nick through in the last minute of the 2nd leg play off and then go into the obligatory "Grupo de Morte"…but then we'll win it! Won't we! Won't we?"
"Sunflower":
Did you get the benefit of VAR in San Marino?
Most people didn't get enough of them tbf.
Lily T did.
Unfortunately for Lily (and another 13 players), a(nother) monster score in Paris put pay to them winning the weekly prize…
Those great eight (goals) meant our friend across the Pond, Mike Krasnowski 46 (3) ensured his two point lead over the desperately unlucky Matthew M as he (ice)skated away with a most audacious of wins for the £20 – some of Canada won't be dry this week!
"A Punk":
You know it's dark days & some of your good pals must be wallowing in the doldrums when you receive a message reading "PAS is making me feel ill…".
Well, fifteen punters failed to get a correct score this week and Luke Stafford 13 (0) must have looked like one of them puking emoji thingys this week as he trawled in last this week.
Get back to doing your homework Luka!
Correct Score of the Week:
I know, right!…most popular score was Scotland's 0-2 win in Moldova– 24 of youse got that!
Eleven will shout out loud about the 8 goal humbling of Gibraltar by Turkey
9 just knew Luxembourg wouldn't score against Ireland for a 0-3
Six quite rightly predicted England's 5-0 thrashing of Albania
5 were grateful for the 3-1 Belgian win over Estonia
Howard T, Julian F & Samantha R were well away with the 1-3 away win at Walsall for Harrogate
Matt W & Dave C got the 1-3 Luxembourg win over Azerbaijan
Jazz S & Stuart F somehow stumbled on Armenia 1 Germany 4
Mike K & Lily T thrilled at the thrilling San Marino 0 England 10 (TEN)
Stuart F (again!) had Denmark's 3-1 win over Horrible Whale Killers
Hira Y got the dull-all at Portman Road
Simon Linds was all over the 1-4 to Poland in Andorra
However, this week's best correct score, and new Best Correct Score Of The Season, goes to Mike Krasnowski (again!) for his go-big-or-go-home inspired, France 8 Kazakhstan 0!
Bet of the Week:
Andy Fowler was on "Bet of the Week" position 45th in Week 7, so we asked him to provide a treble selection for the £3 "trixie" bet.
And guess what?!
He went big…
"Alright son!
My triple prediction
Ipswich v Oxford – draw (yes!)
Wycombe v Portsmouth- Wycombe win (no!)
Tranmere v Sutton – Tranmere Win (no!)
Up the Toffees…"
So, £0 goes on "Bet of the Week" slot 45th, leaving it on £0  – hmmppphh…
Dan Clarke  is at 33rd this week….
Dan, I need your 3 choices for a trixie by Friday, please!
Can you get us a "full house"?!
Table News:
"Mansard Roof":
Jack Buxton stays top, 7 points ahead of Chris D, who in turn is one point in front of Simon B…
Three crashed the Top Ten.
"Walcott":
Predictz stays rooted to the bottom, now only two points behind Patricia F, who in turn is 4 points adrift of Robert H…
"Harmony Hall":
Highest climber this week, up a whopping 22 places is Mike Krasnowski – honourable mentions go to Danny A (+21), Sam A (+19), Neil O (+18), Stuart F (+18), and David G (+17)
"Oxford Comma":
Falling furthest this week, down a whopping 14 places is Luke Stafford  – dishonourable mentions go to Jamie S (-13), Sam O (-13), Greg F (-12), Scott H (-11), Neil T (-11) and Paul H (-11)
Click here for further details…
PAS Champions League Knockout Stages 2021/22:
Matchday 4 Group games went ahead this week…
It. Was. Interesting.
We had 13 successful jokers! 1 really successful joker! 4 hammerings! 1 heartbreaker! 5 close games! And, 8 away wins!
One won their game with 22 points & 1 lost theirs with 36 points!
Getting really real now…but Olly O, Kate S & Samantha R can breathe easy!
Dates for your diaries – PAS CL Weeks
Matchday 5 – Week 10
Matchday 6 – Week 12
Full fixtures & results can be found here
PAS Cup 2022:
In order to be invited to enter the PAS Cup 2022 you will have to finish in the Top 32 after 13 weeks of play. Currently sneaking the last spot is the John Taylor of Beckenham…Ryan Graves!
And Another Thing:
The gift that keeps on giving…
Twitter is dead & so is Instagram – but we've got a What's App group!
Wanna join?
Why?
Well, I send round reminders that you don't have to check your email for.
Erm…some people are quite funny (some are annoying) & hopefully, we'll get some good pics of away fans at games.
We will crush any "hilarious GIFs" though…
Plus, you can gloat when you land that 9 pointer in the 91st minute!
Email me over your number and i'll add ya ([email protected])
Cheers,
Pab