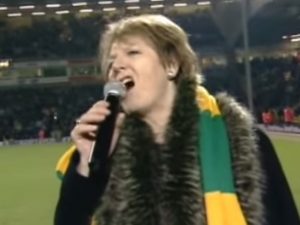 "Farke off!"
Did you find, literally from the off this week, you were left reeling as score after score filtered throuhg in the polar opposite to what you predicted?
You did, didn't you??!
In a week where only 7 players managed 25(!) points or more, six of them all had valid claims on the top spot as it came down to a correct score tally difference.
However, when it comes to actually winning, never write off a sleeping giant!
Especially one of PAS royalty!
Our all time PAS top earner friend from the Lane, Jazz Sian 30 (4) cut a swathe through the bleak week and pillaged the £20 weekly prize courtesy of two last minute goals in the Championship!
King J, tip your crown to Messrs Moore of Cardiff and Godden of Cov…
Hail!
"Mad Cyril":
Guess what?! I had a decent week – which can only spell bad news for those other bottom dwellers!
Forty (40!) people couldn't muster more than 15 points this week with 18 unable to nail down a correct score…
But our current league leader started to crack under the pressure –
Jack Buxton 9 (0) it was only you in single figures this week…
Correct Score of the Week:
Another harsh week…most popular score was Blackpool's 1-1 draw with QPR– 17 of youse got that!
Ten secretly had their prayers answered by the "Saints of Nil" for the stalemate of The Saints in Perth
Darren McC, Greg F & Samantha R somehow stumbled on West Ham 3 Liverpool 2 (how????!)
Howard T & Lily T got the dull-all at Goodison
George T & Eddie O were grateful for the 3-1 Blackburn win over Sheff U
Dan C & El Presidente lapped up the injury time joy of Coventry 3 Bristol City 2
Frankie F believed in Arsenal. A 1-0 kinda belief…
Sam O was well away with the 1-2 away win for Reading
Pete H got the 0-2 Motherwell win over Aberdeen
John J made us all green by happening upon Chelsea 1-1 Burnley
However, this week's best correct score, and new Best Correct Score Of The Season, goes to Robert Howarth for his I'm-having-my-cake-and-eating-it-too inspired, Dundee 2 Celtic 4!
Bet of the Week:
Neil Templeton was on "Bet of the Week" position 60th in Week 6, so we asked him to provide a treble selection for the £3 "trixie" bet.
And guess what?!
He played (very) "safe" – and won (sort've)
"Unfortunately the baseball season is over but my team – Atlanta Braves – won the World Series so not all bad news. Bit like Leicester winning the Premier League.
Anyway, closer to home: Irish League action
To win (keeping it simple in light of recent failures)"
Cliftonville – easy
Glentoran – just…
Linfield – nope!
So, £1.13 goes on "Bet of the Week" slot 60th, taking it to £3.08  – steady…
Andy Fowler is at 45th this week….
Andy la, I need your 3 choices for a trixie by Friday, please!
Can you get us a "full house"?
Table News:
Jack Buxton stays top, but now only 6 points ahead of Simon B, who in turn is three points in front of Chris D…
Two crashed the Top Ten.
"Lazyitis":
Predictz stays rooted to the bottom, eleven points behind Alex T, who in turn is 1 point adrift of Moi…(whoop whoop!)
"Hallelujah":
Highest climber this week, up a whopping 23 places is Neil Templeton – honourable mentions go to Jazz S (+12), Dan C (+15), Gary B (+18), Julian F (+11), and Greg F (+16)
"Loose Fit":
Falling furthest this week, down a whopping(?!) 12 places are Andy Chesworth & Pete Clarke  – dishonourable mentions go to Hira Y (-10), Olly O (-11), Richard H (-10), and Danny A (-11)
Click here for further details…
PAS Champions League Knockout Stages 2021/22:
Matchday 4 next week…
If you're at "home" – don't forget to play your "joker"!
Dates for your diaries – PAS CL Weeks
Matchday 4 – Week 8
Matchday 5 – Week 10
Matchday 6 – Week 12
Full fixtures & results can be found here
PAS Cup 2022:
In order to be invited to enter the PAS Cup 2022 you will have to finish in the Top 32 after 13 weeks of play. Currently sneaking the last spot is the crisp & dry…Bry Derbyshire!
And Another Thing:
It's International Week next week – anyone fancy a crack at 75 points?
Twitter is dead & so is Instagram – but we've got a What's App group!
Wanna join?
Why?
Well, I send round reminders that you don't have to check your email for.
Erm…some people are quite funny (some are annoying) & hopefully, we'll get some good pics of away fans at games.
We will crush any "hilarious GIFs" though…
Plus, you can gloat when you land that 9 pointer in the 91st minute!
Email me over your number and i'll add ya ([email protected])
Cheers,
Pab