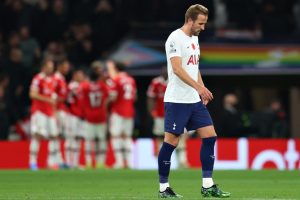 "Boo!"
Shall we just call the whole thing off?
Now?
Football is ridiculous.
Newcastle have all the money in the world – but can't find anyone to spend it, Liverpool made bookies around the world more money in a day than ever before, Sky Sports think Spurs are still "great" cos they've got a new stadium and Paddy "out Pepped" Pep!
So putting perfectly logical results down appears to be futile.
What can you do?
Yep, you can guess the rest (see below)…in a brutal week only FOUR players managed to get north of 30 points!
John J & Matthew M ran close and birthday boy Julian F went even closer.
However, Reagon Karki 36 (6) somehow magicked a decent winning tally and won the weekly prize thanks to Wolves' 2-1 victory over Everton on Monday (I like to think it was his "trust in the process" on Saturday lunchtime personally…)
Congrats Reagon, £20 winging its way to you sir – bravo!
"Only Shallow":
It was grim up north…and everywhere else this week.
Unbelievably, over 50% of the field couldn't amass more than 15 points this week – proper shocker!
Ten drew a correct score blank.
Four lapsed into a single digit return.
Worst in the worst week?
Our reigning champ Charlie Harris 6 (0) really has gone from the sublime to the ridiculous.
Ouch!
Correct Score of the Week:
I'm not playing anymore…most popular score was Leeds Utd's 1-2 win at Norwich City– 24 of youse got that!
Thirteen were all over the 0-3 to Chelsea
8 doffed a cap to Swansea's 3-0 deconstruction of Peterborough
Darren McC & Dan W got Fulham's 3 goal demolition of WBA
Dan W (again!) just knew Spurs wouldn't score against Man Utd for a 0-3
However, this week's best correct score goes to Reagon Karki for his I-bet-this-will-be-a-bright-light-in-Pab's-bleak-week inspired, Leicester 0 Arsenal 2!
Bet of the Week:
Dave Nicklin was on "Bet of the Week" position 83rd in Week 5, so we asked him to provide a treble selection for the £3 "trixie" bet.
And guess what?!
He played "safe" – but yet another blank!
3 wins
Liverpool (v Brighton) – say what?!
Spurs (v Man Utd)  – bye Nuno!
(Newcastle v) Chelsea – yes, but come back Brucie?!
So, £0 goes on "Bet of the Week" slot 83rd, leaving it on £6.15  – booooo!
Neil Templeton is at 60th this week….
Neilster, I need your 3 choices for a trixie by Friday, please!
An Irish Premiership spesh? Rugger? Baseball??
Can you get us back on track?! Please? Pretty please?!!
Table News:
"Glider":
Jack Buxton stays top, and now a big family sized 17 points ahead of Simon B, who in turn is three points in front of Chris D…
Two crashed the Top Ten.
Predictz (not even a real player) drops 3 places to the basement, one point behind Moi (oh, the shame – I feel like Cersei in that GoT episode…) who in turn is 2 points adrift of Robert H…
"Soon":
Highest climber this week, up a whopping(?) 26 places are Pete Clarke & Justin Corliss – honourable mentions go to John J (+24), Joanne McK (+21), Reagon K (+20), and Sam A (+20)
Falling furthest this week, down a whopping 22 places is Charlie Harris  – dishonourable mentions go to Norman L (-14), Anders H (-14), Rowan M (-12), Mark J B (-12), and Nick H (-11)
Click here for further details…
PAS Champions League Knockout Stages 2021/22:
Matchday 3 Group games went ahead this week…
It. Was. Carnage.
We had 2 successful jokers!! 4 hammerings! 1 heartbreaker! 1 close game! 9 away wins! And, 1 draw!
One won their game with 11 points & 1 lost theirs with 20 points!
Getting real now…
Dates for your diaries – PAS CL Weeks
Matchday 4 – Week 8
Matchday 5 – Week 10
Matchday 6 – Week 12
Full fixtures & results can be found here
PAS Cup 2022:
In order to be invited to enter the PAS Cup 2022 you will have to finish in the Top 32 after 13 weeks of play. Currently sneaking the last spot is the Stockport Georgie Best (60s version)…Neil Critchlow!
And Another Thing:
"This is a low…"
This is a high
Twitter is dead & so is Instagram – but we've got a What's App group!
Wanna join?
Why?
Well, I send round reminders that you don't have to check your email for.
Erm…some people are quite funny (some are annoying) & hopefully, we'll get some good pics of away fans at games.
We will crush any "hilarious GIFs" though…
Plus, you can gloat when you land that 9 pointer in the 91st minute!
Email me over your number and i'll add ya ([email protected])
Cheers,
Pab