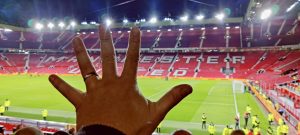 "An age-old Scouse taunt gets a re-boot…"
Pic credit: Neil Meredith
It's getting ridiculous again innit – Arsenal are looking good, Palace fans are questioned over presenting facts & the Tinker Man is up & running after a week!
It's also getting good again – Harry Maguire got 0/10 in the Manchester Evening News, Norwich are showing some consistency and Arsenal are looking good!
It was also good if you were one of 19 PASers to score 30 points or more this week – there was a real bunfight for the £20 weekly prize until a "newbie" decided to take charge after struggling to actually even save his scores in Week 1!
Our winner strung 32 points together from the last 11 games of the week to blast Jack B, Ben H & Luke S out of the water – Dan Clarke 48 (8) might want to change his moniker to "McClarke" as he predicted 4 out of 6 correct scores from the notoriously random Scottish Premiership on his way to victory!
Congrats Dan – go buy yourself a kilt!
Football is ridiculous innit – therefore, so must PAS if you were one of 5 punters who scored 15 points or less this week…
Six of you didn't register a correct score either.
One didn't get into double figures.
Well, not one of us – our "guest", the "professional tipping site", Predictz 9 (0) brought up the rear and then some.
Go with your gut kids, stats mean nothing!
Correct Score of the Week:
Wow…most popular score was Leeds Utd's 1-1 draw with Wolves– 28 of youse got that!
Thirteen doffed a cap to Bournemouth's 3-0 deconstruction of Huddersfield Town
11 got WBA 3 Bristol City 0
4 just knew Brighton would score against Man City for a 1-4
Chris D, Mike K & Luke S banked the five points on offer for the 2-2 betwixt Southampton & Burnley
Sam A, Ric P & Pete H believed in The Arsenal. A 3-1 kinda belief…
Nick H, Patricia F & Luke S (again!) obviously guessed Livingston would beat Ross County 2-3
Paul C & Paul V screamed "Look at me! Yes! Me!" for their Barnsley 2 Sheff Utd 3
However, this week's best correct score goes to David Goggin for his "everywhere-they-go…" inspired, West Ham 1 Spurs 0!
Bet of the Week:
Luke Stafford was on "Bet of the Week" position 33rd in Week 4, so we asked him to provide a treble selection for the £3 "trixie" bet.
And guess what?!
Another blank –  but not a bad effort for one so young!
3 draws
Southampton v Burnley – get in!
Birmingham v Swansea – 8 mins away…
Barnsley v Sheff Utd – 8 mins wasn't enough…
So, £0 goes on "Bet of the Week" slot 33rd  – bah!
PAS Towers' very own Dave Nicklin is at 83rd this week….
Dave, I need your 3 choices for a trixie by Friday, please!
Can you get us back on track?! Cos the Board are having a collective 'mare…
Sack the Board?!
Table News:
"Groovy Train":
Jack Buxton remains top, but now a big 14 points ahead of Chris D, who in turn is three points in front of Ben H…
One crashed the Top Ten.
"Mind":
Julian Fernandez drops 2 places to anchor the table, one point behind Robert H, who in turn is 1 point adrift of, erm<sobs>, me…
"Rising Sun":
Highest climber this week, up a whopping 42 places is Dan Clarke – honourable mentions go to Luke S (+15), Paul C (+16), Frankie F (+17), and Rob C (+25)
Falling furthest this week, down a whopping 20 places is Simon Lindsay  – dishonourable mentions go to Norman L (-17), Bijay L (-18), Tom W S (-16), Danny A (-18), and Damian H (-19)
Click here for further details…
PAS Champions League Knockout Stages 2021/22:
Matchday 3 next week…
If you're at "home" – don't forget to play your "joker"!
Dates for your diaries – PAS CL Weeks
Matchday 3 – Week 6
Matchday 4 – Week 8
Matchday 5 – Week 10
Matchday 6 – Week 12
Full fixtures & results can be found here
PAS Cup 2022:
In order to be invited to enter the PAS Cup 2022 you will have to finish in the Top 32 after 13 weeks of play. Currently sneaking the last spot are the inseparable…Reagan Karki, Hira Yonzan & Dom Webber!
And Another Thing:
£6.29 for a pint of Guinness at Piccadilly station??!
Twitter is dead & so is Instagram – but we've got a What's App group!
Wanna join?
Why?
Well, I send round reminders that you don't have to check your email for.
Erm…some people are quite funny (some are annoying) & hopefully, we'll get some good pics of away fans at games.
We will crush any "hilarious GIFs" though…
Plus, you can gloat when you land that 9 pointer in the 91st minute!
Email me over your number and i'll add ya ([email protected])
Cheers,
Pab