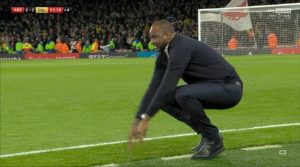 "Congrats Paddy, you've passed your audition…"
After the points nirvana of last week's "International Week", it was back to a harsh reality for most of you in Week 4…
Last week, the average score was 37 points. And this week?
Only 9 players scored 30 points or more!
And all nine fancied their chances of grabbing the £20 weekly prize too –
Lily T & Hira Y petered out after promising weekends.
Matt W nearly succeeded in a remarkable Mr 2-0 assisted weekly win.
Andy K will bemoan the hapless Eric Dier.
Ben McK won't be thanking Alex Laca anytime soon as Simon Buxton 34 (5) clung on to victory – courtesy of a 90th minute Hearts equaliser at Ibrox.
That last gasp equaliser robbed Ben of a correct score & his 2nd weekly win!
So, bravo Simon! Looks like that family business motto of "Don't Give Up, Rise Up!" really is paying off, eh?!
And flee we did – 54 punters failed to breach 20 points this week!
Thirteen couldn't buy a correct score (some did ask, but, as always, we rebuffed…).
And, 2 poor souls couldn't even get into double digits.
Alex T, your blushes were spared by the enfant terrible, Rob Currin 6 (0)
Still "trusting the process" Bert??!
Correct Score of the Week:
Man, this is tough…most popular score was AFC Bournemouth's 0-2 win at Bristol City– 21 of youse got that!
Twelve got Blackburn's "Desmond" with Coventry City
11 we're so happy for Cambridge Utd 2-2 Ipswich Town they will actually wear that ballet dress…
Nine landed on the two-two in North London. The right side of North London.
Simon B, Chris D & Paul S celebrated the bore draw between PNE & Derby
Matthew M nabbed the form book upsetting Dundee 2 Aberdeen 1
Ben H was grateful for the 0-1 Chelsea win at the bus stop in Hounslow
Matt W thrilled at the thrilling Newcastle 2 Spurs 3
However, this week's best correct score, and new correct score of the season, goes to Ben McKeown for his Si-señor-inspired, Watford 0 Liverpool 5!
Bet of the Week:
Rob Currin was on "Bet of the Week" position 45th in Week 3 so we asked him to provide a treble selection for the £3 "trixie" bet.
And guess what?!
Sacre bleu!
Ligue 1 special –
Nice to win at Troyes – not Nice!
Lens to win at Montpelier – non – not nice!
Reims to win at Brest – non – not nice again!
All a bit merde really Roberto…
So, £0 goes on "Bet of the Week" slot 45th  – zut alors!
Luke Stafford is at 33rd this week….
Luka, I need your 3 choices for a trixie by Friday, please! (ask your dad to send them over!)
You're not gonna follow Rob's lead, right?!
Table News:
"Young Love":
Jack Buxton remains top, 3 points ahead of Lee F & his dad, Simon B…
Two crashed the Top Ten.
"Alas Agnes":
Sam Osmond drops a place to the bottom, one point behind Robert H, who in turn is 2 points adrift of Julian F…
Highest climber this week, up a whopping 32 places is Hira Yonzan – honourable mentions go to Lily T (+22), Charlie H (+22), Paul S (+29), John J (+23), and Matt W (+22)
Falling furthest this week, down a whopping 35 places is Rob Currin  – dishonourable mentions go to Peter M (-16), Simon Linds (-18), Alex T (-29), Tony M (-15), and Predictz (-24)
Click here for further details…
PAS Champions League Knockout Stages 2021/22:
Matchday 2 Group games went ahead this week…
It. Was. Exciting!
We had 16 successful jokers! 1 really successful joker! 4 hammerings! 3 heartbreakers! 2 close games! And, 5 away wins!
Two of us won their games with 15 points & 1 lost theirs with 30 points!
Still early doors people, early doors…
Dates for your diaries – PAS CL Weeks
Matchday 3 – Week 6
Matchday 4 – Week 8
Matchday 5 – Week 10
Matchday 6 – Week 12
Full fixtures & results can be found here
PAS Cup 2022:
In order to be invited to enter the PAS Cup 2022 you will have to finish in the Top 32 after 13 weeks of play. Currently sneaking the last spot are the inseparable…Reagan Karki & Luke Stafford!
And Another Thing:
This!
Twitter is dead & so is Instagram – but we've got a What's App group!
Wanna join?
Why?
Well, I send round reminders that you don't have to check your email for.
Erm…some people are quite funny (some are annoying) & hopefully, we'll get some good pics of away fans at games.
We will crush any "hilarious GIFs" though…
Plus, you can gloat when you land that 9 pointer in the 91st minute!
Email me over your number and i'll add ya ([email protected])
Cheers,
Pab