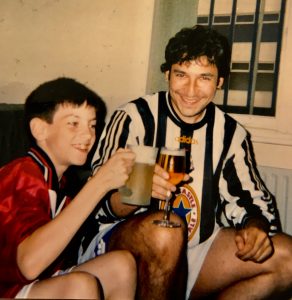 Yep, I've ALWAYS supported The Toon…cheers! ££££
Ummmm, in a sensational week in football, PAS set its own headlines –  so i'll cut to chase!
An unprecedented sixty five players scored over 30 points this week!
So you know what's coming…
20 scored forty points or more!
It gets better – for some…
An unbelievable dozen of youse scored over 50 points!
No one landed in the sixties bracket…
However, lords, ladies and gentlemen – we have a new record points holder!
Please doff your cap to Rich Lee 72 (10) who deserves more than the £20 weekly prize for his efforts this week.
Outstanding performance young man – they should build a statue in your honour on the Wirral for that!  * 72 clapping emojis *
Ever felt deflated? Missed out by one goal, game after game? Changed a 6-0 to a 5-0 based on getting leathered watching a game in Amsterdam during the 1998 World Cup?
To quote Olive, "you're not alone"…
Only seven players scored less than 25 points this week (Dan? Dave? Is that a record too??!)
Only two didn't make twenty points.
Two, amazingly, didn't get a correct score!
Jamie Sellers 17 (0) is properly feeling it this week….
Correct Score of the Week:
I think i'm gonna cry…most popular score was Eng-er-land's 0-5 win in Andorra– 29(!) of youse got that!
Twenty six got Sweden 3 Kosovo 0
22 landed the 6-0 Netherlands shellacking of Gibraltar
Eighteen will shout out loud about the 5-0 humbling of San Marino by Poland
16 had CR7's merciless deconstruction of Luxembourg
Ten were all over the 0-4 to Germany v North Macedonia
5 secretly had their prayers answered by the "Saints of Nil" for the stalemate in Mansfield
Four got Czech Rep's "Desmond" with Wales
Dave C, Richard H & Tim P lapped up the 89th minute joy of San Marino 0 Andorra 3
Gareth M, John J & Justin C just knew Ireland would score against Azerbaijan for a 0-3
David G & Norman L banked the five points on offer for the 2-2 betwixt Cyprus & Malta
Reagon K nabbed the form book upsetting Forest Green Rovers 0 Swindon Town 2
However, this week's best correct score goes to Patricia Fernandez for her I-wonder-if-they'll-all-dye-their-hair-again inspired, Germany 2 Romania 1!
Bet of the Week:
Justin Corliss was on "Bet of the Week" position 60th in Week 2 so we asked him to provide a treble selection for the £3 "trixie" bet.
And guess what?!
Well, here he is…
"I've reached the dizzying heights of 60th. And they say Aussies don't know anything about football.
Anyway, it seems I need to give selections for the Trixie bet. I have no idea what a Trixie bet is, but here goes, and I'm going to take your comment on board about it not needing to be related to football.
Deontay Wilder to beat Tyson Fury (nearly!)
St Helens to beat Catalan Dragons in the super league grand final (happened!)
Scotland to beat Israel, both teams to score (happened – just!)
No doubt you'll put a few of your own hard earned pounds on this nailed on cert and retire to somewhere in the south of France, or Tuscany or Hull."
So, £1.95 goes on "Bet of the Week" slot 60th  – better than nowt!
Rob Currin is at 45th this week….
Roberto, I need your 3 choices for a trixie by Friday, please!
You gonna follow Justin's lead?!
Table News:
"Ladyflash":
Jack Buxton moves up three places to the summit, 7 points ahead of Chris D who, in turn, is one point ahead of Mark S in third…
Five crashed the Top Ten.
Howard Thomas is down two places to the basement, one correct score behind Sam O, who in turn is 3 points adrift of Matt W…
Highest climber this week, up a whopping 58 places is  Ryan Graves – honourable mentions go to Luke S (+54), Tom WS (+51), Paul V (+49), Scott H (+47), Rich L (+45), Lily T (+43), and David G (+40)
Falling furthest this week, down a whopping 56 places is Hira Yonzan  – dishonourable mentions go to Jamie S (-40), Martin S (-38), John J (-37), Nick H (-36), Alex R (-33), and Paul S (-30)
Click here for further details…
PAS Champions League Knockout Stages 2021/22:
Matchday 2 next week…
If you're at "home" – don't forget to play your "joker"!
Dates for your diaries – PAS CL Weeks
Matchday 2 – Week 4
Matchday 3 – Week 6
Matchday 4 – Week 8
Matchday 5 – Week 10
Matchday 6 – Week 12
Full fixtures & results can be found here
PAS Cup 2022:
In order to be invited to enter the PAS Cup 2022 you will have to finish in the Top 32 after 13 weeks of play. Currently sneaking the last spot is James P Sullivan's mate…Mike Krasnowski!
And Another Thing:
This! People of Toon!
Twitter is dead & so is Instagram – but we've got a What's App group!
Wanna join?
Why?
Well, I send round reminders that you don't have to check your email for.
Erm…some people are quite funny (some are annoying) & hopefully, we'll get some good pics of away fans at games.
We will crush any "hilarious GIFs" though…
Plus, you can gloat when you land that 9 pointer in the 91st minute!
Email me over your number and i'll add ya ([email protected])
Cheers,
Pab