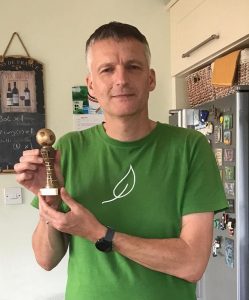 Unlike Forest, Charlie H saw "the wood from the trees" last season…
"Miracle":
We're back! With a bang!
No, not Arsenal – PAS!
Although given the lateness of this update, I could wax lyrical about "trusting the process" and how karma works (eh Granit?!) and that if you don't think Palace v Brighton is a derby then you don't know nuffink!
Anyway…
I'll cut to the chase as it was all about Toon this week – and, they deserve a break right?
One Geordie quite clearly not in the doldrums this weekend was Dec-a-like (or is it Ant?) Chris Dixon 40 (8) who deftly picked "The Syndicate'" bursar's pocket just like a little charver at The Hoppings!
Poor Mark S  has West 'Am's Michail Antonio to growl at for denying him a weekly win courtesy of that 90th minute goal in (dirty) Leeds.
The irony (or is it coincidence? "Alanis! You about luv…?") being Chris had 1-2 for the very same match – howay!
So, congrats Mr D, £20 winging its way back to you ASAP – should secure you one of natty Saint-Maximin headbands mate…*cheeky tongue out emoji*
"Fix Me Up":
Did you score 30 points + this week? Wow, we're in awe…
Twenty seven of you managed that but 8 punters couldn't manage more than 15 points this week  – and one couldn't muster a correct score (I'll spare your blushed Maffew…)!
Shocking.
Not as shocking as Brucie's Newcastle though eh?
Ahem…
Two Magpies not feeling any joy though are Simon Turnbull & Ben McKeown 13 (1) – noway!
Correct Score of the Week:
It's gonna be one of those season's again…most popular score was 'Wall's' 1-1 draw with Forest – 25 of youse got that!
Eleven got Hearts 3 Livingston 0
8 got the dull-all at St Andrews
Eight more got 3 goal demolition of Posh by Coventry City
Darren McC, Dave C & Patricia F lapped up the first half joy of Arsenal 3 Them 1
Predictz was well away with the 0-1 away win for Wolves
Kate S believed in Citeh. A 0-1 kinda belief…
However, this week's best correct score (and best correct score of the season!) goes to Andy Kelly for his do-your-celebration-now-then-Ronnie inspired, Man Yoo 0 Aston Villa 1!
Bet of the Week:
So, we've failed quite spectacularly in the last few seasons on this – actually, we've always failed.
So!
This year, we're being brave and we're gonna really shake it up – actually, shake it upside down to be precise!
How?
Whoever is on the "Bet of the Week" position for the following week will be asked to provide a treble selection so we can place the allocated £3 for the bet.
The winnings will stay on that slot and will be collected by the lucky person residing there at the end of Week 13.
Got that? No?!
OK…
The person on 83rd will make the selections for Week 2, the person on 60th in Week 2 will make the selections for Week 3, the person on 45th in Week 3 will make the selections for Week 4 and the person on 33rd in Week 4 will make the selections for Week 5 and back round again to 83rd…yeah?!
Good.
So, Dan H & Sam A are in joint 83rd, but Dan Hogwood was 1st out the hat. (trust me, it wasn't fixed…)
Dan, I need your 3 team treble by tomorrow lunchtime please!
No pressure son…
Table News:
It's Week 1 – it is what it is! Click here for the full table
Please be aware we lost quite a few players but we can still gain some more (thanks to those of you who recruited the newbies this season – love youse!) – so if you know anyone out there who wants to get involved, put them in touch! It's never too late…they'll get a respectable Mr 2-0 22pts for Week 1 to boot!
PAS Champions League Knockout Stages 2021/22:
Starts next week! Rules can be found here and the Groups & Matchday 1 fixtures can be found here
If you're at "home" – don't forget to play your "joker"!
Dates for your diaries – PAS CL Weeks
Matchday 1 – Week 2
Matchday 2 – Week 4
Matchday 3 – Week 6
Matchday 4 – Week 8
Matchday 5 – Week 10
Matchday 6 – Week 12
PAS Cup 2022:
In order to be invited to enter the PAS Cup 2022 you will have to finish in the Top 32 after 13 weeks of play. Currently sneaking the last spot are the inseparable…Reagon Karki & Matthew Murphy!
And Another Thing:
This.
Twitter is dead & so is Instagram – but we've got a What's App group!
Wanna join?
Why?
Well, I send round reminders that you don't have to check your email for.
Erm…some people are quite funny (some are annoying) & hopefully, we'll get some good pics of away fans at games.
We will crush any "hilarious GIFs" though…
Plus, you can gloat when you land that 9 pointer in the 91st minute!
Email me over your number and i'll add ya ([email protected])
Cheers,
Pab