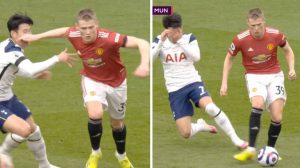 "She fell over!"
"Johnny Cash":
It was a right ol' ding dong for the Week 9 spoils, arguably as dramatic as the Grand National (do you win?!)! You really had to dig deep for your points this week, fully reflected in the fact that only 13 punters scored thirty or more.
Two of those went beyond, to the 40 point-plus mark and here's where it really did go down to the wire!
On Saturday at around 5.35pm, Neil T looked set to cap a fine week of correct scores with predictions of Bournemouth and (the incoming) West Ham wins particularly notable. All good.
Then Luton staged their last 10 minute comeback at Wycombe…
Yep, that epic turnaround and a nine point Chelsea prediction was celebrated with the same girl jockey gusto by young Sam Osmond 46 (6) as those fourteen points nudged him to a weekly win over his Godfather! And, even more remarkably, he missed predictions for the Millwall and Watford games too…
Congrats Sam – that £20 is definitely not for betting with. Got that?!
Quite a different story at the other end of the spectrum this week.
Forty players failed to score more than 20 points and 17 (seventeen!) couldn't sniff out a correct score!
I did my best to thoroughly shame myself (it's all about the Cup, right?!) in Week 9, but thankfully that accolade goes to Bijay Lama & Simon Lindquist 12 (0).
Thanks, chaps!  ; )
Correct Score of the Week:
Just, how?…most popular score was Liverpool's 2-1 win over Villa– 23 of us got that!
Nine were well away with the 0-3 away win for Arsenal
8 landed on the two-two in Lincoln.
Six celebrated the bore draw between Huddersfield & Rotherham
4 just knew Spurs would score against Man U for a 1-3
Four more nailed Cardiff 2 Blackburn 2
Another 4 said "Look at me! Yes! Me!" for their West Ham 3 Leicester 2
And another four thrilled at the thrilling Bournemouth 4 Coventry 1
Neil T & Kate S turned up Brighton 0 Everton 0. Then sobbed a little bit as they thought of those poor souls who actually tuned in to watch it.
Sams A & O got the 1-3 Hatters win over Wycombe
Sam C & Danny A banked the five points on offer for the 2-2 betwixt Kilmarnock & Ross County
Andy F & Sam O (again) had Chelsea's merciless 1-4 deconstruction of Palace
However, this week's best correct score goes to Paul Carter for his even-upside-down-my-score-is-correct inspired, Bristol City 0 Nottm Forest 0!
Bet of the Week:
Jazz Sian was on "Bet of the Week" position 65th in Week 8 so we asked him to provide a treble selection for the £3 "trixie" bet.
And guess what?!
We won!
Man City to win & BTTS – wait…what??!
Chelsea win – never in doubt
Liverpool win – took it to the wire…
So, £1.76 goes on "Bet of the Week" slot 65th taking it to £1.76 – yay! (sort've)
Sam Osmond is at 11th this week…
Sam, I need your 3 team treble by Friday, please! But ask your dad first that it's ok to, erm, "place" bets…
Table News:
"Dance Me In":
Charlie Harris moves up one place to the top of the tree, 1 point ahead of Pete C in second, who in turn is eleven points ahead of Jack B…
Three crashed the Top Ten.
"Gilt Complex":
Gary Blackburne slides two places to the bottom (ironically after escaping the clutches of Mr 2-0), two points behind Dan H, who in turn is 3 points off Mr 2-0…
"This Gift":
Highest climber this week, up a whopping 36 places is Sam Osmond – honourable mentions go to Gareth M (+21), Jamie S (+15), Francesca F (+19), Rich L (+17), Dave C (+15), and Sam C (+17)
"Split Lips":
Falling furthest this week, down a whopping 16 places is John Jennings – dishonourable mentions go to Pab (-13), Simon Lindq (-15), Nick H (-15), and Matthew M (-14)
Click here for further details…
PAS Champions League Knockout Stages 2020/21:
Semi Final 1st leg games went ahead this week…
It. Was. Really.Exciting!
You couldn't split the "Syndicate" thanks to a late "Joker" point…
Mark Seels 15 (0) v 15 (0) Tony Morris
And the West Ham good vibes roll on even as far out as Australia…
Arthur Harrison 18 (1) v Paul Carter 26 (2)
All to play for then in the 2nd legs!
Full results & fixtures can be found here
Dates for your (next year) diaries – PAS CL Weeks
Semi Finals 2nd leg – Week 12
Final – the merry month of May ('21)
PAS Cup 2021:
Semi Finals next week…
Who will make The Final?
Jason Morris v Rob Currin
Neil Templeton v El Presidente
Full results & fixtures can be found here
Dates for your (next year) diaries – PAS Cup Weeks
Semi Finals – Week 10
Final – the merry month of May ('21)
PAS Euro 2021:
In order to be invited to enter the PAS Euro 2021 (with benefits! Read the rules…), you will have to finish in the Top 32 after 13 weeks of play. Currently sneaking the last spot is, by a long throw…James Challinor!
And Another Thing:
Refs are redundant now aren't they.
And have you heard "John L" by Black Midi? Now that really is wide on the left…astounding.
Twitter is dead & so is Instagram – but we've got a What's App group!
Wanna join?
Why?
Well, I send round reminders that you don't have to check your email for.
Erm…some people are quite funny (some are annoying) & hopefully, we'll get some good pics of away fans at games.
We will crush any "hilarious GIFs" though…
Plus, you can gloat when you land that 9 pointer in the 91st minute!
Email me over your number and i'll add ya ([email protected])
Cheers,
Pab