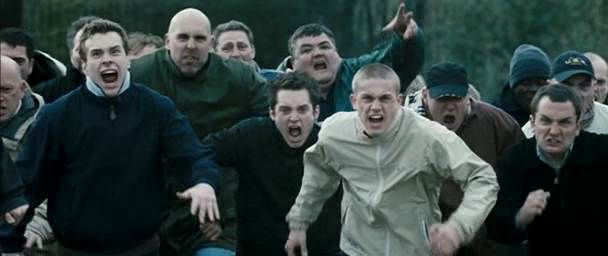 "Irons…"
"Talk Talk":
Considering how volatile the current footballing climate is, it's a wonder why we bother with all this, eh?
If you get a correct score these days, cherish it, as it could so easily have slipped from your grasp…
Sermon over.
We had 5% of the field notching up 30 points or more this week, and that, mis amigos, included my mum…again!
However, 7 punters all lay strong claims to the weekly £20.
What they didn't bargain for though was a dilemma of showing both faith and realism in your team to help you steal the show.
It's taken him a while to acclimatise from rugger on a Saturday morning in Peckham to the elite sophistication that is Predict-A-Score, but Chris Birch 32 (6) can thank his beloved 'Ammers for having the temerity to score at Anfield and then succumbing to the inevitable late winner for his own win.
Spare a thought for Angelo H who had it all in the proverbial bag until Leicester converted that last minute penalty at Leeds…
Well done Birchy, you're now golden and not silver! (Sorry! I could've said "he's not the whipping boy anymore" but we don't advocate corporal punishment…)
"It's My Life":
What was I saying about those hard to get correct scores?
10 bods scored 15 points or less.
Amazingly, only four people failed to register a correct score this week and no one recorded a single digit tally (is this a first Stats Dept?)
And who finished bottom?
Mark Seels 10 (0), it was you.
Correct Score of the Week:
It really is end of days…most popular score was Newport's 2-1 win over Harrogate Town – 25 of youse got that!
Nine just knew Burnley wouldn't score against Chelsea for a 0-3
Sam A, Bry D & Karina H were well away with the 0-3 away win for Brentford
Karina H (again!) got the 1-3 Canaries win over Bristol City
However, this week's best correct score goes to Stuart Fitzsimon for his I-kept-the-faith-even-after-all-these-years inspired, Man Utd 0 Arsenal 1!
Bet of the Week:
Jack Buxton was on "Bet of the Week" position 11th in Week 5 so we asked him to provide a treble selection for the £3 "trixie" bet.
And guess what?!
Yet another fail…
Reading to win at Coventry – X
Peterborough to beat Shrewsbury –  Big tick
Cambridge Utd to win at Crawley – X
So, £0 goes on "Bet of the Week" slot 11th –  hmmpphh!
Mike Lyons is at 33rd this week…
Michael, I need your 3 team treble by Friday lunchtime please!
Table News:
"Eden":
Danny Ashworth goes top, 9 points clear of Alex T who in turn is one point ahead of Dom W in third…
One(!) crashed the Top Ten.
Ben McKeown drops one place to last, one correct score behind Rob C who in turn is 2 points off Justin C…
Highest climber this week, up a whopping 23 places is Angelo Harrop – honourable mentions go to Simon T (+13), Patricia F (+19), Bijay L (+18), Nick W (+16), Tim P (+14), Karina H (+17) and Chris B (+16)
"Such A Shame":
Falling furthest this week, down a whopping 24 places is Richard Hirst – dishonourable mentions go to Simon Lindq (-15), Ben H (-13), Norman L (-18), John J (-14), Gary McC (-13), Will O (-13) and Mark S  (-18)
Click here for further details…
PAS Champions League Knockout Stages 2020/21:
As you're well aware we had to postpone last season's competition at the quarter final stage.
We're carrying them over to Lucky 13 Spring '21
George Triantafillou v Tony Morris
Mark Seels v Jerry Storer
Ben McKeown v Arthur Harrison
Ric Pardoe v Paul Carter
So…yeah!
Dates for your (next year) diaries – PAS CL Weeks
Quarter Finals 1st leg – Week 3
Quarter Finals 2nd leg –  Week 6
Semi Finals 1st leg –  Week 9
Semi Finals 2nd leg – Week 12
Final – the merry month of May ('21)
PAS Cup 2021:
As you're well aware we had to postpone last season's competition at the quarter final stage.
We're carrying them over to Lucky 13 Spring '21
Neil Templeton v Dan Hogwood
Pab v Tony Morris
Jason Morris v George Triantafillou
Rob Currin v Angelo Harrop
So…yeah!
Dates for your (next year) diaries – PAS Cup Weeks
Quarter Finals – Week 5
Semi Finals – Week 10
Final – the merry month of May ('21)
And Another Thing:
"A Lucid Dream" – Fontaines DC
"Both Of Us" – Jayda G
"Fall Please" – Tricky
Go buy 'em kids, if you can afford it!
Remember, Spotify is the devil…
You got a 2020 recommendation? Answers on a postcard (or if you've no stamps, send me an email)
Twitter is dead & so is Instagram – but we've got a What's App group!
Wanna join?
Why?
Well, I send round reminders that you don't have to check your email for.
Erm…some people are quite funny (some are annoying) & hopefully, we'll get some good pics of away fans at games.
We will crush any "hilarious GIFs" though…
Plus, you can gloat when you land that 9 pointer in the 91st minute!
Email me over your number and i'll add ya ([email protected])
Cheers & go wash your hands,
Pab