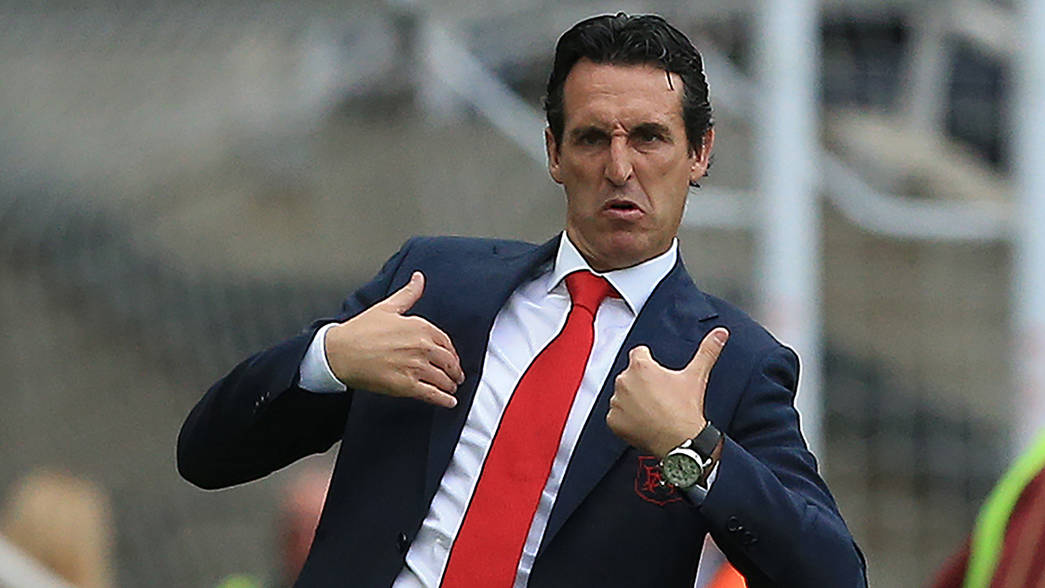 "Ooooh, you are awful…"
Did you see how well Theo Walcott played on Saturday?!
Only taken him 14 years to kick start his potential then…
And, gallingly, it seemed to inspire those around him.
Gilfi for one.
His 92nd goal early on Saturday ultimately compounded my miserable weekend of sport.
Ireland got unceremoniously dumped out of the World Cup to start it and Arsenal whimpered into submission in Sheffield to end it.
Oh, and I didn't win the weekly £20 prize either. By a correct score just to rub it in.
Just when you need Everton not to score and Man City to surely add a third at Palace…
Young debutant Sam O put in a good shout as did James C, but in a week where only 6 players got over 30 points, Kate Slee 34 (7) put good use to her "manager" not observing the PAS "technical area" to slip past the post first…
Bravo Pete Kate, the girl done good!
"The Upsetter":
With correct scores at a premium, a quarter of the field failed to register more than fifteen points this week.
So, a collective shocker then.
Seven didn't get a much-coveted four pointer and 4 players didn't even reach double figures!
Bry D, Jason M and Paul H can all thank Patricia Fernandez 7 (0) for sparing their blushes…
Correct Score of the Week:
I bloomin' hate last minute goals …most popular score was Villa's thrilling last minute 2-1 win over Brighton – 29 of us got that!
Eight revelled in the schadenfreude of Arsenal's poor poor showing in Sheffield
6 banked the five point 2-2 betwixt Blackburn & Huddersfield
Matt W, Mike K & Nick W made us all green by happening upon Hull 2-3 QPR
Howard T & Sam O (welcome!) got the 0-3 Granite City win at Motherwell
Will O got the one-all at Tynecastle
Tim P doffed a cap to Luton's 3-0 deconstruction of Brizzle City
However, this week's best correct score goes to Mike Krasnowski for his whatever-Scottish-hammering-Aussies-get-I-can-do-better inspired, Celtic 6 Ross County 0!
Bet of the Week:
Jazz S was on "Bet of the Week" position 45th in Week 3 so we asked him to provide a treble selection for the £3 "trixie" bet.
And guess what?!
He delivered – this is going well this season!
Leicester to beat Burnley – yay (thanks VAR!)
Wolves to beat Southampton – nay (Who is Danny Ings anyway?)
WBA to beat Boro – yay (adios Jonthano!)
So, £2.35 goes on "Bet of the Week" slot 45th –  foundation…
Harry H, Alex T & Greg F are 65th this week….but Greg Fleming was out the hat first!
Gregor, I need your 3 team treble by Friday please!
Can we get a clean sweep?
Table News:
"The Look":
James Challinor moves up 3 places to go 1 point ahead of Kate S who in turn is eight points ahead of El Presidente in third (yes, me!!!)
Four crashed the Top Ten.
"Heartbreaker":
All change in basecamp! Paul Henshaw sinks fours places to rock bottom, five points behind Jamie F, who in turn is 2 correct scores adrift of my mum…
Highest climber this week, up a whopping 40 places is new boy Sam Osmond – honourable mentions go to Predictz (+39), Gary B (+30), Dave N (+28), Will O (+25), Matt W (+24), Shezan J (+23), Nick W (+21) Richard H (+19) and Rob C (+18)
Falling furthest this week, down a whopping 30 places is Bry Derbyshire – dishonourable mentions go to Alex T (-25), Karina H (-22), Ben H (-21), Clare T (-19), Andy S (-19), Danny N (-19), Scott H (-19) and Ric P (-19)
Click here for further details…
PAS Champions League 2019/20 Knockout Stages:
Matchday 2 Group games went ahead this week…
It. Was. Carnage!
We had 7 successful jokers! 4 hammerings! 4 close games! 3 heartbreakers! And, 10 away wins!
Someone won their game with 12 points & someone lost their game with 24 points!
Still early doors people…
Full fixtures & results can be found here
Dates for your diaries – PAS CL Weeks
Matchday 3 – Week 6
Matchday 4 – Week 8
Matchday 5 – Week 10
Matchday 6 – Week 12
PAS Cup 2020:
In order to be invited to enter the PAS Cup 2020 you will have to finish in the Top 32 after 13 weeks of play. Currently sneaking the last spot is a jaunty newbie….Matthew Murphy!
And Another Thing:
Unai.
What are you doing amigo?
Granit? Kolasniac? Luiz? Sokratis? Not to mention that disaster called Pepe! Who agreed to pay £72m for him? Was it a typo on £7.2? Can we send him back under the trade description act? He's making Gervinho look like Garrincha
Come on senor, get Hector, Keiran, Rob, Lucas & Laca on from the start and kick start the season, si?
Twitter is dead & so is Instagram – but we've got a What's App group!
Wanna join?
Why?
Well, I send round reminders that you don't have to check your email for.
Erm…some people are quite funny (some are annoying) & hopefully, we'll get some good pics of away fans at games.
We will crush any "hilarious GIFs" though…
Plus, you can gloat when you land that 9 pointer in the 91st minute!
Email me over your number and i'll add ya ([email protected])
Cheers,
Pab