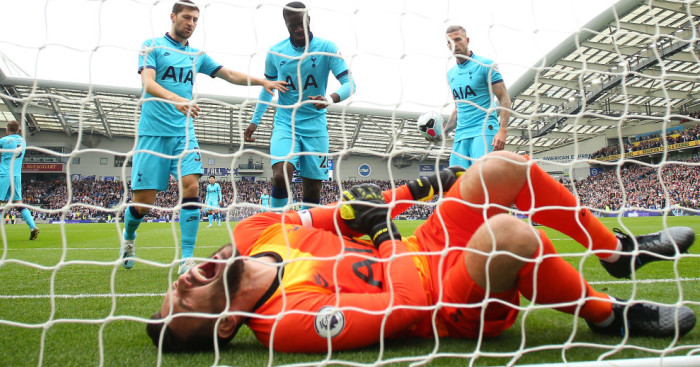 "Oi! Mercury 2008! M
on coude est meilleur que

…attendez, nonnnnnnn?!!"

"What Love":

After last week's shenanigans it had to be a better week eh? Well, for me, no!

Yes, I did manage to not forget to do my scores.

But then Mr 2-0 decide to put in a barnstormer of a week and carried Chris B, Rob C & Anders H to the brink of an unprecedented triptych weekly win.

And, I then watched in abject horror as Liverpool and Palace stole two correct score draws from under my nose in last-minute controversies.

Woe is me.

I'm sure there were plenty of others with similar stories, but I'm just feeling a bit sorry for myself, it's been a long week…    : (

So, around 18 people were in with a shout of nabbing the £20 prize (38 punters scored 20 points or more this week – which is good but also a bit rubbish) but it was my weekend drinking partner that managed to steal the accolade by way of that Liverpool penalty and the fact he had Stoke down to win. And win 1-2 to boot!

Alex Rossi 35 (6) has Week 2 forever next to his name now winning a poor week at a decent stretch.

Congrats mi Wool amigo, don't be wasting that dosh on wine, women & song now will you…

"Come Save Me":

We've got 100 real people playing this season (well done us!) but it would seem, with volume, comes complacency!

Two thirds couldn't manage more than 19 points this week as correct scores were even more elusive than usual.

16 players registered "zero" in the column marked "CS" – eeeek!

However, (weirdly?) single-digit scores were attributed to only one.

Norman Lee 7 (0) you really are all alone this week…

Correct Score of the Week:

If you got even one this week…most popular score was Birmingham's Friday night 89th minute 2-1 defeat of Boro– 19 of youse got that!

Twelve turned up Watford 0 Sheff Utd 0. Then sobbed a little bit as he thought of those poor souls who were actually there.

5 nailed Fulham 2 Charlton 2

Alex R, Stephen P & Debbie L somehow stumbled on Swansea 1 Stoke 2 (how????)

Richard H, David G & Alex R (again) landed on the two-two in the Highlands. Yep, that's in Scotland…

Matt W, Ben H & David G (again) quite rightly predicted Rangers 5-0 thrashing of Hamilton

Mike K & Sam O thrilled at the thrilling Southampton 1 Chelsea 4

However, this week's best correct score goes to Julian Fernandez for his VAR-is-well-cool-despite-what-my-bruv-says inspired, West Ham 1 Crystal Palace 2!

Bet of the Week:

We didn't change it up!

Neil T was on "Bet of the Week" position 11th in Week 1 so we asked him to provide a treble selection for the £3 "trixie" bet.

And guess what?!

He did the doo! Kinda.

Solid start from the Belfast Boy…

Fulham to beat Charlton – cross (not quite sure how that didn't happen though)

Sheff Wednesday to beat Wigan – tick (in Monk we trust…)

PNE to beat Barnsley – tick (whoomp, there it is!)

So, £2.12 goes on "Bet of the Week" slot 11th –  building…

So, Andy F & David G are in joint 33rd, but David Goggin was 1st out the hat.

Dave, I need your 3 team treble by Friday please!

No pressure matey…

Table News:

"Let Her Go":

Kate Slee moves up 2 places to go 1 point ahead of Dave C who in turn is one point ahead of Ben McK in third.

Four crashed the Top Ten.

"Man I Need":

Jamie Fairhurst remains rooted to the bottom of the pile one point behind then inseparable Norman L & Glynn F…

"The Throw":

Highest climber this week, up a whopping 54 places is Rob Currin – honourable mentions go to Alex R (+48), Mr 2-0 (+39), Chris B (+41), Anders H (+48), Moi (+37), George T (+43) and Julian F (+52)

"Uncertainty":

Falling furthest this week, down a whopping 40 places is Joe Massey – dishonourable mentions go to Norman L (-28), Paul D (-35), Tim P (-29), Nick W (-29), Stuart F (-38), Rowan M (-38), Clare T (-38), Patricia F (-28), Neil C (-36) and Mark S (-28)

Click here for further details…

PAS Champions League 2019/20 Knockout Stages:

Matchday 1 Group games went ahead this week…

It. Was. Erm. Exciting?

We had 5 successful jokers! 1 really successful joker! 4 hammerings! 1 heartbreaker! And, 6 away wins!

Two won their game with 15 points & 2 lost theirs with 22 points!

Early doors people, early doors…

Full fixtures & results can be found here
Dates for your diaries – PAS CL Weeks
Matchday 2 – Week 4
Matchday 3 – Week 6
Matchday 4 – Week 8
Matchday 5 – Week 10
Matchday 6 – Week 12
PAS Cup 2020:
In order to be invited to enter the PAS Cup 2020 you will have to finish in the Top 32 after 13 weeks of play. Currently sneaking the last spot is …Andy Fowler & David Goggin!
And Another Thing:
A lot of the payments have come in – thanks! Anyone who hasn't got round to it, please do as soon as possible – don't make me chase you!
Twitter is dead & so is Instagram – but we've got a What's App group!
Wanna join?
Why?
Well, I send round reminders that you don't have to check your email for.
Erm…some people are quite funny (some are annoying) & hopefully, we'll get some good pics of away fans at games.
We will crush any "hilarious GIFs" though…
Plus, you can gloat when you land that 9 pointer in the 91st minute!
Email me over your number and i'll add ya ([email protected])
Cheers,
Pab