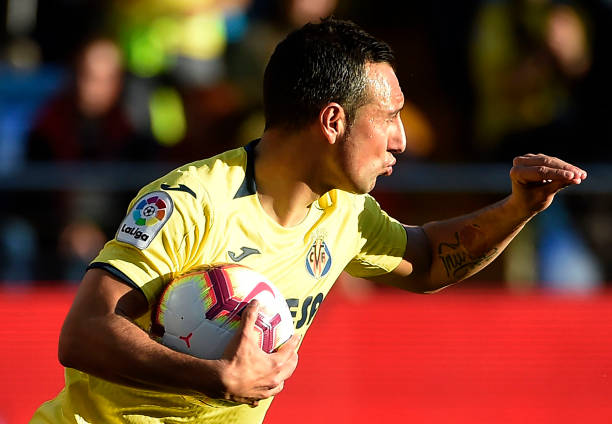 "Ohhhhhh…"
"Too Much Too Young": It was a right ol' ding dong for the Week 9 spoils, arguably as dramatic as this weekend's semi-finals & Grand National! You really had to earn your points this week, fully reflected in the fact that only 17 punters scored thirty or more.
Two of those went beyond to the 40 point mark and here's where it really did go down to the wire!
On Saturday evening, Ben McK looked set to cap a fine week of correct scores with predictions of Wolves and Chelsea wins. All good then up to the 94th minute in the FA Cup semi-final then…
Yep, that last gasp penalty equaliser for Watford was celebrated with the same Troy D gusto by John King 41 (7) as the five-point two-all nudged him into the lead.
And there he stayed.
Congrats Mr King – that £20 gonna inspire a new novel? It's been a long time…
"Blank Expression": Quite a different story at the other end of the spectrum this week.
A huge forty-six players failed to score more than 20 points but weirdly, only 3 didn't sniff out a correct score!
Dave C & Clare T did their best to thoroughly shame themselves in Week 9, but that accolade goes to Patricia Fernandez 10 (0) who is obviously desperate to add to that well earned World Cup wooden spoon from last year…
Correct Score of the Week:
Well done us…most popular score was Aberdeen's 0-2 win at Dundee– 30 of youse got that!
Nineteen got very the pleasing last minute rewarding Watford 2 Wolves 2
14 got the 1-3 Liverpool win over Southampton
Eight got Hull's 3-1 win over Reading
6 got the thrilling Norwich 4 QPR 0
Five just knew Wednesday would score against Villa for a 1-3
Mark J B, Simon Lindq & David G were all over the 0-3 to the 'Gers
Norman L, Richard Hu & Michelle S got the five-point Bristol C v Wigan 2-2
Mark P saw his typo come good on the game at Birmingham City
Gary B believed in Palace. A 0-1 kinda belief…
Greg F made us all green by happening upon Bournemouth 1-3 Burnley
However, this week's best correct score goes to Richard Hughes for his "do-it-like-Jordan-run-up-and-spark-him" inspired, Huddersfield 1 Leicester 4!
Bet of the Week:
Tim Payne was on "Bet of the Week" position 78th in Week 8 so we asked him to provide three results for our "trixie" £3 bet.
And guess what?!
We lost. Again. But at least he had a go… Derby to win & over 2.5 goals – nope!Forest Green to win & over 2.5 goals – yup!Go Conquer placed in the National – nope!
So, £0 goes on "Bet of the Week" slot 78th – leaving it on £3 for the season.
Kate Slee, you're up next! I need your 3 team treble by Friday lunchtime please!
Table News:
Pete Britton remains top, but now only 5 points ahead of Simon B, who in turn, is six points ahead of Dan H in third.
1 crashed the Top Ten.
Patricia Fernandez drops 2 places to the bottom, seven points behind Will O, who in turn, is 1 point behind Joe S…
"Rat Race":
Highest climber this week, up a whopping 31 places is John King– honourable mentions go to Ben McK (+23), Darren McC (+21), Paul H (+20), Neil T (+20), Bry D (+20), Matt W (+17), Richard Hi (+16), Andy C (+16) and Brett A (+14)
"Ghost Town":
Falling furthest this week, down a whopping 17 places is Clare Templeton – dishonourable mentions go to Stuart F (-16), Joe M (-12), Rich L (-12), Peter M (-12), Jerry S (-12), Shezan J (-12), Justin C (-11), Dave C (-11) and Sam A (-10)
Click here for further details…
PAS Champions League 2018/19 Knockout Stages:
Semi Final 1st leg games kick off in Week 10!
Semi Final draw is…
Jason Morris v Ryan Graves
Jack Buxton v Dave Crisp
All results so far can be found here
Dates for your diaries – PAS CL Weeks
Semi Finals 1st leg – Week 10
Semi Finals 2nd leg – Week 12
Final – the merry month of May ('19)
PAS Cup 2019:
Semi-Finals draw is here!
Kate Slee v Charlie Harris
Tony Morris v Nick Woodward
All results & fixtures can be found here
Dates for your diaries – PAS Cup Weeks
Semi Finals – Week 11
Final – the merry month of May ('19)
PAS Champions League 2019/20:
In order to be invited to enter the PAS Champions League 2019/20 you will have to finish in the Top 32 after 13 weeks of play. Currently sneaking the last spot is saint, not old…Nick Hogwood!
Statto Corner
99% went for a Celtic home win (the other person went for a 0-1!)
95% knew that Leicester would win away
48% thanked the Lord for Troy Deeney
And Another Thing:
4th in a series of a few revisits – the PAS Poll continues!
2008 – https://www.pabspace.co.uk/poll2008/
Twitter is dead & so is Instagram – but we've got a What's App group!
Wanna join?
Why?
Well, I send round reminders that you don't have to check your email for.
Erm…some people are quite funny (some are annoying) & hopefully, we'll get some good pics of away fans at games.
We will crush any "hilarious GIFs" though…
Plus, you can gloat when you land that 9 pointer in the 91st minute!
Email me over your number and i'll add ya ([email protected])
Cheers,
Pab