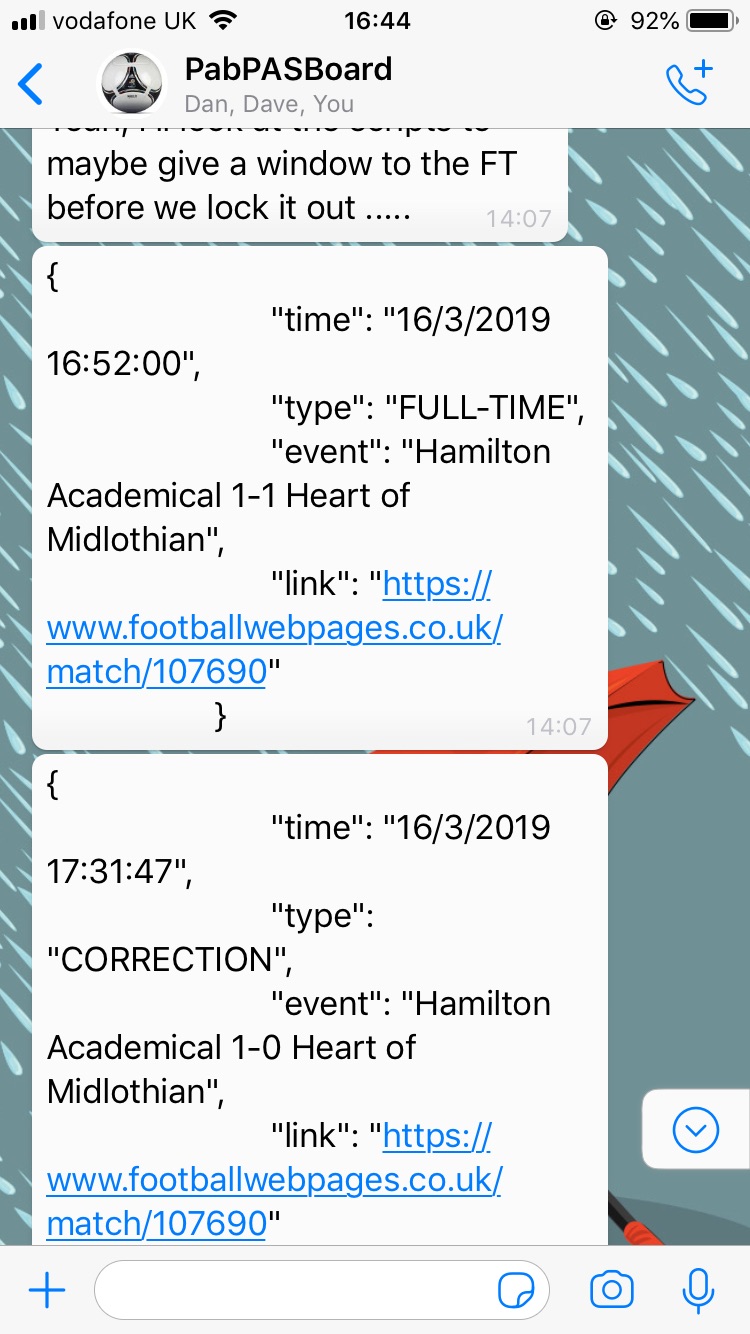 "Edgy edge case…"
"Hawaiian Air": Bloomin' hell it's lucky we're thorough here at PAS Towers, as a phantom Hearts goal nearly threw a spanner in the Week 6 works!
We were all ready to press "go" when the customary "triple check" unearthed a mistake in our live score feed – phew!
So in a week that was pretty damn stark for most (only 12 disciples scored more than 25 points this week), every point really counted…
All twelve could've won the weekly £20.
Nick H, Mike K, Norman L & Rob C should've.
Martin S probably thought he did.
It might've been the 94th minute winner for Preston, but it most definitely was the 95th minute Sonny March equaliser that did it for Simon Lindsay 30 (4).
Congrats Si – you off to your new ground to watch the "legends" with that then?
"Jump In The Pool": Good grief!
Over half the field scored less than twenty points this week.
9 poor souls didn't even register a correct score.
Worst of the worst this week were Predictz & Danny Ashworth 10 (0)…
On the plus side though Dan, you were only 20 points off top spot!
Correct Score of the Week:
Thin on the ground…most popular score was Watford's 2-1 win over Palace– 35 of youse got that!
Thirteen got the thrilling Wolves 2 Man Utd 1
13 more got the very annoying, last minute spoiling, Bournemouth 2 Newcastle Utd 2
Six got the bore draw between Stoke & Reading
4 got the five point Hull v QPR 2-2
Debbie L & Bijay L believed in Sheff U. A 0-1 kinda belief…
Alex R saw his typo come good on the game at Yeovil
However, this week's best correct score goes to Paul Smith for his tapered-slim-well-fitted inspired, Doncaster 0 Barnsley 0!
Bet of the Week:
Shezan Juma was on "Bet of the Week" position 78th in Week 4 so we asked him to provide three results for our "trixie" £3 bet.
And guess what?!
He obviously didn't read the round up cos he never came back to us!
It must be catching…
So, £3 goes on "Bet of the Week" slot 11th – it's a start innit!
Prem KC, you're up next! I need your 3 team treble by Friday please! Can the newcomer kick start this…?
Table News:
"On Board":
Dan Hogwood continues on top, 19 points ahead of Danny N, who in turn, is three points ahead of Gareth M in third.
1 crashed the Top Ten.
"Skeleton Boy":
Joe Shore continues at the bottom, six points behind Greg F, who in turn, is 3 points behind Julian F…
"Kiss Of Life":
Highest climber this week, up a whopping 25 places is Martin Stafford – honourable mentions go to Mark S (+21), Nick H (+20), Mike K (+17), Andy K (+15) and Rob C (+15)
"Hold On":
Falling furthest this week, down a whopping 26 places is Paul Henshaw – dishonourable mentions go to Dave N (-22), Danny A (-20), David G (-18), Arthur H (-17) and Predictz (-17)
Click here for further details…
PAS Champions League 2018/19 Knockout Stages:
Quarter Final 1st leg games kicked off in Week 6!
We had 3 successful jokers! 2 hammerings! And, 1 away win!
One won their game with 18 points &… the rest lost with poor scores.
All to play for then…
Full draw & results can be found here
Dates for your diaries – PAS CL Weeks
Quarter Finals 2nd leg – Week 8
Semi Finals 1st leg – Week 10
Semi Finals 2nd leg – Week 12
Final – the merry month of May ('19)
PAS Cup 2019:
Quarter Finals next week, here's the draw…
Mark Potter v Charlie Harris
Jamie Sellers v Nick Woodward
Tony Morris v Neil Critchlow
Kate Slee v Jerry Storer
All fixtures & results can be found here
Dates for your diaries – PAS Cup Weeks
Quarter Finals – Week 7
Semi Finals – Week 11
Final – the merry month of May ('19)
PAS Champions League 2019/20:
In order to be invited to enter the PAS Champions League 2019/20 you will have to finish in the Top 32 after 13 weeks of play. Currently sneaking the last spot is the nosebleed threatened…Sam Craig!
Statto Corner
The current season has had the lowest number of "big score" (4-0, 3-2 etc) predictions since 2015
This season has the highest average points per player so far (up to Week 5) since 2013
And Another Thing:
1st in a series of a few revisits – the 1st PAS Poll!
2005 – https://www.pabspace.co.uk/poll2005/
Twitter is dead & so is Instagram – but we've got a What's App group!
Wanna join?
Why?
Well, I send round reminders that you don't have to check your email for.
Erm…some people are quite funny (some are annoying) & hopefully, we'll get some good pics of away fans at games.
We will crush any "hilarious GIFs" though…
Plus, you can gloat when you land that 9 pointer in the 91st minute!
Email me over your number and i'll add ya ([email protected])
Cheers,
Pab