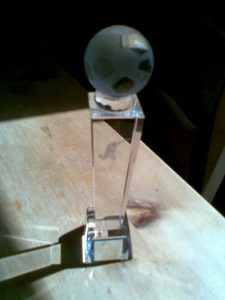 When it's gone, it's gone… *
"Swim & Sleep (Like A Shark)":
I usually take this slot to moan about how much of a shocking week it was to predict scores (basically, it makes me feel better about my shortcomings…)
However, this week really was a shocker – for EVERYONE.
Check it.
Only 20 people scored 25 points or more this week and only 6 scored thirty points plus.
Hmmmmmm…
It lent itself to an exciting £20 weekly prize scrap though.
Ubiquitous Dan H, Nick W & Neil C all had a shout right up to the last game on Monday night.
Steve M & Bijay L probably thought they'd won it…
Alas, a displaced cockney Down Under came up trumps, ghosting in by one point –
Paul Carter 32 (5) you've got PEA to thank for holding his nerve on Sunday if you prefer, more dramatically, that 87th minute Killie goal on Monday night!
You little ripper.
"So Good At Being In Trouble":
Where a fifth of the league floundered at the top, likewise the bottom feeders were found wanting too.
Twenty PASers totted up 15 points or less and 11 didn't even register a correct score!
Only one though didn't manage double digits.
Olly Osmond 8 (0), you've done an Ole…
Correct Score of the Week:
Scant reward…most popular score was Leicester's 3-1 win over Fulham– 21 of youse got that!
Thirteen obviously guessed City would beat Watford 3-1
8 got the 1-3 Franchise FC win over Macc Town
Sam A & Stuart F got the thrilling Southampton 2 Spurs 1
Anders H & Greg F got the dull-all at Loftus Road
Me & Rich L got Motherwell's 3-0 deconstruction of Hamilton
Frankie F believed in Brentford. A 1-2 kinda belief…
Alex R just knew Swansea wouldn't score against Norwich for a 1-0
However, this week's best correct score goes to Justin Corliss for his Toon-always-welcome-an-ex-Mackem-back inspired, Newcastle 3 Everton 2!
Bet of the Week:
We didn't change it up!
Simon Lindsay was on "Bet of the Week" position 78th in Week 4 so we asked him to provide three results for our "trixie" £3 bet.
And guess what?!
He obviously didn't read the round up cos he never came back to us!
So, £3 goes on "Bet of the Week" slot 78th – it's a start innit!
Shezan Juma, you're up next! I need your 3 team treble by Friday please! Pressure off a bit…
Table News:
Dan Hogwood is still top, but now a big 20 points ahead of Danny N, who in turn, is three points ahead of Pete B in third.
0 crashed the Top Ten.
"Everyone Acts Crazy Nowadays":
Joe Shore stays at the bottom, five points behind Greg F, who in turn, is 2 points behind Chris B…
Highest climber this week, up a whopping 28 places is Paul Carter – honourable mentions go to Steve M (+24), Ethan N (+20), Sam C (+17), Andy K (+17), Bijay L (+15) and Andy S (+15)
"Can't Keep Checking My Phone":
Falling furthest this week, down a whopping 28 places is Olly Osmond – dishonourable mentions go to Martin S (-25), Alex T (-21), Dave N (-16) and George P (-16)
Click here for further details…
PAS Champions League 2018/19 Knockout Stages:
Quarter Final 1st leg games kick off in Week 6!
Full draw & results so far, can be found here
Dates for your diaries – PAS CL Weeks
Quarter Finals 1st leg – Week 6
Quarter Finals 2nd leg – Week 8
Semi Finals 1st leg – Week 10
Semi Finals 2nd leg – Week 12
Final – the merry month of May ('19)
PAS Cup 2019:
It was the Last 16 this week…
Dramarama!
We had –
4 away wins!
6 successful jokers!
1 really successful joker!
2 heartbreakers! (1 by correct score!)
Wow!
Someone won with fourteen points
And
Someone lost with 24 points!
Jeeez!
PAS Cup Quarter Finals draw to follow…
All the results can be found here
If you lost (like me) you'll get your cash compensation very soon!
Dates for your diaries – PAS Cup Weeks
Quarter Finals – Week 7
Semi Finals – Week 11
Final – the merry month of May ('19)
PAS Champions League 2019/20:
In order to be invited to enter the PAS Champions League 2019/20 you will have to finish in the Top 32 after 13 weeks of play. Currently sneaking the last spot is the very much in…Justin Corliss!
Statto Corner
4% saw that Southampton win
Only 5% acknowledged the Dons in Scotland
3% took a punt on the WBA-Ipswich draw
And Another Thing: *
We had a bit of a clamour for the return of the "PAS Poll" earlier this year.
Dan! Dave! Have we got links to the old polls?
Anyway,
Part of that poll was the "best songs of the year" – so, for posterity, here are my selections for the magnificent 2018 – enjoy!
"Saint" – Blood Orange
"I Only Bought It For The Bottle" – The Orielles
"Samaritans" – Idles
"Don't Beat The Girl Out Of My Boy" – Anna Calvi
"Cherry On Top" – Lou Hayter
"Let It Burn" – Goat
"Count Your Blessings" – Mattiel
"Jerry" – Boy Azooga
"Hot Pink" – Let's Eat Grandma
"Bells & Circles" – Underworld
"Surface To Air" – Django Django
"Wiggy Giggy" – The Lovely Eggs
"Girlfriend" – Christine & The Queens
"Bratt" – Haley
Chequeless Reckless" – Fontaines DC
"Oh My" – Natalie Prass
"Everything Connected" – Jon Hopkins
"Clear" – Daniel Avery
"Negative Space" – Hookworms
"Essential Four" – Soulwax
Twitter is dead & so is Instagram – but we've got a What's App group!
Wanna join?
Why?
Well, I send round reminders that you don't have to check your email for.
Erm…some people are quite funny (some are annoying) & hopefully, we'll get some good pics of away fans at games.
We will crush any "hilarious GIFs" though…
Plus, you can gloat when you land that 9 pointer in the 91st minute!
Email me over your number and i'll add ya ([email protected])
Cheers,
Pab