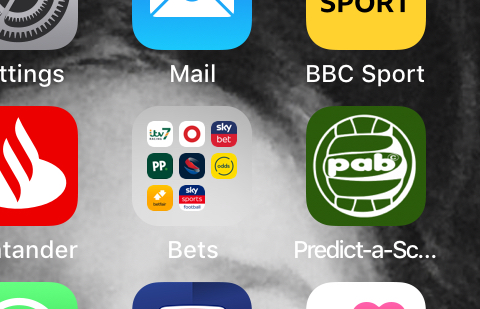 Look! We've got an app! *
"Be Thankful for What You've Got": So, who cannot wait til we get VAR? (No, not you Ole..)
We'll come back to that…
A pretty fruitful week for a quarter of the league as 25 of you amassed 30 points or more (even Mr 2-0 was only 1 point off that threshold!).
Predictz was amongst it for the first time ever (I should ring them and tell them!) as were Danny A & Prem KC.
A few others stalled on 35 points, but a decent haul none the less.
Someone who was thanking the Lord above that the ref didn't spot Jan V literally standing next PEA for his last-minute spot kick was returning former PAS champ Danny Norbury 42 (7).
That 1-1 secured the 4 points that ensured another £20 weekly prize winging its way to the Steel City – well done Dan. You are the champion of the world PAS once again…
And yes, I had 1-2 for Spurs' Cup Final. And yes, i'm very bitter…still.
"Karmacoma": One man's fruit is another's, erm, compost?
A quarter of the league (yep, you lot.Yes, you 26 cowering in the corner!) couldn't even manage more than twenty points this week (even I got 23 points!).
Two couldn't even muster a correct score between them.
Joe Shore 10 (0) only just crept into double figures.
The Brummie data cruncher will have to re-jig his numbers if he's gonna face down this disaster…
Correct Score of the Week:
So, even when i do get a few…most popular score was Norwich's 1-3 win at The Den– 31 of us got that!
Ten got Bury's 3-0 deconstruction of Macc Town
9 got the dull-all at Meadow Lane
Six believed in Brentford. A 3-0 kinda belief…
Neil T, Nick W & Moi got the bore draw between The Reds & The Blues
Julian F & James C got Wigan 0 Boro 0. Then sobbed a little bit as he thought of those poor souls who were actually there.
Ben McK & Reagon K got the five point nil-all between Shrewsbury & AFC Wimbledon
Mike K made us all green by happening upon Bournemouth 0 Man City 1
However, this week's best correct score goes to Gary Blackburne for his "we're-from-sarf-london…" inspired, Burnley 1 C Palace 3!
Bet of the Week:
We didn't change it up!
Justin Corliss was on "Bet of the Week" position 45th in Week 3 so we asked him to provide three results for our "trixie" £3 bet.
And guess what?!
Missed again, but it was a brave effort!
To win & BTTS
Man U v Southampton – won & yes!
Celtic @ Hibs – won & no!
West Ham v Newcastle – won & no!
So, £0 goes on "Bet of the Week" slot 45th – yuk!
Simon Lindsay, you're up next! I need your 3 team treble by Friday please! Pressure building…
Table News:
Dan Hogwood stays top, but now only 12 points ahead of Pete B, who in turn, is one correct score ahead of Danny N in third.
2 crashed the Top Ten.
"Teardrop":
Joe Shore slides 10 places to the basement, one point behind Greg F, who in turn, is 1 point behind Chris B…
"Protection":
Highest climber this week, up a whopping 29 places is Prem KC – honourable mentions go to Nick W (+18), George T (+22), Alex R (+18), Olly O (+22), Predictz (+24) and Danny A (+20)
Falling furthest this week, down a whopping 24 places is Rowan Marriott – dishonourable mentions go to Neil O (-15), Andy S (-15), Chris D (-19) Howard t (-18), David G (-21) and Tim P (-17)
Click here for further details…
PAS Champions League 2018/19 Knockout Stages:
Last 16 2nd leg games kicked off in Week 4!
We had 8 successful jokers! 1 really successful joker! 1 hammering! 1 close game! 2 away wins! And, 2 draws!!
Two won their games with 25 points & 1 lost their game with 34 points!
But who went through?
Full draw & results can be found here
Dates for your diaries – PAS CL Weeks
Quarter Finals 1st leg – Week 6
Quarter Finals 2nd leg – Week 8
Semi Finals 1st leg – Week 10
Semi Finals 2nd leg – Week 12
Final – the merry month of May ('19)
PAS Cup 2019:
Last 16 next week, here's the draw…
Arthur Harrison v Jamie Sellers
Jerry Storer v Bry Derbyshire
Mark Potter v Pab
Neil Critchlow v Lee Ford
Kate Slee v Richard Hirst
Charlie Harris v Jason Morris
Jack Buxton v Nick Woodward
Scott Harrison v Tony Morris
All fixtures & results can be found here
Dates for your diaries – PAS Cup Weeks
Last 16 – Week 5
Quarter Finals – Week 7
Semi Finals – Week 11
Final – the merry month of May ('19)
PAS Champions League 2019/20:
In order to be invited to enter the PAS Champions League 2019/20 you will have to finish in the Top 32 after 13 weeks of play. Currently sneaking the last spot is the not rammel…Bry Derbyshire!
Statto Corner
20% trusted Palace to beat Burnley
100% were 100% behind Man Yoo
17% sniffed out the Rotherham win
And Another Thing: *
We haven't got an app..but you can make it look like one on your phone by doing the following…
Open Safari
Type in www.pabspace.co.uk
Press that "box with an arrow pointing up" at the bottom
Swipe left til you see the "add to home screen" icon
Press that…
Voila!
Twitter is dead & so is Instagram – but we've got a What's App group!
Wanna join?
Why?
Well, I send round reminders that you don't have to check your email for.
Erm…some people are quite funny (some are annoying) & hopefully, we'll get some good pics of away fans at games.
We will crush any "hilarious GIFs" though…
Plus, you can gloat when you land that 9 pointer in the 91st minute!
Email me over your number and i'll add ya ([email protected])
Cheers,
Pab