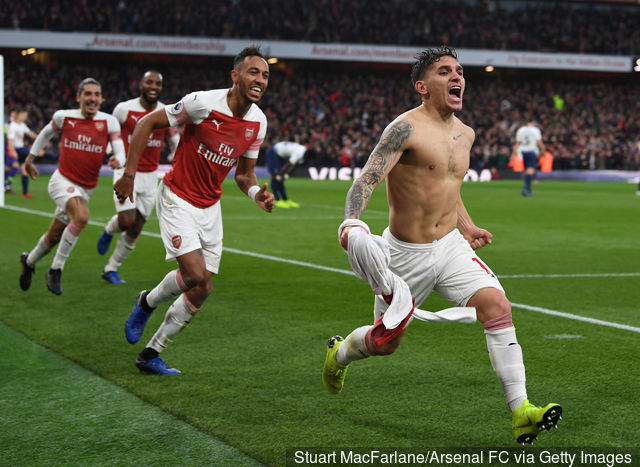 "Playing football the (new) Arsenal way…"
"Some Kind Of Wonderful": Did you miss predicting your scores this week?
Or did you just decide to follow Mr 2-0?
Wise choice on either as 19 punters scored 30 points or more in a horrible week of results (for some. A lot. Me, basically…)
6 people could've won it as the bottom feeders rose to the top for their 15 minutes in the sun.
Newcomer Tim P could've won! My mum (!!) could've won as both racked up a seemingly implausible 35 points!
But it wasn't to be as Steve Meaton 36 (6) was one person who didn't "Spurs" it this week.
He left it late though as his final, crucial, correct score came in the guise of Guiseley going out the FA Cup to Joey's Fleetwood.
Patricia was raging mate, beware…
"What's Going On":  I told you it was a rogue week!
Twenty nine players posted 20 points or less as the last minute goals either went in (yeah, you Pickford!) or didn't materialise (why coudln't we get a 5th??!)
Four poor souls had no correct scores!
Stuart F escaped the ultimate weekly humiliation, but Neil Osborne (league leader – eek!), Neil Critchlow & Paul Vinson 12 (0) all wished they had forgotten to play.
Although, technically, you could say they did just that…
Correct Score of the Week:
Not sure how, but you lot crushed it…most popular score was Rangers' 1-2 win at Hearts – 32 of youse got that!
Eighteen just knew Rotherham would score against Norwich for a 3-1
10 got the very annoying 79th minute spoiling Man City 3 Bournemouth 1
Six got the five point Reading v Stoke 2-2
5 got the 3 goal demolition of PNE
Dave N, Chris B & Lee F got the dull-all at the Racecourse Ground
Patricia F & Alex R obviously guessed Hamilton would beat St Mirren 1-3
Mark J B saw his typo come good on the game at Sheff Utd
James C nailed Southampton 2 Man Utd 2
Richard Hu made us all green by happening upon QPR 2 Hull 3
However, this week's best correct score goes to Sam Arora for his I-know-a-goal-fest-when-I-see-one inspired, Blackburn 4 Sheff Wed 2!
Bet of the Week:
We've changed it up!
Rob C was on "Bet of the Week" position 11th in Week 9 so we asked him to provide three results for our "trixie" £3 bet.
And guess what?!
We won!! Another good win too!
3 home wins with BTTS
Leicester v Watford – boooo (how did Watford not score?!)
Norwich v Rotherham – hurrah (always on once Rotherham scored first!)
Blackburn v Sheff Wed – hurrah (never in doubt!)
So, a handsome £8.44 goes on "Bet of the Week" slot 11th…at least it's something!
Paul H, you're up next! I need your 3 team treble by Friday please! Another tough act to follow…
Table News:
"Let's Get It On": Jack Buxton moves up one to the top of the table 2 points ahead of Jazz S, who in turn is 5 points ahead of Scott H in third.
Two crashed the Top Ten.
"Too Busy Thinking About My Baby": Paul Vinson drops two places to rock bottom, one point behind Alex R who in turn is 8 points off Frankie F…
"You're All I Need To Get By":  Highest climber this week, up a whopping 18 places is Steve Meaton – honourable mentions go to Tim P (+16), Alex T (+15), Jamie S (+13), John K (+13), Simon B (+11) and Debbie L (+11)
"Got To Give It Up": Falling furthest this week, down a whopping 16 places is Stuart Fitzsimon – dishonourable mentions go to Joe M (-15), Sam C (-14), Simon Lindq (-14), Darren McC (-13) and Yours Truly (-12)
Click here for further details…
PAS Champions League 2017/18 Knockout Stages:
Matchday 5 Group games went ahead this week…
It was really exciting! For some…
We had 11 successful jokers! 4 hammerings! 2 correct score heartbreakers!! And, 9 away wins!
One won their game with 21 points & 1 lost their game with 28 points!
Out are Simon B, Jerry S, Me, Stephen P, Mark S, Simon B, Rowan M & Tony M
Congratulations to Martin S, Kyle B, Dave N, Justin C, Jazz S, Arthur H, Ryan G & Ben H who've all made it through to the knockout stages next year!
Full fixtures & results can be found here
Dates for your diaries – PAS CL Weeks
Matchday 6 – Week 12
PAS Cup 2018:
In order to be invited to enter the PAS Cup 2019, you will have to finish in the Top 32 after 13 weeks of play.
Currently sneaking the last spot is the "definitely not coached from the sidelines"…Kate Slee!
And Another Thing:
The What's App group was reminiscing about the "End of Year Poll" we used to run – so we may well bring it back!
But next year…
+++Statto Corner+++
A mere 6.8% thought the Saints could draw!
2.3% had a crystal ball to see Brentford drawing at WBA!
The north London derby split the league – 25% going for Arsenal, 25% for Spurs & 50% for a draw!
Only 14% predicted a Cardiff home win & 15% a West Ham away win!
Twitter is dead & so is Instagram – but we've got a What's App group!
Wanna join?
Why?
Well, I send round reminders that you don't have to check your email for.
Erm…some people are quite funny (some are annoying) & hopefully, we'll get some more good pics of away fans at games.
We will crush any "hilarious GIFs" though…and don't dare mention "fantasy" stuff!
Plus, you can gloat when you land that 9 pointer in the 91st minute!
Email me over your number and i'll add ya ([email protected])
Cheers,
Pab