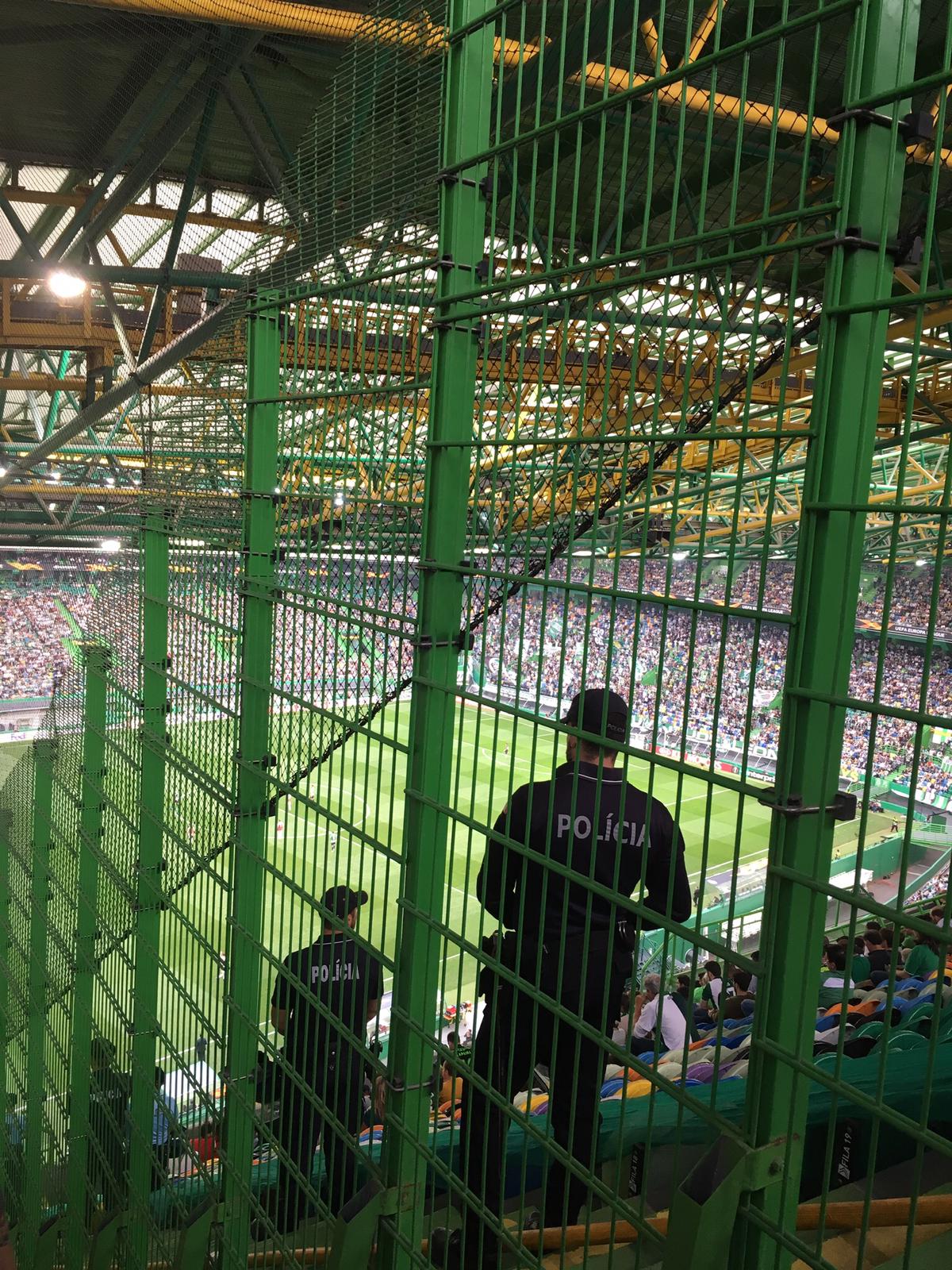 Just in case they want to swap scarves…
Sometimes there are no last minute twists that win you a week.
Sometimes you just grind it out and sit there sweating for 21 minutes praying another goal doesn't ruin an absolute pearler of a prediction…
It was really tight this week (well, for most…) – only 9 bods posted more than 30 points whilst vast swathes were deep into the twenties.
Hapless Alex R rallied with 5 correct scores and was joined there by Olly O, Norman L, James C and our own Dave N (ahem!).
But 32 or 33 points just didn't cut it as the braggadocio that announced his debut chat on our ever entertaining What's App group (have you joined yet?) was matched by a swaggering 10 pointer only a current champion can pull off!
Yep, the big Geordie Stephen Peaston 36 (4) roared back into the mix to plunder this week's £20 courtesy of a game with 6 goals that managed to not produce another in its last quarter!
Mad.
Put it this way. I had enough. Too much.
Have you tried Super Bock Stout? How about Porto's finest "wine"? I won't even tell how many pastel de natas I put away either.
I put my pathetic score down to jet lag.
Actually, train lag.
The 8am Saturday morning one from Lisboa to Oporto.
Oh, and the Sagres. And the frango. And the octopus hot dogs. AND, the dizziness of 12 wins on the bounce…
Paul Vinson 13 (0), what was your excuse?
Correct Score of the Week:
*Hic*…most popular score was Man Utd's 2-1 win over Everton– 30 of youse got that!
Fourteen got the dull-all at St Mary's
7 got Watford's 3-0 deconstruction of Huddersfield
Five got Millwall 3 Ipswich 0
4 got Birmingham's 3-1 win over Sheff Wed
Dave N, Jazz S & Reagon K were all over the Scottish League Cup 0-3 to the Celtic
Richard Hu & John K got the two-two in London. The wrong right side of London…
Gary B & Joe M got Chelsea's thrashing of Burnley
Stuart F & Debbie L got the thrilling Liverpool 4 Cardiff 1
Neil O & James C got the ding dong derby on the Fylde coast
Norman L made us all green by happening upon Fulham 0-3 Bournemouth
However, this week's best correct score, and new Best Correct Score of the Season, goes to Stephen Peaston for his I-am-the-current-champion-so-beware inspired, Sheff Utd 4 Wigan 2!
Bet of the Week:
We've changed it up!
Mark J B was on "Bet of the Week" position 65th in Week 4 so we asked him to provide three results for our "trixie" £3 bet.
And guess what?!
We won!
Liverpool – yep (never in doubt was it!)
Hearts v Celtic draw– nope (hmmmmmm….)
Chelsea – yep (even without Hazard!)
So, £1.12 goes on "Bet of the Week" slot 65th –  welllll, it's a start!
Bry Derbyshire, you're up next! I need your 3 team treble by Friday please! "Pressure, coming down on me…"
Table News:
"A Question Of Time":  Neil Osborne stays top stretching his lead to 17 points ahead of Ryan G, who in turn is 2 points ahead of Richard Hi in third.
Two crashed the Top Ten.
"Useless":  Francesca Fernandez stays bottom now six points behind Rich L who in turn is 2 correct scores off Patricia F…
"Walking In My Shoes":  Highest climber this week, up a whopping 37 places is Stephen Peaston (jeez, he's done the treble!) – honourable mentions go to Dave N (+33), Olly O (+22), Joe M (+22), Jason M (+19), James C (+19), Steve M (+16) and Kate S (+15)
"Behind The Wheel": Falling furthest this week, down a whopping 27 places is Moi – dishonourable mentions go to Clare T (-22), Jerry S (-21), Justin C (-21), Greg F (-20), Nathan T (-19), Paul C (-19) and Peter M (-18)
Click here for further details…
PAS Champions League 2017/18 Knockout Stages:
Matchday 3 Group games next week…
If you've got a "joker" to play – play it!
Full fixtures & results can be found here
Dates for your diaries – PAS CL Weeks
Matchday 3 – Week 6
Matchday 4 – Week 8
Matchday 5 – Week 10
Matchday 6 – Week 12
PAS Cup 2018:
In order to be invited to enter the PAS Cup 2019, you will have to finish in the Top 32 after 13 weeks of play.
Currently sneaking the last spot is the can't qualify anyway…Predictz!
And Another Thing:
All the payments have come in – bar one.
Actually two. Still!
Rowan/Gary – enough with the IOUs!
+++Statto Corner+++
100% of people predicted a Liverpool win!
92% thought Arsenal would get to "12"!
44% thought Boro v Derby would be a draw – and it was!
Colchester v Lincoln split everyone evenly between a home win, draw or away win!
Twitter is dead & so is Instagram – but we've got a What's App group!
Wanna join?
Why?
Well, I send round reminders that you don't have to check your email for.
Erm…some people are quite funny (some are annoying) & hopefully, we'll get some more good pics of away fans at games.
We will crush any "hilarious GIFs" though…and don't dare mention "fantasy" stuff!
Plus, you can gloat when you land that 9 pointer in the 91st minute!
Email me over your number and i'll add ya ([email protected])
Cheers,
Pab