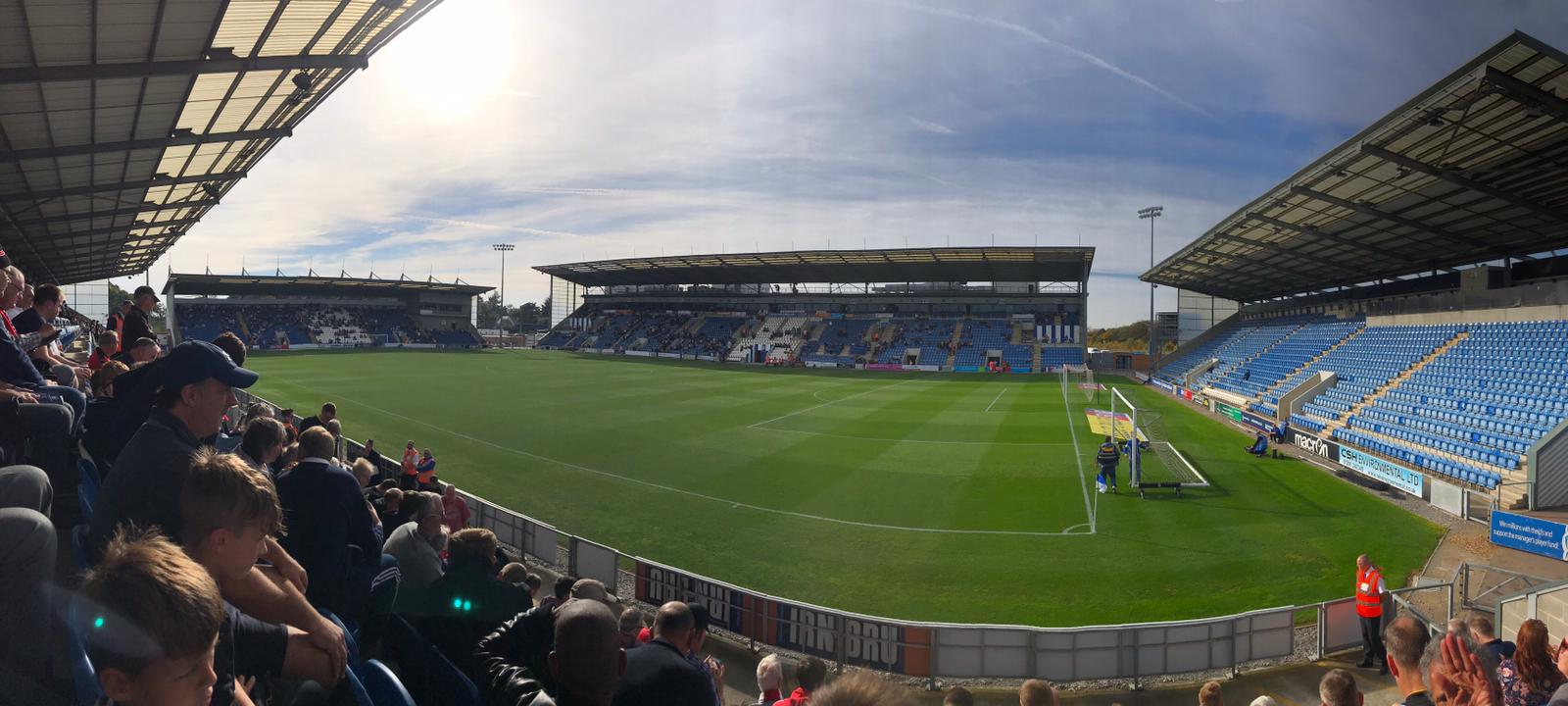 "Yep, Armenia v Gibraltar affected today's attendance…" (pic: Daniel Vinson)
"Radio Tokyo": Did you experience the rollercoaster ride that is "International Week"?
Did the "ups" outweigh the "downs"?
Personally, I was head first into oblivion with a disastrous 6 point opening salvo only to whipped round a corner to a 5 correct score high soon after…the dip to the finish was a lot easier after that.
So, thirty five people scored 30 points or more this week meaning the benchmark was very high indeed – current champion Stephen P & habitual CL botherer Gareth M both notched up 40 points and Debbie L had something of an epiphany racking up a whacking 43 points!
Yeah, it was that kinda week.
However, thanks to either a dubious decision chalking off a Dzeko goal, or a late late Finnish finish or a Biraghi goal breaking Polish hearts in the 92nd minute, Neil Osborne 45 (9) is this week's winner!
A well deserved £20 winging it's way to you Neil.
Psssst! Neil, you'll be pleased to hear there's another international week coming up soon mate!  : )
"Negative Space": Did you nosedive from the start and never recover?
15 players scored less than 20 points this week – were you involved?
Well,
Four unfortunates didn't even manage a correct score.
David G only got 14 (0)
Hmmmmm…
Ultimately, my little girl Frankie Fernandez 10 (0) really suffered from not studying the form(!) this week and was banned from asking unicorns for advice ever again as a consequence…
Correct Score of the Week:
I actually got amongst it this week…most popular score was France's 2-1 win over Germany – 28 of youse got that!
23 got the Luxembourg 3 goal demolition of San Marino
Seven got the thrilling Kazakhstan 4 Andorra 0
5 obviously guessed Kosovo would beat Malta 3-1
Four made us all green by happening upon Gibraltar 2-1 Liechtenstein
Four more were all over the 9 pointer, 2-3 to the Eng-er-land
Pete B & Shezan J got the dull-all in Dublin
Clare T & Julian F got the bore draw between Croatia & England
Martin S & Tony M got Russia 0 Sweden 0. Then sobbed a little bit as he thought of those poor souls who were actually there
Jamie S & Simon Linds just knew Liechtenstein would score against Macedonia for a handsome 4-1
Debbie L & Hira Y believed in Portugal. A 2-3 kinda belief…
However, this week's best correct score, and new Correct Score of the Season, goes to Patricia Fernandez for her history-in-the-making inspired, Armenia 0 Gibraltar 1!
Bet of the Week:
We changed it up!
Shezan J was on "Bet of the Week" position 33rd in Week 2 so we asked him to provide three results for our "trixie" £3 bet.
And guess what?!
We won!
Here's to many more…
Hungary to win in Greece – nope (that ex-Fulham fella saw to that…)
Belgium to beat Switzerland – yep (Romelu on the case!)
Ireland to draw with Denmark – yep (the best 0-0 ever…for us!)
So, £3.25 goes on "Bet of the Week" slot 33rd –   : )
Neil Templeton, you're up next! I need your 3 team treble by Friday please! Pressure on!
Table News:
"Static Resistance":  Ben Hogwood is joined at the summit by Neil Osborne, both 11 points ahead of Jack B in third.
Two crashed the Top Ten.
"Shortcomings":  Oh! Francesca Fernandez goes down five places to the bottom of the table two points behind Alex R who in turn is 2 points off Stuart F…
"Each Time We Pass":  Highest climber this week, up a whopping 55 places is Debbie Lee – honourable mentions go to Stephen P (+51), Gareth M (+45), Jason M (+36) and Yours Truly (+36)
"On Leaving": Falling furthest this week, down a whopping 40 places is Justin Corliss – dishonourable mentions go to Tim P (-39), Ric P (-36), Howard T (-32), Mike K (-32) and Danny N (-30)
Click here for further details…
PAS Champions League 2017/18 Knockout Stages:
Matchday 2 Group games next week…
If you've got a "joker" to play – play it!
Full fixtures & results can be found here
Dates for your diaries – PAS CL Weeks
Matchday 2 – Week 4
Matchday 3 – Week 6
Matchday 4 – Week 8
Matchday 5 – Week 10
Matchday 6 – Week 12
PAS Cup 2018:
In order to be invited to enter the PAS Cup 2019 you will have to finish in the Top 32 after 13 weeks of play.
Currently sneaking the last spot is Stalybridge's finest …Danny Ashworth!
And Another Thing:
All the payments have come in – bar one.
Yes. One.
You, Rowan…
+++Statto Corner+++
6% of predictors thought Israel would beat Scotland 2-1!
0 people thought Holland would beat Germany 3-0!
91% correctly predicted Belgium would beat Switzerland!
Erm, i'm 100% not very good at being statto – Dave/Dan, I need help!
Twitter is dead & so is Instagram – but we've got a What's App group!
Wanna join?
Why?
Well, I send round reminders that you don't have to check your email for.
Erm…some people are quite funny (some are annoying) & hopefully, we'll get some more good pics of away fans at games.
We will crush any "hilarious GIFs" though…and don't dare mention "fantasy" stuff!
Plus, you can gloat when you land that 9 pointer in the 91st minute!
Email me over your number and i'll add ya ([email protected])
Cheers,
Pab