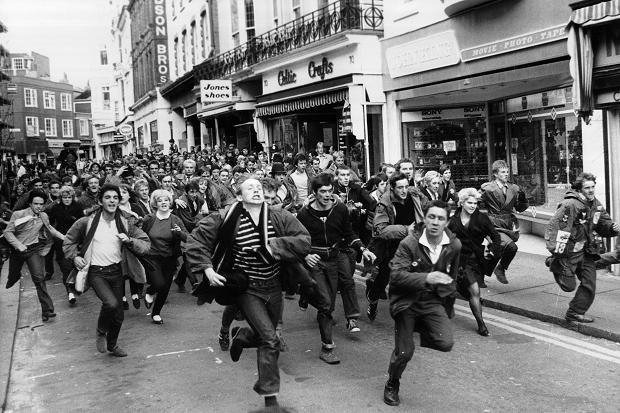 "Quick! Ferdy's got some blues…"
"The General":
"I've learned more than you'll ever know, even at school I felt quite sure, that one day I would be on top…" sang the Modfather back in the day.
In this modern world (well, er, this week) only 5 punters managed to score 30 points or more as our beautiful game continues to be, quite frankly, unpredictable to most.
Paul H looked like he had it bagged this week with an impressive takky but then Brighton conceded a late late penalty…
That 1-1 was enough to take Dave Crisp 40 (8) clear at the top and no doubt cement his love of Brighton even further as this week's "Bobby" lands in his slim fit 3 button number.
Well done Crispy – fancy scooting to Köln away now?
"Repeated Offender": Confelicity is a good word…What? No. Look it up!
Seventeen bods scored less than 15 points this week.
Mark S didn't even get a correct score!
Gary Blackburne 9 (0) was the baddest of a bad bunch this week but probably couldn't care less as Wilf came back fierce & proved the doubters wrong – viva les Eagles!
Correct Score of the Week:
Personally, it was miserable once again– most popular score was QPR's 1-1 draw with Sunderland – 29 of youse got that!
10 got the last kick of the game "Desmond" at Craven Cottage.
Six got the other two-two between Southampton & Newcastle.
4 got the dull-all Lincoln v Cambridge.
Anders H, Simon Linds & Richard H (quelle surprise you latter two!) got Troy Deeney's exploitation of weakness at Vicarage Road
Clare T, Gareth M & James C just knew no one would score during Sky's "Match of the Century" in Liverpool
James C (again!) & Debbie L went away with a warm glow of smug satisfaction as St Johnstone 0 Rangers 3 flashed up on the full times…
However, this week's best correct score goes to Tom Storer for his "I know my Albions mate", Bristol City 0 Burton 0!
Bet of the Week:
So, the "system" spat out 3 draws that were the most popular among the 97 of you who entered predictions and guess what?!
We tripled up on the stakes…
But triple failed – waaaaaahhhh!
Wolves v Villa (51.16%) – blimey, Wolves look goooooood!
Brentford v Millwall (50%) – robbed by a missed penalty
Swansea v Huddersfield (47.67%) – looked a nailed on 0-0 until the keeper did his thing…
So, no £££ on "Bet of the Week" slot 11th then…
Table News:
"She's Got Standards": Dave Crisp climbs to the summit, 4 points ahead of Scott H who in turn is three points ahead of Matt W in third.
Five crashed the Top Ten.
"When I'm Alone": Eddie Osborne slips one place to the basement slot 4 points behind Dan H who in turn is 1 point off Will O.
"The Great Escape": Highest climber this week, up a whopping 47 places is Simon Lindsay – honourable mentions go to Neil C (+32), Joe M (+30), Paul C (+28), Patricia F (+27), Mark J B (+30), James C (+45) and Paul H (+25).
\
"Fall To Sorrow": Falling furthest this week, down a whopping 30 places are Ryan Graves & Olly Osmond  – dishonourable mentions go to Mark F (-26), Jazz S (-23), Simon Lindq (-25), Tony D (-29), Isaac A (-23) and Gary B (-24).
Click here for further details…
PAS Cup 2018:
In order to be invited to enter the PAS Cup 2018 you will have to finish in the Top 32 after 13 weeks of play. Currently sneaking the last spot is the not lessly…Peter Morley!
PAS Champions League 2017/18 Group Stages:
Matchday 2 fixtures can be found here
If you're at "home" – don't forget to play your "joker"!
Dates for your diaries – PAS CL Weeks
Matchday 2 – Week 4
Matchday 3 – Week 6
Matchday 4 – Week 8
Matchday 5 – Week 10
Matchday 6 – Week 12
And Another Thing:
All but two payments have come in – I will have the prizes confirmation next week!
Twitter is dead…and so is Instagram! We old skool with pictures n dat!
Take some interesting pics at away games. Or home games. Or some pics of away fans. Or home fans. Or just the match. Or players you've met. Anything actually. Food? Beers? Lovely vistas??!
Why?
Well, a bit like the Vision-On gallery (ask yer grandad millenials!), we'll pick the best and post them up on future round ups – so getting clicking!
So, who's next?
Don't send them in the post though – email them over to me! ([email protected])
Cheers,
Pab