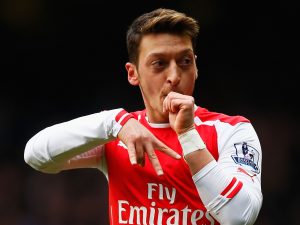 Not a MVP…
"The American": It was that SuperBowl thingy on Sunday – did you watch it?
It was super exciting!
Rio's cameo was effortless cool (nice shirt/cap combo too) and Chappers really is blossoming as a host isn't he?!
And how good looking was that ex-pro on the panel? (my mate said she'd like to lick his cheekbone…is that a "thing"?)
Did you know it was the first final to go to "overtime"? And the greatest comeback of ALL TIME to boot!
And what about Tom Brady? He even got sacked a few times and still came out on top!!!
Wow! Love American football…
Anyway, one person with bleary eyes on Monday morning was Ian Harrison 34 (5) who no doubt whooped & hollered along with Lady Gaga (and that Country fella who didn't even bother to dress up nice) as he celebrated winning the first £20 of the season. Ian has Blackburn's late late winning goal to thank (more on that later) for taking him clear of an unlucky Kate S by 3 points…
Congrats Ian – not enough to get a SuperBowl ring but, y'know….
"New Gold Dream (81-82-83-84)": Imagine being in a gang where you have to contribute in equal measures to ensure you're not ostracised. Or at least not be laughed at.
Imagine the grief you would get if you didn't pull your weight, by basically coming up short and not contributing.
Imagine getting off to the worst start possible when the usually whipping boy is soaring in stratospheres so high he's probably breathless…
Imagine being Bren, I mean, Mark Seels 11 (0) facing the "Syndicate" humiliation this week?
Not all bad though as he'll get a couple of pats on the back as he spared debutants Danny N & Paul S some newbie blushes…
Correct Score of the Week:
It's gonna be one of those season's again…most popular score was Hamilton's 1-1 draw at with Kilmarnock– 23 of youse got that!
5 got very very annoying but patently obvious Chelsea 3 Arsenal 1
4 got the first "Desmond" of the season – Inverness v Dundee
David G, Predictz & Danny A got the five point 2-2 between Ipswich & Reading
Brett A, Sam A & Rob C got the 3 goal demolition of Champions Leicester
Alex R, John K & Ian H got the dull-all at Oakwell
Sam A got the bore draw between Rochdale & Bristol Rovers
However, this week's best correct score goes to Howard Thomas for his they-can't-be-worse-than-Palace inspired, Motherwell 0 Hearts 3!
Bet of the Week:
So, the "system" spat out 3 draws that were the most popular among the 90 of you who entered predictions and guess what?!
We lost! But, oh, the cruel cruel way it unfolded…
54% Blackburn V QPR – 90+1 mins winner for Blackburn!
50% Nottm Forest V Aston Villa – 90+3 mins winner for Forest!!!
49% Hamilton V Kilmarnock – the only disappointment was it not being 0-0…
So, £0 goes on "Bet of the Week" slot 11th – hmmppph! Encouraging though kids….
Table News:
It's Week 1 – it is what it is! Click here for the full table
Please be aware we may lose some players but we may gain some – so if you know anyone out there who wants to get involved, put them in touch! It's never too late…
PAS Champions League 2017 Knockout Stages: Last 16 1st leg games kick off in Week 3…
Full draw can be found here
Dates for your diaries – PAS CL Weeks
Last 16 2nd leg – Week 5
Quarter Finals 1st leg – Week 7
Quarter Finals 2nd leg – Week 9
Semi Finals 1st leg – Week 11
Semi Finals 2nd leg – Week 13
Final – the merry month of May ('17)
PAS Cup 2017: Aaahhhh the magic of the Cup! It all started last week!
Full set of results can be found here
Second round draw coming soon!
Dates for your diaries – PAS Cup Weeks
Last 16 – Week 6
Quarter Finals – Week 8
Semi Finals – Week 12
Final – the merry month of May ('17)
PAS Champions League 2017/18 Group Stages::
In order to be invited to enter the PAS Champions League 2017/18 you will have to finish in the Top 32 after 13 weeks of play. Currently sneaking the last spot is…Paul Vinson!
And Another Thing:
Nearly all the payments have come in – thanks! Anyone who hasn't got round to it, please do as soon as possible – don't make me chase you!
Twitter is dead, long live Instagram!
Take some interesting pics & remember to add #pabpas so you we can see your pic on the site!
Some away game pics would be good this season. Or some pics of away fans. Or home fans. Or just the match. Or players you've met. Anything actually. Food? Beers? Lovely vistas??!
Cheers,
Pab