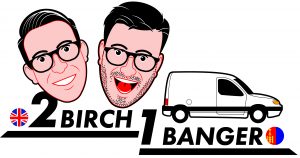 Do something nice in '17…
"★": It was an intriguing battle at the top for pretty much the whole season given the sibling rivalry that fuelled the fire, but ultimately it was forgone conclusion as the weeks rolled on what with the relentless posting of high end scores by our new champion!
He started down in 26th, climbed to 14th, then up to 13th a week later –  the push into the Top Ten at number four was done by Week 4…
Once ensconced, it was at the summit all the way – only to drop in Week 7 to the hellish depths of third! (God, imagine…27th was a pipe dream for me!)
However, a recovery back up to the top slot was cemented in Week 9 and there he stayed. And how he stayed!
A phenomenal performance it has to said that came with a first – the 400 point barrier was breached!
Tony B's long standing record points tally was smashed up (scant consolation T, but you still have the most correct scores!) and I think this new one is here forever!
So, doff your caps & give congrats to Tony Morris 415 (58) – he's a winner!
Tony ended on a massive 35 point lead over another legend of the PAS game, Jazz Sian in second place (can Jazz stop Tony doing the double in the PAS Cup?). Be afraid people, the King is back and he finished 9 points ahead of newbie Ian Harrison in joint third place (great debut Ian – hut hut!) along with PAS Board member and, ahem, looker afterer of the back end, Dan Hogwood. Dan has been vetted, patted down and interrogated by Dave N and myself and, erm, we're happy he didn't nick anything…
Just four points further behind, Jamie Sellers & Jason Morris couldn't be separated as they reflect the feel good buzz that's abound in Brighton & Manchester at the moment (i'm sure Tony will go easy on you Jay?!) finishing in joint fourth spot with The Syndicate puppet master, Mark Seels scooping 7th place just another 2 points shy.
Have you talked your boys through your CL qualification Seelsy??!
Old skooler & leading lady Clare Templeton chipped in at 8th just one point behind, and only another point back, Lee Ford finished in ninth, cocking a snook at that "difficult second season" syndrome.
PAS old boy, Charlie Harris did see the forest from the trees and pip squeaked into 10th by the virtue of 2 correct scores (much to the chagrin of Norman L no doubt)
"Laughing Gnome": Just eight places separated our record breaking champion from Gary Blackburne 243 (20) in Week 1! The Eagle never really recovered from there, slipping to 59th, 82nd and 92nd in consecutive weeks hitting bottom in Week 5.
A brief respite to the heady heights of 93rd (that's second bottom to you & me) for three weeks couldn't be sustained as a return to the basement slot from Week 9 meant my best mate takes the wooden spoon.
I cannot wait to present it to him (yes, this is the what it's come to – schadenfreude!)
Ross B & Rob C made gallant efforts over the season to save Gary's blushes but to no avail – good lads!
Now, will Palace go the same way Gee?!
Spot Prizers
OK, YOU have finished on these positions and you HAVE won those prizes!
Norman Lee on 11th, Jack Buxton on 12th, Tony Davenport/George Triantafillou on 17th, Simon Buxton/Paul Henshaw on 24th, Rich Lee on 27th, Rowan Marriott on 31st, Ric Pardoe on 33rd, Arthur Harrison/Kate Slee 39th, Andy Chesworth on 42nd, Chris Birch on 49th, Chris Dixon on 51st, Peter Morley/Simon Lindsay on 57th, Richard Hirst on 65th, Will Oppong on 66th, Sam Arora on 71st, Bill Pasterfield on 78th, Riten Patel/Mr 2-0 on 83rd, Paul Vinson on 89th, Ross Butcher on 92nd & Rob Currin on 93rd.
click here to view the full table & to see how much you won!
*** all prize money will be winging its way over this weekend (less your PAS Lucky 13 Spring '17 entry fee) – promise! ***
PAS Champions League 2016/17 Group Stages
Matchday 6 games concluded the groups. Like, duh…
Lots of drama right to the very end as SIX groups were decided on "goal difference" – look away now if you don't want to know your fate…
Anders H & Debbie L  might as well have given up the points so dire were the minus "goal difference" columns, Dave C was also in arrears and paid the price but you have to feel for Euro champ Howard T & Olly O who went out by a mere 4 goals deficit.
However the real heartbreak must lay with Scott Harrison who bowed out by just 2 goals in the tightest group of the lot!
So, congrats to the qualifiers, especially Danny Ashworth who amassed the biggest points haul and must fancy himself for a June appearance in the Final. One to be avoided then in the Last 16 draw eh?
Oh, the draw has been made and can be found here
PAS Cup 2017
Congratulations to Mark J Brown for sneaking the last spot (rules, entry fee details & scoresheets coming soon!)
The Top 32 have qualified and the First round proper will take place on w/e January 28th
The draw has been made and can be found here
Other little bits 
Mark Seels picked up an additional £10 for getting the Best Weekly Score of the Season and another new record tally to boot –  64 (8)
Richard Hughes picked up £9 for getting the Best Correct Score of the Season by guessing – Inverness C T 3 Hearts 3.
And Another Thing
See that banner at the top of this update?
He may be a West 'Am slaaaaaaaaaaaaaaaag but he's doing good things in 2017 – check this out and if you can, give him some support!
So there it is, that's our story. If you want, follow us on twitter @2birch1banger and Instagram 2birch1banger" – Chris B
Plaudits
Thanks again to all for taking time and bothering to enter, we couldn't do it without you!
And a final big thank you to Dave N & Dan H for providing all the behind the scenes techky stuff to enable another great (relatively glitch free!) season…check the new "feel" on the site! Apparently it's absolutely mint now for mobile users…nope, me neither.
See you in a few weeks!
Cheers,
Pab