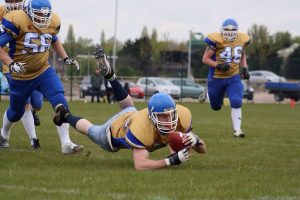 Offensive…
"Perfect 10": Hut hut! More perfect 8 then 10 really – but it's all about the gains in this soccer ball game we love & cherish innit! Thinking they had control of the line of scrimmage, ten people (including my mum!) gained 30 points or more. Pressuring the quarterback was Ric P (who started with 8 correct scores out of 15 matches, then hit the buffers like, um, he ran into William Perry), YAC specialist Debbie L thought she'd run away with it with 41 points. But, wriggling free like Dan Marino in his pomp, PAS debutant Ian Harrison 42 (8) sneaked into the end zone to claim this week's £20 weekly prize. Cue wild celebtrations followed by the ubiquitous commercial break…
Well done Ian, a Titanic performance – touchdown!
"Rotterdam (Or Anywhere)": Tut tut! More Amsterdam actually. Here's a cold cold lesson kids.
If you are to partake in what those foreign Europeans have on offer, make sure you do your scores before you go – otherwise it will all go up in smoke. Alex Rossi 8 (0) was caught out and damaged as a result.
Just say no is what PAS endorse.
This is not to be sniffed at.
You can go window shopping but you don't have to knock on the door do you? Well then.
I'm just glad he didn't run into an Egghead…
Correct Score of the Week:
Personally, I found it difficult this week – most popular score was Partick's 1-1 draw with the mighty Ross County – 23 of youse got that!
20 got Newcastle's 3-0 deconstruction of the Tractor Boys
Nine obviously guessed Man City 1 Southampton 1
5 had the bore draw that was Swansea v Watford.
Ben McK, Tom S & Tony D got the 3-1 thriller at happy clapper Crisp Stadium in Leicester.
Ric P just knew it would be Brentford 0-2 Barnsley
Rob C made us all green by happening upon Burnley 2 Everton 1.
However, this week's best correct score, and new correct score of the season, goes to Howard Thomas for his "Hooooooooooooooooooooooo (clap)" inspired, Bradford City 3 Sheffield United 3!
Bet of the Week:
So, the "system" spat out 3 draws that were the most popular among the 93 of you who entered predictions and guess what?!
We lost! Boo!
49.40% Wolves v Dirty Leeds – Walter out!
48.19% Chelsea v Man Yoo- Jose out?
46.99% Bradford v Sheff Utd – proper classic spoils shared derby! Saved by a crossbar….
So, £0 goes on "Bet of the Week" slot 45th. Shame…
Table News:
"36D": Pete Britton moves up 5 places to go 4 points ahead of top lady Clare T & top newbie Ricki M who just cannot be separated right now…
Tony M, Jason M & Charlie H crashed the Top Ten.
"A Little Time": Ian Pratt remains bottom, now a mere 2 points behind Paul V who in turn is 3 points off the fast sinking Gary B.
"Old Red Eyes Is Back": Highest climber this week, up a whopping 40 places is Ric Pardoe – honourable mentions go to Debbie L (+20), Ian H (+38), my mum (+30), Tony B (+23), and James L (+24).
"Song For Whoever": Falling furthest this week, down a whopping 42 places is Alex Rossi – dishonourable mentions go to Scott H (-22), Neil O (-21), Steve M (-17), Jon T (-18) and Richard H (-18).
Click here for further details…
PAS Cup 2016:
In order to be invited to enter the PAS Cup 2017 you will have to finish in the Top 32 after 13 weeks of play. Currently sneaking the last spot is…the gentrification of West 'Am, Chris Birch!
PAS Champions League 2016/17 Group Stages: Matchday 2 next week…
Matchday 2 fixtures & Week 1 results can be found here
Full fixture list can be found here
Dates for your diaries – PAS CL Weeks
Matchday 2 – Week 5
Matchday 3 – Week 7
Matchday 4 – Week 9
Matchday 5 – Week 11
Matchday 6 – Week 13
And Another Thing:
Leave Manchester and become the Portugal manager Jose….please!
Twitter is dead, long live Instagram!
Take some interesting pics & remember to add #pabpas so you we can see your pic on the site!
Some away game pics would be good this season. Or some pics of away fans. Or home fans. Or just the match. Or players you've met. Anything actually. Food? Beers? Lovely vistas??!
Cheers,
Pab