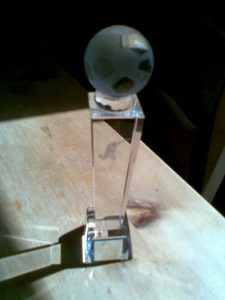 Iron Throne? Pah!
"From Despair To Where": ***Spoiler Alert***
Game of Thrones isn't just gratuitous sex and violence! It's profound!
No, really – that short hair Sand Snake – she's profound.
That Bjork Wildling – she's profound.
That bell ringing Sparrow – she's profound. Ahem. Maybe just me then….
Actually, that Cersei walk of shame scene was very profound (can you tell i'm way behind cos i'm a DVDer?!).
And speaking of the dethroned, PAS King Jazz S was back to his royal bestest this week, past glories blazing as he strode majestically to the £20 weekly prize…
However, the very recently hapless Neil Osborne 39 (6) has a Super Sunday to thank for ousting Mr S into second place as he smashed in a Watford 0-1 and then jumped with joy as Jay Rodriguez fluffed his lines late on meaning Southampton stuck to a 5 point, 3-1 victory.
If Jon Snow makes a comeback half as good as that it'll really be something Neil (sshhhhh, remember i'm only speculating – i've just finished Season 5!).
Well done.
Roger that!
Keeping it in the family, and probably feeling as ruined as that redhead Joffrey turned into a replica of Saint Sebastian, Eddie Osborne 10 (0) limped home in disgrace this week…
Rogered.
Correct Score of the Week:
After the madness of International Week, we're back to cosy ol' local Blighty matches – most popular score was QPR's 1-1 draw with the Big Dutch Man – 28 of us got that!
Twenty six got Toon 3 Kurupt FM 1
14 got Norwich's 3-1 deconstruction of Rotherham
Fourteen more had Blackburn's stalemate with Ipswich
10 got Southampton's 3-1 win over Burnley & ten more had the bore draw that was Wigan v Burton Albion.
Five got the 2-2 thriller at Firhill & 4 got Man City's 1-1 thrashing of Everton.
Clare T & James C got the correctly over-hyped 0-0 at Kloppa Castle.
Julian F & Tom S (welcome!) got the 0-0 between Wimbledon & Swindon.
Bill P (welcome!) & Norman L made us all green by happening upon Arsenal 3 Swansea 2.
However, this week's best correct score, goes to Neil Osborne for his Ladbrokes inspired, Aberdeen 4 Ross County 0!
Bet of the Week:
So, the "system" spat out 3 draws that were the most popular among the 93 of you who entered predictions and guess what?!
We won! Good work people!
39.47% Blackburn v Ipswich – never ever in doubt…
35.53% Partick v Hamilton- never ever in doubt…
32.89% Stoke v Sunderland – never ever in doubt…until Jesus stepped up to the plate!
So, £7.65 goes on "Bet of the Week" slot 39th. Hmmmm, nice!
Table News:
"Stay Beautiful": Norman Lee moves up 2 places to go 1 point ahead of my old team mate Mark S who in turn is two points ahead of Nick H in third.
Newbs Ricki M & Tom S and old skoolers Jazz S & Clare T crashed the Top Ten.
"Little Baby Nothing": Ian Pratt remains bottom, now only 3 points behind Ric P who in turn is 2 points off Martin S.
"You Love Us": Highest climber this week, up a whopping 51 places is Neil Osborne – honourable mentions go to Julian F (+43), Bill P (+21), Rich L (+22), Alex R (+31), Ben H (+33) and Darren  S (+31).
"You Stole The Sun From My Heart": Falling furthest this week, down a whopping 42 places is Eddie Osborne – dishonourable mentions go to Chris D (-23), Rowan M (-23), Gary B (-23), Paul C (-23), Anders H (-27), Patricia F (-24), Andy F (-24), Ross B (-28), and Gareth M (-23).
Click here for further details…
PAS Cup 2016:
In order to be invited to enter the PAS Cup 2017 you will have to finish in the Top 32 after 13 weeks of play. Currently sneaking the last spot is…not Big Sam or Little Sam, Sam Craig!
PAS Champions League 2016/17 Group Stages: Matchday 1 games kicked off this week…
Oooh it was intense! We had 10 away wins! 5 hammerings! 3 close games! 1 heartbreaker! 9 succesful jokers! 1 really succesful joker (step forward Danny A)!
Matchday 2 fixtures & Week 1 results can be found here
Full fixture list can be found here
Dates for your diaries – PAS CL Weeks
Matchday 2 – Week 5
Matchday 3 – Week 7
Matchday 4 – Week 9
Matchday 5 – Week 11
Matchday 6 – Week 13
And Another Thing:
All payments have come in – thanks!
Twitter is dead, long live Instagram!
Take some interesting pics & remember to add #pabpas so you we can see your pic on the site!
Some away game pics would be good this season. Or some pics of away fans. Or home fans. Or just the match. Or players you've met. Anything actually. Food? Beers? Lovely vistas??!
Cheers,
Pab